How to Export Outlook Contacts to Google Contacts?
Srishty | August 31st, 2018 | Technology
Microsoft Outlook is the most popular email application which is commonly used at the business level. This desktop-based application is also used for personal requirements based on an individual's requirement. On the other hand, Gmail is a web-based application which is free of cost. In addition to that, Gmail is commonly used, as it is compatible also with Android devices. Considering the business point of view, it is necessary to have Outlook contacts synced to the Gmail account. In order to have permanent access to Outlook contacts most of the user is in search of a free manual-based solution. This blog helps to understand the process to export Outlook contacts to Google contacts.
User Queries
Based on the subsequent users posted scenarios will help to understand the need to add Outlook contacts to Gmail. Some are them are mentioned below:
"For business purposes, I need to import Outlook contacts into my Gmail account. For that, I need to export the Outlook contacts first which I am not finding from any forums. Can someone please explain the process to export Outlook contacts to Google Contacts?"
"Being a team manager I always have to make urgent business calls. I find it very difficult when I am not carrying my laptop. So, I need to export my contacts from Outlook to Gmail. Is there any solution that can add my entire contacts to Gmail easily?"
"Recently my office colleague has lost all the data from her Outlook account. I felt very embarrassed as this can happen to me also. I cannot afford the loss of my Outlook contacts. Can someone let me know how to transfer my Outlook contacts to Gmail?"
From the above user queries, it is clear that Outlook contacts are always important to the user. Also, it is observed that users hardly find some solution to export Outlook contacts to vCard queries which sometimes are incomplete and not a well-mannered approach. By understanding all these, this blog discloses the various methods to add Outlook contacts to Google with its respective solutions.
Techniques to Export Outlook Contacts to Google Contacts
As there is no direct method available to export the PST contacts. Hence, first export Outlook contacts into CSV format and then import the same CSV file to the Gmail account which is followed in two stages
1. Export contacts from MS Outlook
2. Import Outlook contacts to Gmail
In order to Export the Contacts from Outlook, below mentioned is the detailed steps,
First of all, open MS Outlook application
Go to the File menu and select Options
Now, from the Outlook Options wizard, select Advanced option
From the export section, select the Export option which will move the PST contacts to Gmail
Now, from the Import and Export Wizard, choose Export to a file option and click Next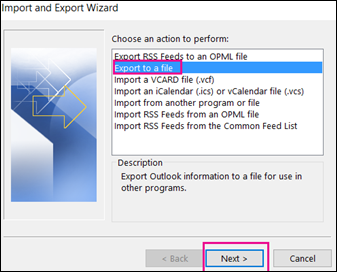 Then, Export to a file dialog box will appear
From the Create a file of type, select the file type into which the file will be exported like, Comma Separated Values (Windows) and click Next to export Outlook contacts to Google contacts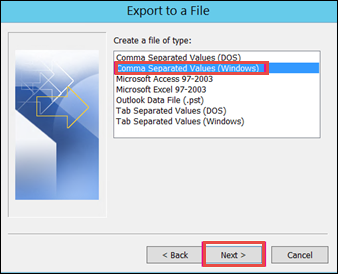 From the Select folder to export from option, select the folder to export.
From this, choose the Contacts folder and click Next
After that, click Browse and select the destination folder into which the exported file will be stored
Now, click OK and hit the Next button
Finally, click Finish so that the file will be exported in CSV format
Import Contacts into Gmail
Now, to Import the Outlook contacts(.csv format) to the Gmail account, follow the below-mentioned steps,
To begin with, sign-in to the Gmail account
After that, click on Google Apps which is on the top right corner of the Gmail window
Select the Contacts option which is shown below
From the Contacts option, select More menu and click Import
Import option will appear, click CSV or vCard file as shown below
Now, select the CSV file which is the exported Outlook contacts
Finally, click Import to begin the importing process
Alternative Method to Add Outlook Contacts to Google Account
Outlook being a desktop-based application cannot be synced on smartphones for easy access. Due to this drawback, the user has the only option to export its Outlook contacts to Gmail for compatible access. This article mainly describes how to export Outlook contacts manually. If the manual method proves to be fatal, then one can make use of the SysTools vCard Export tool. It is an ultimate solution to export Outlook contacts into vCard, WAB, HTML, MSG, CSV, PST, PDF, Google, and Yahoo CSV file formats. It can also import Outlook contacts to any cloud service like GSuite, Office 365, iCloud. Also, a copy of Outlook contacts is created in WAB which can be accessed without Outlook Express.
Related Article: Export Outlook Contacts to Google Contacts
Conclusion
By understanding the requirement of various user queries, the above article mentions the techniques to add Outlook contacts to Google account. Based on the complexity of the file, the manual approach may tend to fail. This can be resolved using the vCard Export tool. This automated tool not only exports Outlook contacts to Google contacts but also can be previewed in the vCard format including its attributes.