Migrate Gmail to Roundcube with the Safest Solution – Also Learn Why?
A lot of users are looking for solutions to move Gmail to Roundcube. Most of the people use email to communicate and it is also an amazing way for businesses to reach new, existing, and future customers. Roundcube is a web-based application that is capable of managing email, contacts, tasks, address book, and many more. It is an email application of cPanel and provides all the functions like any email client would expect. Roundcube behaves like an online web-email client and works online with any web browser.
If you want to save Gmail email to Roundcube, you have to use a third-party tool as there is not native method to do so. This is two step process; in the first step, this tool will save Gmail messages to desktop. Then, in the second step, you can import the exported emails to Roundcube. Roundcube doesn't allow migration of emails from Gmail. For the migration process, we are providing an expert recommended tool. First, let's learn why to perform the migration process and then we'll check how to do that.
Reasons to Move Gmail to Roundcube
There may be a need to transfer personal emails to business account. Roundcube offers users an email address with the same domain name.
Many users who want an official email address move Gmail to Roundcube because Gmail doesn't offer a domain-based email address.
If you send an email to more than 500 recipients or in case you have sent a good amount of irreversible emails, Google automatically disables your account temporarily.
In the case of merging Gmail mails, the limit of sending emails daily is 100 per day if emails are sent via Google Script.
Expert Recommended Tool to save Gmail email to Roundcube
The expert-recommended tool is the perfect solution for moving Gmail to Roundcube. This tool is the Gmail Backup Tool for Mac which can easily export all emails from Gmail on Mac OS X. You can export Gmail emails with attachments to PST, EML, EMLX, MBOX, and MSG file formats. The tool is compatible with Mac OS 10.8, 10.9, and above versions. There are various features provided by the tool that are mentioned in the next section.
Features of the Tool to Save Gmail email to Roundcube
Selective Data Backup – The tool provides you an option to save all or selective data as required. This option saves a lot of time for you and takes backup of all the folders by checking the required folders.
Date-Range Filters – Using the date-range filter, you can save the data from a specific duration of time instead of saving Gmail emails to Roudcube all at once.
Delete After Download – This option deletes the data that you have exported after downloading to make space in your Gmail account.
Pause/Resume – There is an option provided by the tool to pause the migration process as and when needed and resume the process back.
Folder Structure – This tool maintains the file and folder structure same and doesn't make any changes during the migration process to move Gmail to Roundcube.
Progress Report – Once you have converted Gmail to your desired file format, in this case, MBOX or EML, you can check the complete backup details of the export. The details include the Source Path, Mail Count, Destination Path, Fail Count, etc in a .csv file.
Steps to Save Gmail Emails to Roundcube
First of all, download the tool and enter the credentials your Gmail account. Hit the "Login" button.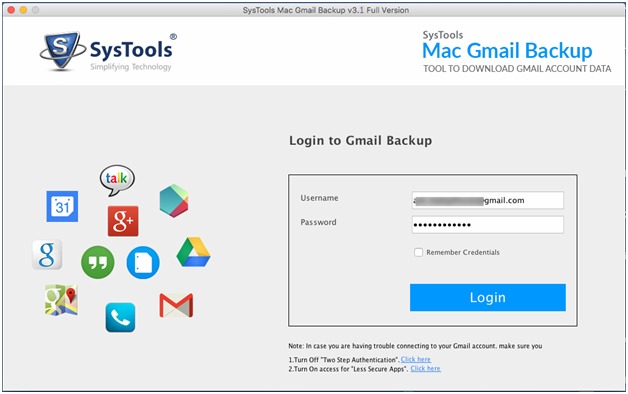 After that, choose the file format as "MBOX".
Note: You can also go for EML file format.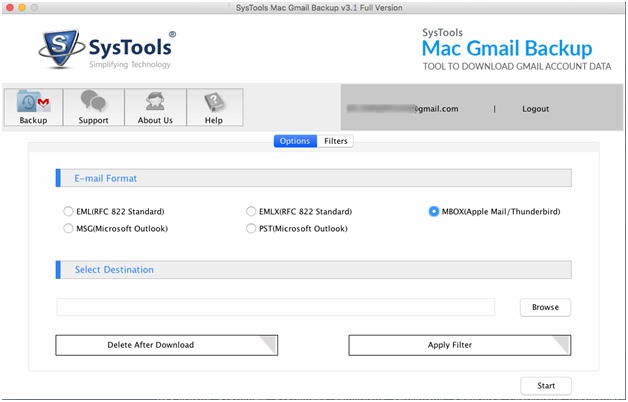 Click on the "Browse" button to save the resultant file at and hit "Choose".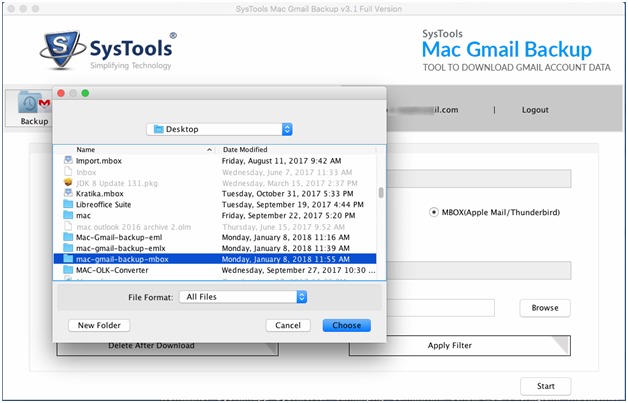 Click on the "Apply filters" button and apply the given filters to move selective data from Gmail to Roundcube.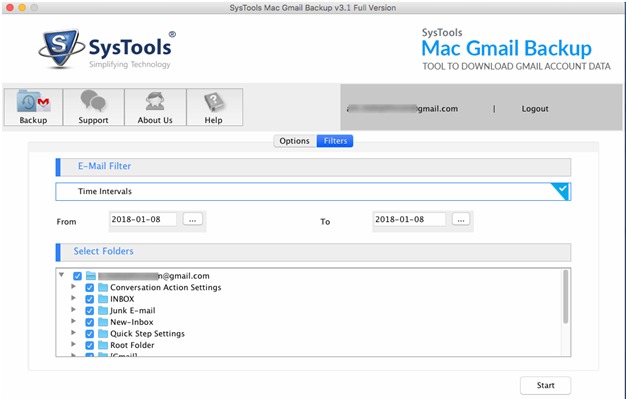 Choose the "Delete after Download" button if you want to delete the emails after exporting.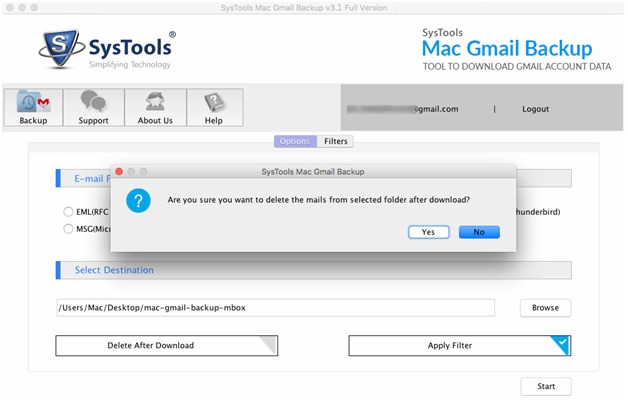 Hit the "Start" button to start the process.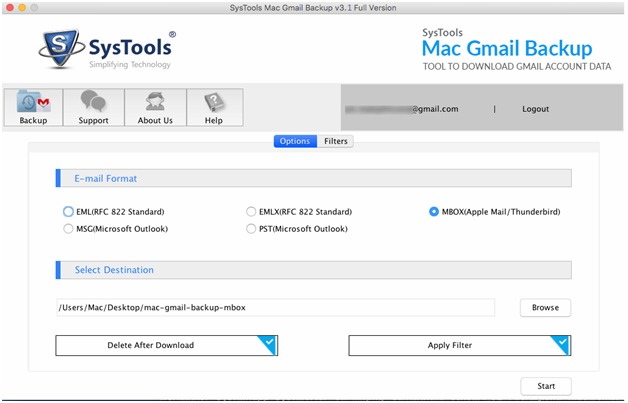 The emails with attachments can also be exported using the tool. It is necessary that you enable "Less Secure Apps" and disable "Two-Step Authentication" before starting the process. It is an advanced feature of the tool. Since the attachments are important in the emails, it is crucial to have a backup of these files too.
A free demo of the tool is provided to the users so that they can use it and know how it works and be satisfied by exporting a small amount of data at first.
Final Say
The export of Gmail to Roundcube can only take place using a third-party tool as we discussed. This tool is by far the best tool to export the data in the nick of time and give users the liberty to focus on more important tasks. It saves emails from specific folders while performing the migration process. As there is no other way or any manual method to save Gmail emails to Roundcube, users can make the best use of it as there is also a free demo offered.