Convert Yahoo Email to PDF: What Experts Recommend for Best Results
Emails are important points of correspondence for clients communicating with a legal advocate. It can also be the mode of sharing information in a company. Some forensic investigators/enterprise users desire to convert Yahoo mail to PDF for analysis and truth findings. It helps them identify to the sender in case of a cyber attack. This post talks about some manual ways to migrate Yahoo email to PDF. It can be useful to anyone looking for similar solutions. One can take it as a reference guide for students and professionals who are searching for ways to export crucial conversations through Yahoo messages.
Reasons to Save Yahoo Messages in Adobe PDF
Following are some of the common grounds for creating an Adobe portable document(.pdf) from message conversations:
Apply password to protect important client communications that can be referenced as evidence.
Save Yahoo emails to PDF to assign privileges to users.
Add watermark to company documents to protect hard copies from copyright infringement.
Stepwise Guide to Convert Yahoo Email to PDF Manually
Here are the steps to archive Yahoo account messages in portable documents easily:
Step 1: Login into your Yahoo email and double-click on-target email message. This will open the email and now you have to go to More>>Print.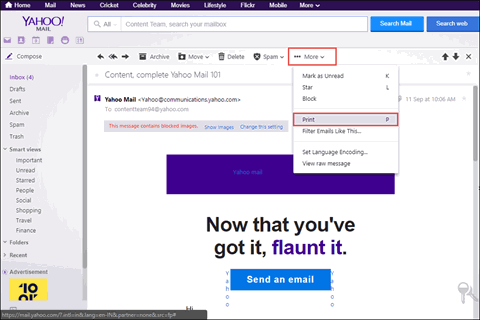 Step 2: On the opened window, set the 'Destination' row to 'Save as PDF'. Then, select the 'Save' button.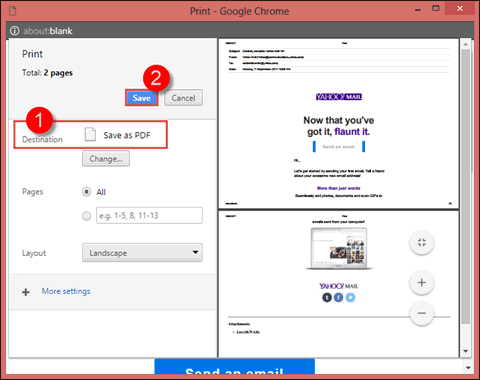 Step 3: On the appeared window, Browse a saving location and Click on Save button. This will convert and download the Yahoo email into PDF file.
This method will save a Yahoo email to document format. But for converting large number of Yahoo emails, this method becomes a bit cumbersome. In the below section you will get an efficient procedure to deal such cases.
Save Yahoo Email To PDF Like A Professional!
The manual method can only be applied to some of the emails but not all. If the conversation thread is too long, it might be difficult to extract each message one at a time. Instead one can go for a third-party tool specifically designed for this purpose. It will offer you the best results without any data loss. Try the Best Yahoo Email Backup to convert the Yahoo mail in PDF file. The program provides multiple options to filter emails by date, incremental backup, and various email formats options. 
Step-wise Guide to Perform Yahoo to PDF Migration
Step 1: First, download and install the Yahoo Mail Backup utility on the Windows PC.
Then, run the software and log in using username and password.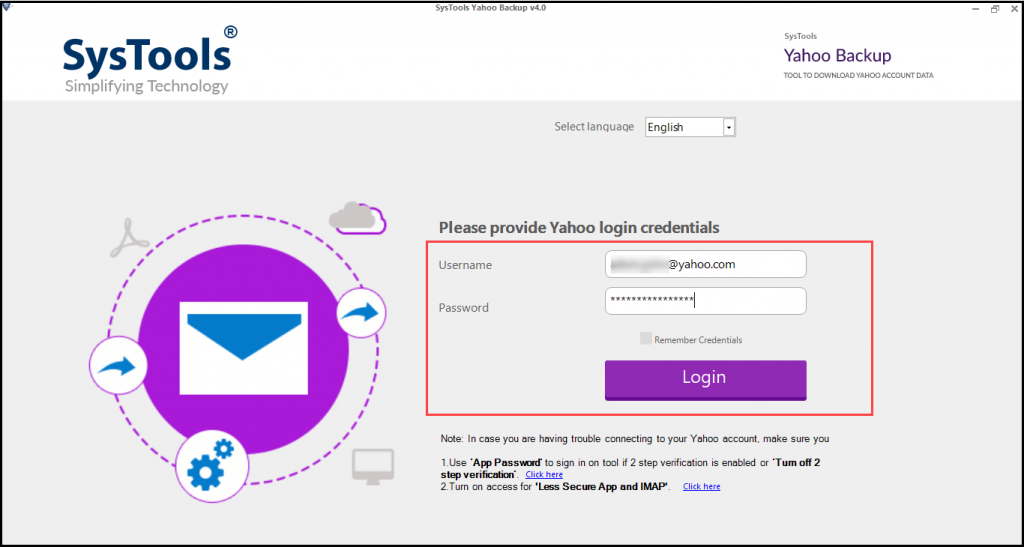 Step 2: Select PDF format to save Yahoo emails. You can choose to 'Delete After Download' to free up space on the server.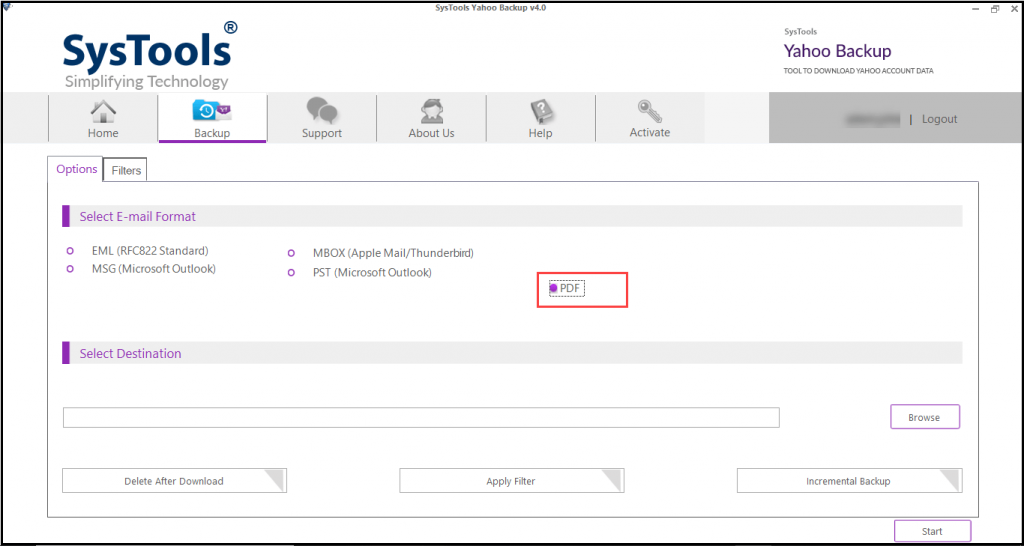 Step 3: Browse the location to save the resultant file.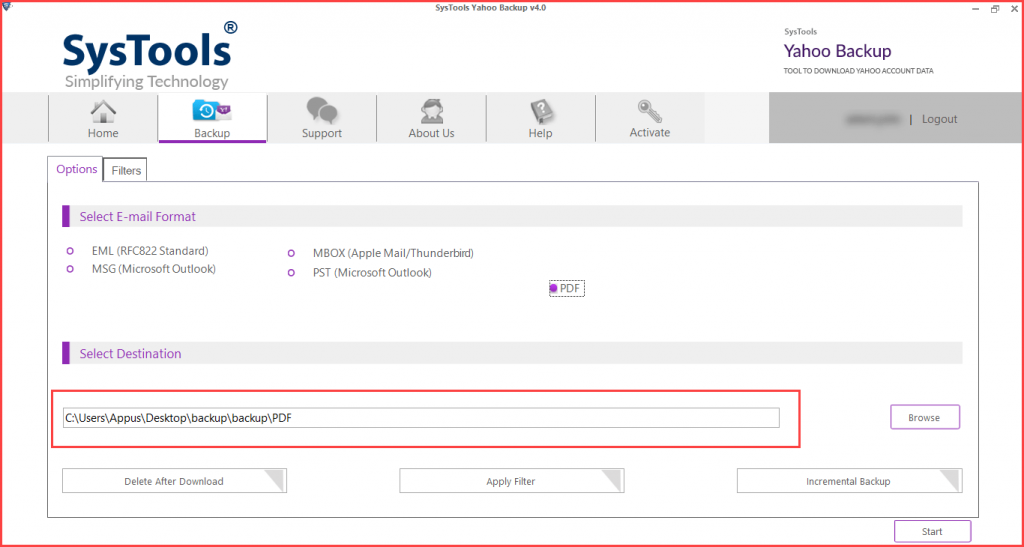 Step 4: Finally, click on 'Start' button to convert Yahoo email to PDF.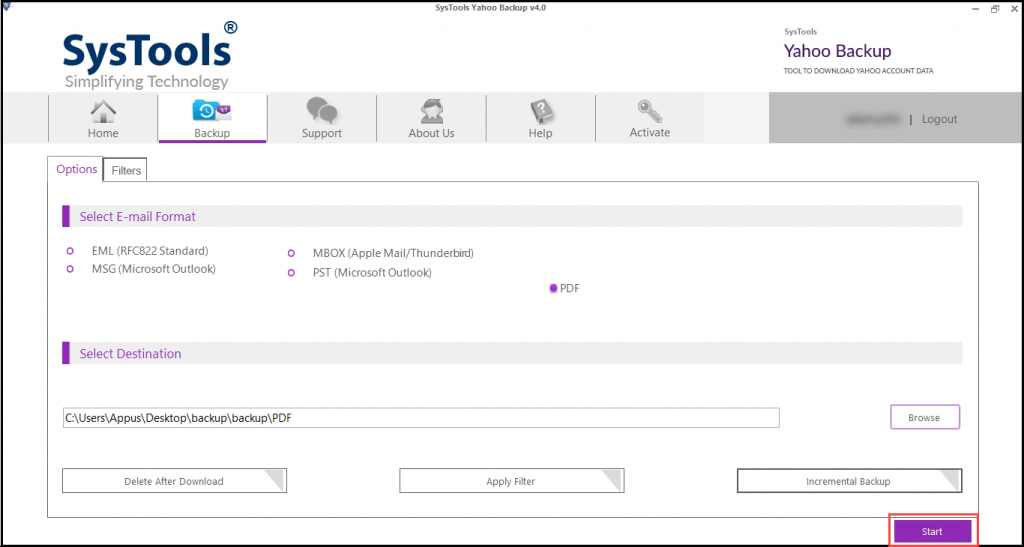 Save Yahoo Emails as PDF Adobe – Conclusion
A text message can contain useful information about company policy or password. It can be downloaded and saved to the desktop for backup and security purposes. One way of doing is to convert Yahoo email to PDF and save them as an Adobe document. It is helpful in referring to crucial communications without internet. It can even be useful in presenting the conversations as part of the legal evidence in front of a jury. This post contains relevant information which can be serviceable to anyone reading it. It explains a perfect manual method and an efficient automated solution recommended by experts.
Frequently Asked Question
How to save a Yahoo email to my document file?
Steps to Export Yahoo Mail Data to a PDF document:
1. Open the Yahoo email and go to More option.
2. Choose the Print option to save Yahoo email as PDF.
3. Under the Destination folder, select Save as PDF option.
4. Click on Save and select destination to export emails as PDF.
5. Again, click the Save button to save Yahoo email to PDF document format.
Can I save Yahoo emails to a flash drive?
Yes, you can download and save your Yahoo emails to a flash drive / external hard drive or USB. You need to have the flash drive / hard drive connected to the system when the emails are converted to PDF documents.
Set the file saving location in the Flash drive and save the email in flash drive.