Solution to Add Bates Numbers to PDF Files & Organize Them Efficiently
Isha Ratra | January 6th, 2018 | How to
The PDF file is a multi-platform document file, which is created by Adobe Acrobat or any other application. As everybody knows PDF format is standard file format used to store and access data on multiple platforms. A user can store all type of data like text, images, outlines, forms, annotations, etc., in the PDF file. In addition, the best part of PDF file is that it preserves the fonts and original formatting of data electronically on all devices. Moreover, PDF files are easy to share and can consider as a legal document also when presented as an evidence. Sometimes, users store a complete documentation of any legal, medical, and businesses related data in PDF format, which contains multiple pages in it. At that time, it becomes difficult for a user to search for any particular item in the PDF file. Thus, to make the PDF use more convenient for the users, it is advised to organize PDF documents by adding page numbers. Now, the question is how to add bates numbers to PDF pages. Hence, this blog will let you know the same in most cost-effective and effective way. Here, we have discussed manual as well automated approach i.e. PDF Page Numberer tool which helps the user to add bates stamp in PDF documents. So, continue reading the article.

Benefits to Insert Page Number in PDF Files
In order to organize any particular document, which needs proper identification, a user can apply numbering in files. This Bates numbering in PDF document is most common in medical, legal and businesses outfits because they mostly deal with a large number of the document. And, if bates numbers are not used by them, the pages were misplaced and hard to handle. Moreover, in a PDF form digital document also Bates numbers are assigned either at header section or at footer part in order to uniquely identifying the pages. However, in most of the cases, these Bates numbers are self-incrementing. Apart from all this, if a unique identification number is assigned to each page in the PDF document, it becomes easy for the user to search for any particular item quickly.
Different Ways to Add Bates Numbers to PDF Pages
In order to assign page number to each page in the PDF Document, there are two ways available. One is Manual Method via Adobe Acrobat and another is Professional Solution.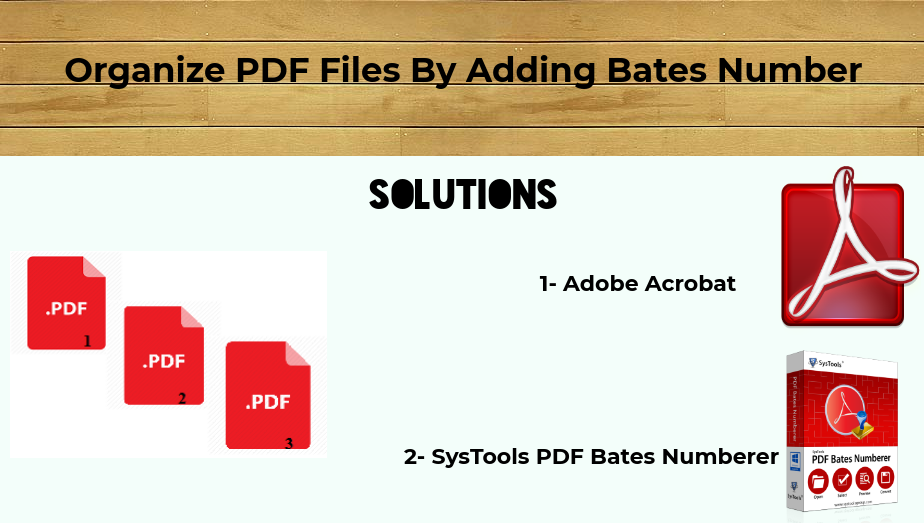 Insert Page Number in PDF Using Adobe Acrobat Application
The manual method that one can try to perform add bates numbers to PDF document is with the help of Adobe Acrobat application. Now, to do the same in an appropriate way, follow the steps discussed below:
First of all, open Adobe Acrobat application on the system and open the PDF file in which you want to add Bates number
Then, click on Tools tab from the main menu in Adobe Acrobat application and click on Pages option. After that, choose Header & Footer from the Pages submenu and then, click on Add Header & Footer option
After that, simply click on the Font Name and scroll down the to choose the font face that you need to use the page numbers
Now, click on the Font Size option and scroll down the menu. Choose the required font size for the page numbers
Next, click the mouse button in the header or footer section corresponding to the location where you want the page numbers to appear. It includes various option i.e. Left Header Text, Right Header Text, Center Header Text, Left Footer Text Right Footer Text, and Center Footer Text
Then, you just have to click Insert Page Number button in order to add page numbers to the selected location in header or footer
At last, simply preview the changes in the Preview window that you want to add in the pages and, after satisfying with pages, click on the OK button to start the process to insert page number in PDF files.
A Professional Solution to Add Bates Numbers to PDF
The manual method discussed above requires a user to purchase the paid version of Adobe Acrobat application. Moreover, the process is complex and lengthy while performing. Thus, in order to have a simple, quick, and reliable solution, a user is advised to a third-party tool. PDF Bates Numberer is one such utility that is popularly used by the users across the world to insert page number in PDF files. It also allows users to add prefix and suffix to the Bates numbers. It offers multiple formatting options also and does not requires Adobe Acrobat to be installed on the local machine.
Conclusion
Most of the important details in large size organization are documented in PDF format. As each document contains multiple numbers of pages, so sometimes it becomes difficult for the users to manage it. Thus, it will be beneficial if a user add bates numbers to PDF files by the automated solution. Hence, in the above post, we have covered both manual and third-party solution for the same.