When did Digital Marketing Starts and Become Popular in India
Summary:

In this blog, you will find out the answers to the given questions about digital marketing like; when digital marketing starts? who invented digital marketing? how digital marketing became popular etc.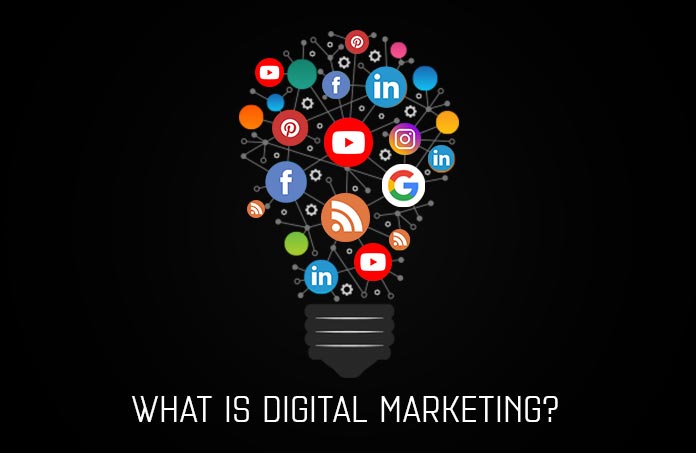 What is Digital Marketing?
Digital marketing is the use of the internet to reach consumers, that utilize the internet, and online-based technologies such as desktop computers, mobiles, and other digital media or platform to promote the products and services.
Note:  Learn digital marketing from the best digital marketing institute in Delhi. 
When did Digital Marketing and Evolution of Marketing Starts in India?
The term digital marketing was first coined and used in 1990.
One of the first key events happened in 1971 when Ray Tomlinson sent the first email, and his technology set the platform to allow people to send and receive the files through different machines.
How Does Business Defines Digital Marketing?
While the term digital marketing, internet marketing, online marketing, and e-marketing are used interchangeably digital marketing is most is what often used today
So exactly, what is digital marketing?
In practice, digital marketing involves managing various forms of business online presence such as websites, mobile apps, and social media company pages. This is in conjunction with online communication methods including search engine marketing, social media marketing, and email marketing.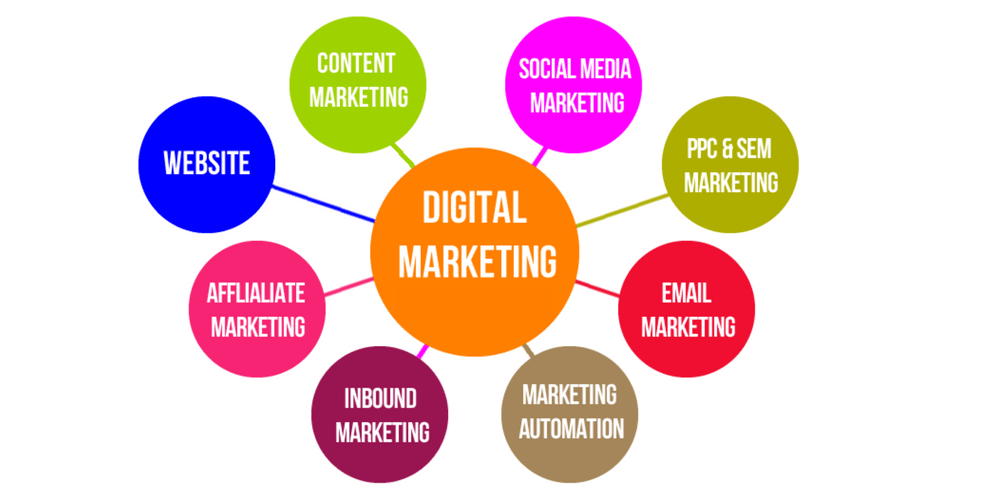 Types of Digital Marketing
Digital marketing is multi-faceted, to say the least. With so many types out there. So, we complies the top 10 list of the most powerful types of digital marketing to consider.
Search Engine Marketing(SEM)
SEM is one of the most effective marketing method in the B2B space and aims to optimize the brand presence and conversion of business using paid methods.
Search Engine Optimization(SEO)
When we talk about digital marketing so, search engine optimization is the first thing that comes to mind. With most operating online business operation at the mercy of Google and other major search engines, SEO is the art of optimizing your content to ensure that your website is featured at the top result when relevant keywords are searched
Content Marketing
Content marketing is a broader digital marketing term you might come across. With the ultimate goal of persuading your audience and building credibility, content marketing typically covers contents assets like a blog post, infographics, e-Books, videos, white papers, and webinars.
Pay Per Click(PPC)
Pay-per-click(PPC) falls under the SEM umbrella when it applies to ads on search engine result pages, but it can also extend to affiliate marketing and ads on other websites.
E-mail Marketing
E-mail marketing helps you to grow your brand awareness by getting your email message into your email inboxes of potential to new customers. E-mail marketing is a type of marketing that can make the customers aware of new products, discounts, and much more services that you provide to customers.
Social Media Marketing(SSM)
Social media has become the ultimate game-changer in marketing. There are a variety of social media platforms you can choose from including Facebook, Twitter, Linked In, Instagram, Snapchat, and many others. Depending on your niche and target audience, you can choose whichever one(s) is most relevant to your business.
Affiliate Marketing
With affiliate marketing, you can decrease the workload by outsourcing it external service provides.
One of the more lucrative types of digital marketing options, affiliate marketing involves partnering with online retailers that promotes your products or service on their websites. You then earn a commission from each sale or lead that you bring in.
Online PR
While mass media outlets such as press, radio, and television were once the main channels to distribute information about a business, online PR uses blogs, social media, and websites to connect with the audience.
Inbound PR
The goal of inbound PR is to drive traffic to your website via content creation. Content is inbound PR need to add value to the reader, or it will end up lost in search engine and social media algorithms.
By using a program like Google analytics and social media analytics, PR professionals can determine what their reach is for different forms of content.
Sponsored Content
Sponsored content is a type of promotional media that's paid for by an advertise, but created and share by another brand, influencer, or publishers. Sponsored post is also known as a promoted post.
Who is the Father of Digital Marketing?
This is a bit tricky question as there's no single father of digital marketing.
When did digital marketing starts and become popular,
Some argue that Gugliemo Marconi who invented the radio in 1896 was the world's first digital marketer.
Others will say that Ray Tomlinson should be credited with the birth of digital marketing because he sent the first email in 1971.
While there are several marketing luminaries that have made sizeable contributions to the field, few have had made the king of lasting impact to the marketing world like Philip Kotler.
Evolution and when did Digital Marketing Become Popular in India
The evolution of digital marketing in India can be traced back to 1996. Digital marketing was started in India in 1996, however, the real growth of digital marketing started in 2008 when internet service reached the masses and people started using a search engine like google.
In 2000, few people knew SEO, and there were only a handful of companies offering digital marketing services in India. In 2008, several new digital marketing agencies started operating in India. Many business owners now understood the importance of gaining higher visibility for their brand on Google.
Who is the Biggest Digital Marketer in India?
Chirag Arora is a Digital Marketing Manager at SysTools Software Pvt Ltd. He is also a Digital Marketing Trainer at SeoClick. He is a having 12years of experience in digital marketing. 
He believes in bringing a practical approach to digital marketing training, rather than just a theoretical understanding of concepts. 
Frequently Questioned Asked
1 What is Digital Marketing?
Digital marketing refers to the use of the internet via mobile devices, social media, mobile devices, search engines, and other channels to market to consumers.
2 What is the Role of Digital Marketing?
The role of digital marketing is to market to people looking for products and services related to your business by gaining leads, sales, new traffic, and exposure, which is oftentimes done heavily online.
3 What is the Next Big Thing in Digital Marketing?
The next big thing being talked about by many marketers is the power of AI in the forms of arguments reality and voice search system. These innovations are already on the rise and expected to be even more integrated into digital marketing.