How to View Outlook Quarantine in a Seamless Manner?
Srishty | May 28th, 2018 | Technology
How to view Quarantine email in Outlook? It is one of the most commonly asked questions by Microsoft Outlook users. In order to delete quarantine emails, one needs to access the Quarantine folder. But locating this folder in Outlook is not so easy to find for normal users. In most of the cases, users need to depend on IT admin for the same. Therefore, to make this task easy for the users, how to view Outlook Quarantine is discussed in this blog. Read this blog in detail to know the complete details to access Outlook Quarantine in an effortless and hassle-free manner.
Quarantine is basically a process to isolate any suspicious file infected with the virus in order to prevent it from affecting all other files in MS Outlook. This process is used when an anti-virus detects an issue in Outlook and unable to fix it or not sure whether or not that email contains a virus. Therefore, Quarantine is enabled by most of the IT admins in Microsoft Outlook manually to make sure that system is not affected by any unwanted email. But to access the emails in the Quarantine folder, one need to open it. Thus, keeping all such requirements of users in mind, we have discussed both i.e., Quarantine folder location and how to add it in Outlook for direct access.
How to View Outlook Quarantine Folder Location?
If you want to know the location of your Quarantine folder and how to access it, follow the steps mentioned below:
First of all, go to https://admin.protection.outlook.com/quarantine.
After that, login via Office 365 account credentials. As you log in, you will screen like: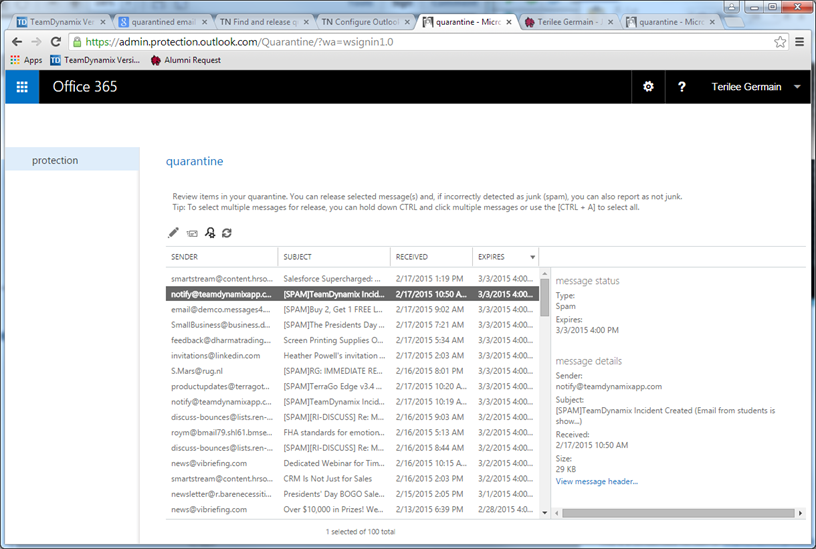 Here, you can easily open quarantine emails in Outlook. It might take some time to display so, be patient.
After that, you can easily check the emails and release it based on your requirement. You need to select the email and click on the Envelope icon.
Then, it will display two options i.e., Release the mail or Release the mail and report as not junk. You can choose any of them as per your choice. After all this, the email is moved to inbox folder.
Add Quarantine to MS Outlook 2016, 2013, 2010, 2007, 2003
Instead of accessing Quarantine emails through the web browser, you can add it to MS Outlook also and simplify the process. And, to do the same, follow the steps mentioned below:
First of all, open Microsoft Outlook application to view Outlook Quarantine folder.
Then, you need to right-click on the name of the mailbox.
After that, click on the New Folder option and give it name Quarantine so that it is easy to locate.
Now, right-click on the newly created folder and click on the Properties option.
Next, simply click on the Home Page tab.
Here, either you can type the address manually (https://admin.protection.outlook.com/quarantine) or copy and paste it.
Then, click on the Apply button, not on OK.
Here, you have to check "Show home page by default for this folder" box and click on the OK button.
Now, you have to sign in as prompted and can easily see the Quarantine folder without Outlook. Here, you can easily release the emails as per the requirement.
Always remember that Quarantine folder creates PST files. So, to view Outlook Quarantine, a user can use any third-party tool also to view Quarantine email in Outlook.
Alternative Solution to View Outlook Quarantine Emails
As discussed above Quarantine folder creates PST file so, a user can open it with the help of some professional solution also. SysTools PST Viewer Tool is one such application that permits users to open and PST file without Outlook. Moreover, the application is completely free of cost so, a user will not find any difficulty in using it. It provides a view of all data stored in PST file without any extra installation. In addition to this, a user can easily provide a solution to the question how to view Quarantined Emails in Outlook file also with the help of this application.
Conclusion
Viewing Quarantine emails of Outlook is not an easy task because it is mostly done from IT admin side. So, when it comes to clear the junk stored in it, one needs to view Outlook Quarantine. Thus, here we have covered how this task to read Quarantine email in Outlook 2016, 2013, 2010, 2007, 2003 can be done in a seamless manner.