Best Utility to Repair PST File When Scanpst Does Not Repair PST File
Scanpst is the first solution when the Outlook PST file gets corrupted. But what happens if scanpst itself crashes down, freeze, does not respond, or Scanpst does not repair PST file. Know the perfect solution to deal with all these situations. In cases like these, users want to know how to repair PST file without Scanpst utility.
In this blog, we provide a proven method to repair PST files without Scanpst. No matter if PST files are severely corrupted due to virus, large PST size, or outdated Outlook versions.
You only have to follow the technique to repair corrupt PST shown below. We will learn the complete process but first, let see the user queries that are most reported by Outlook users.
User Query #1. Scanpst.exe is Crashing
Image taken from Microsoft official discussion forum. Read it understand the incapability of Scanpst utility.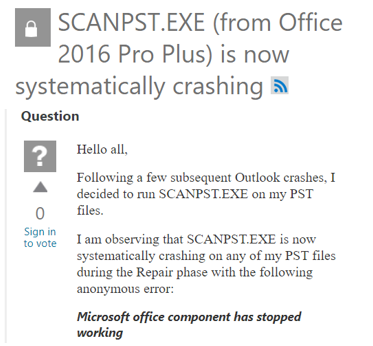 User Query #2. Scanpst Not Responding to Repair PST Files
Image created from one of the reputed technical forum. Check it to understand why Scanpst does not repair PST file?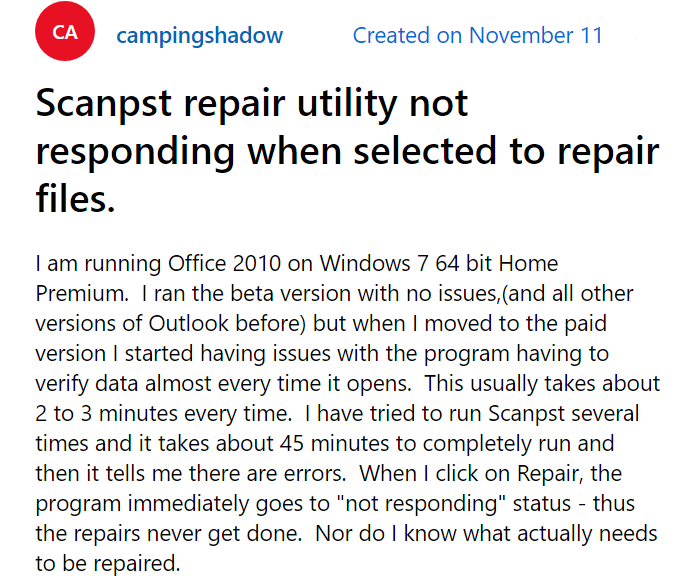 User Query #3. Large PST file – Scanpst Freeze After Repair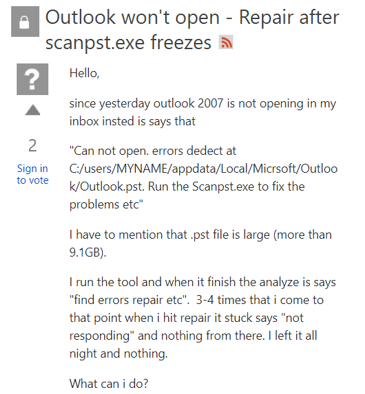 User Query #4. Scanpst Crashed After Saving Backup and Before Repair PST Files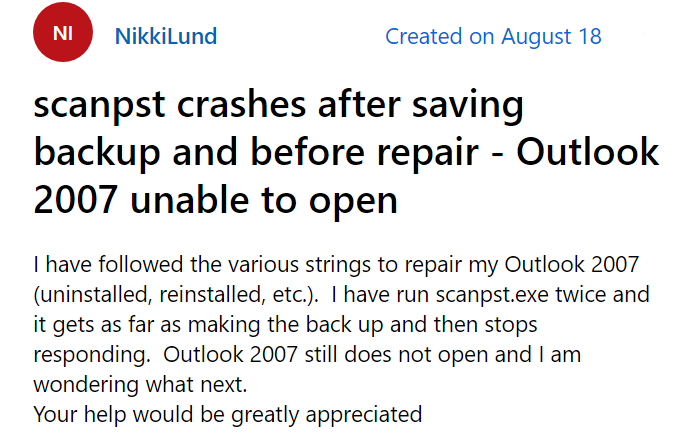 Why Scanpst.exe Fail to Repair PST Files?
Before we proceed to the solution of this issue, readers are always curious as to what is causing it. Here are some of the most common causes of the Scanpst.exe fails to repair.
Scanpst Tool Installation Errors: If the tool is not configured correctly and certain subfiles, such as DLL files, are missing, it can malfunction. It can result in Scanpst does not repair PST file.
Scanpst.Exe Is Out Of Date: Often use the same Microsoft Outlook and scanpst.exe versions. If the Inbox Repair Utility is not updated to match the Outlook version, it will fail to repair the corrupt PST file, causing scanpst.exe to stop responding.
Severe PST File Corruption: If PST files are severely damaged that are beyond the capacity of Scanpst then it will stop responding.
Broken PST File Header: The Scanpst tool relies heavily on the headers of PST file items to function. If the headers are corrupted, the tool may be unable to repair the PST file and will become unresponsive.
Oversized PST File: Scanpst not responding while repairing can also result if PST file size has crossed its size, which is often the case.
The problem with Exchange Server: If Outlook is linked to Exchange Server, this problem may be caused by Exchange problems.
Repair PST File Without Scanpst – Verified Tool
You can now see an effective application that can restore inaccessible PST data files even if your device does not have Outlook installed. Without using the ScanPST app, DataHelp offers excellent Outlook PST Repair Tool. It can fix severely damaged or inaccessible PST files without any data loss. The framework ensures complete data security. It can also restore data from password-protected PST files without causing any data loss.
Steps to Repair PST File Without Scanpst
Step 1. Install the Free Demo version of the PST repair tool and Launch it on your device.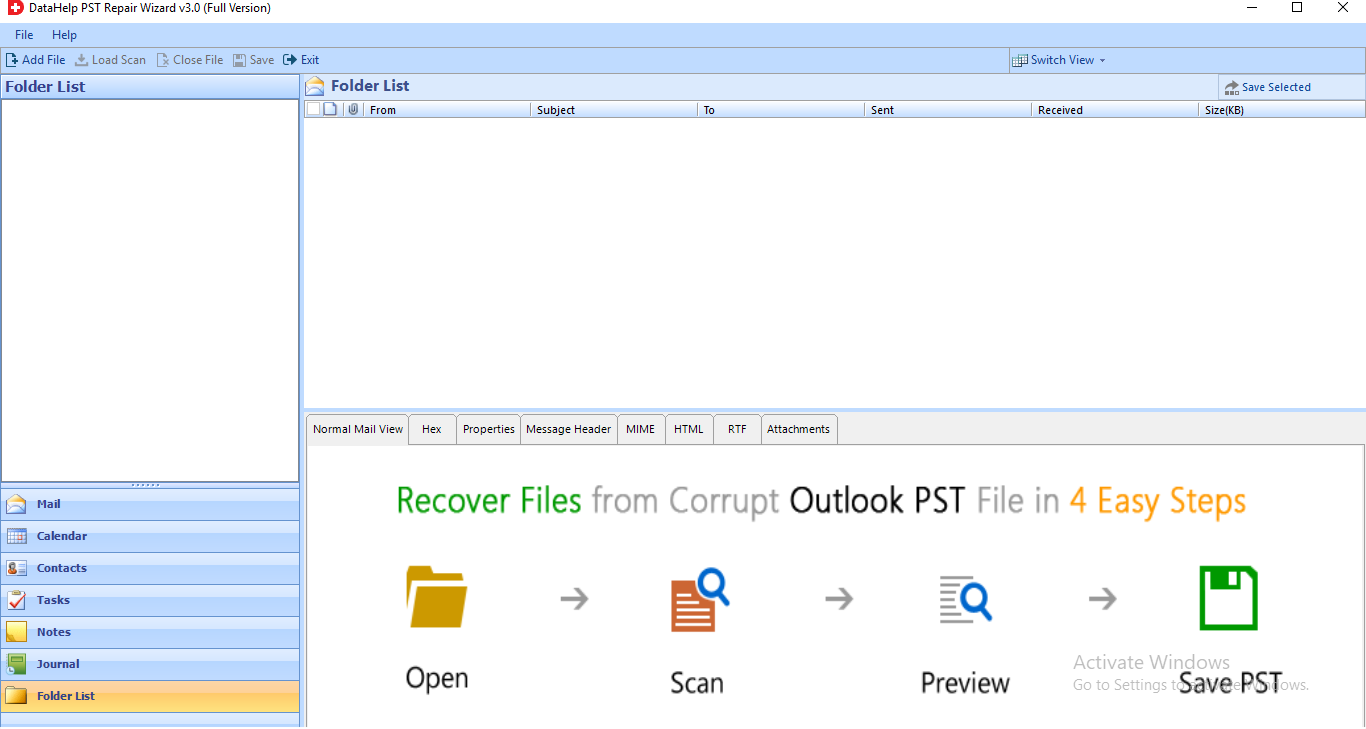 Step 2. Either choose to Search the File or Select the file. It will load the PST files whichever you want to repair.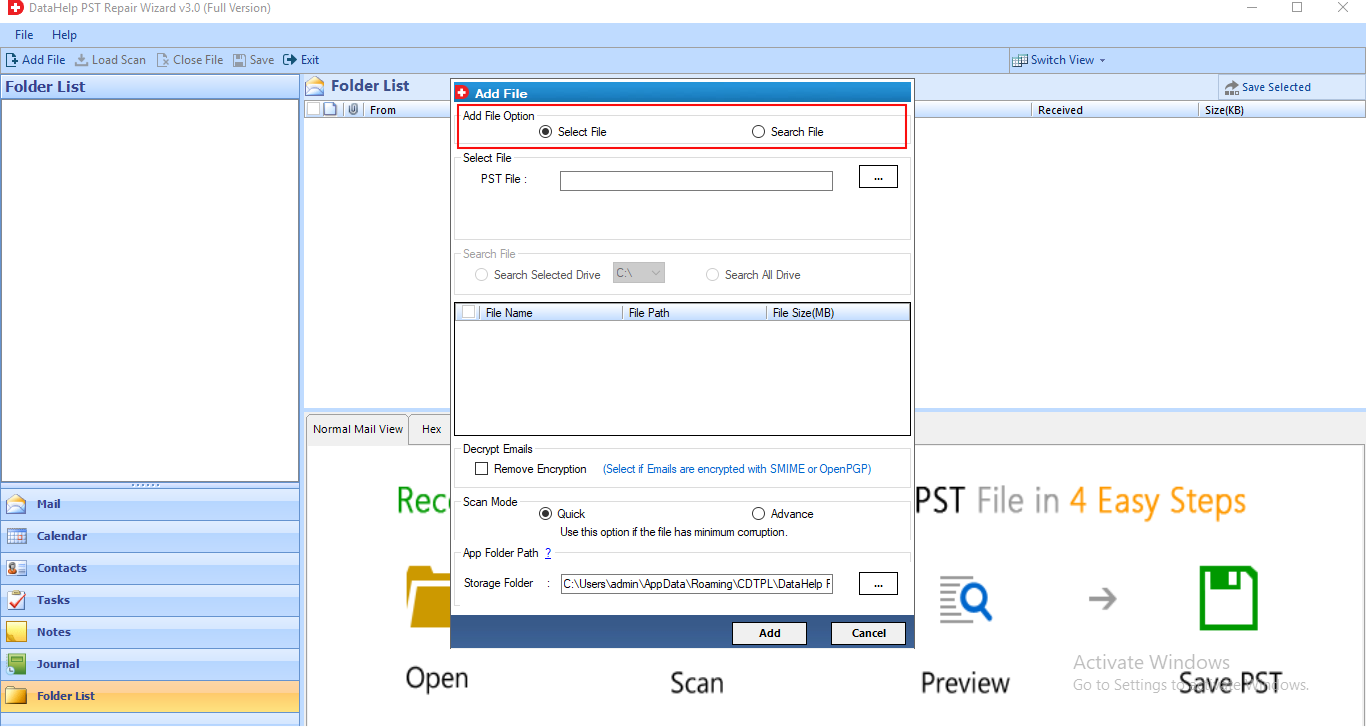 Tip – You can choose the remove encryption option to remove the encryption from the PST files while repairing.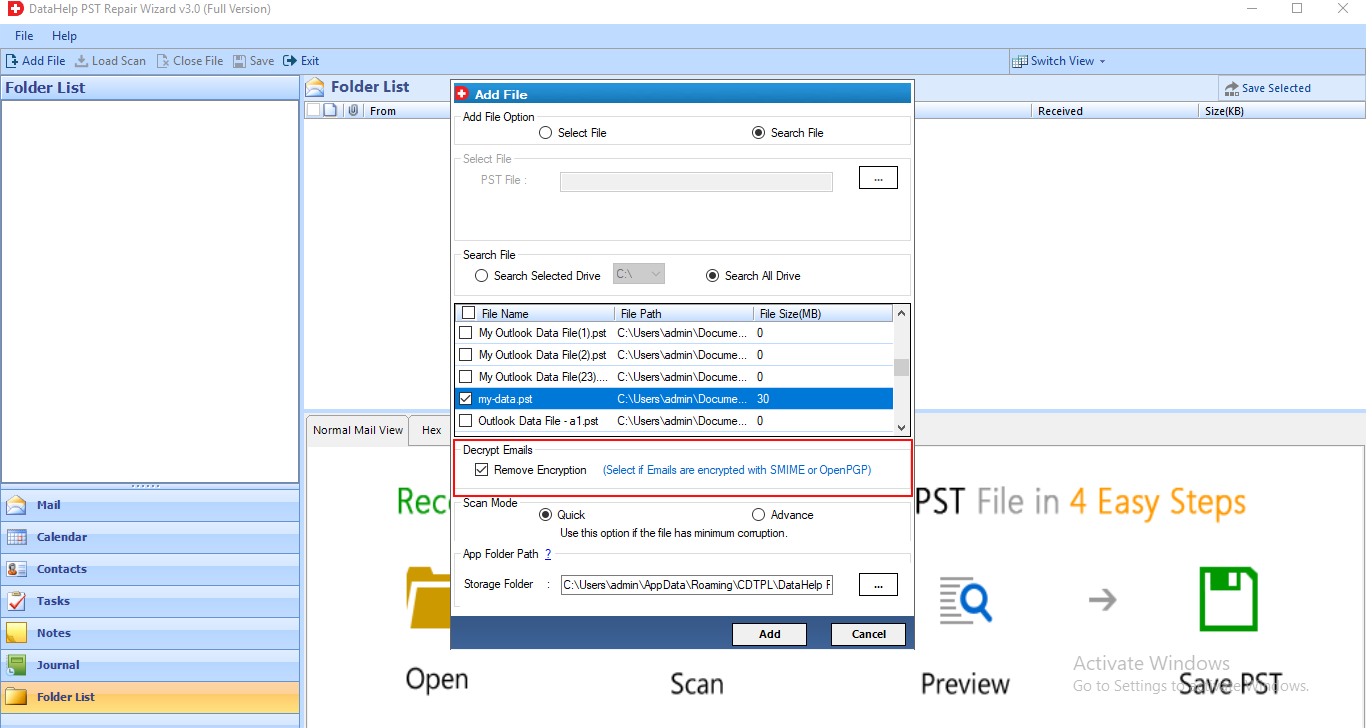 Step 3. Choose Quick Scan mode or Advanced Scan mode. It depends on the seriousness of corruption that occurred to your PST files.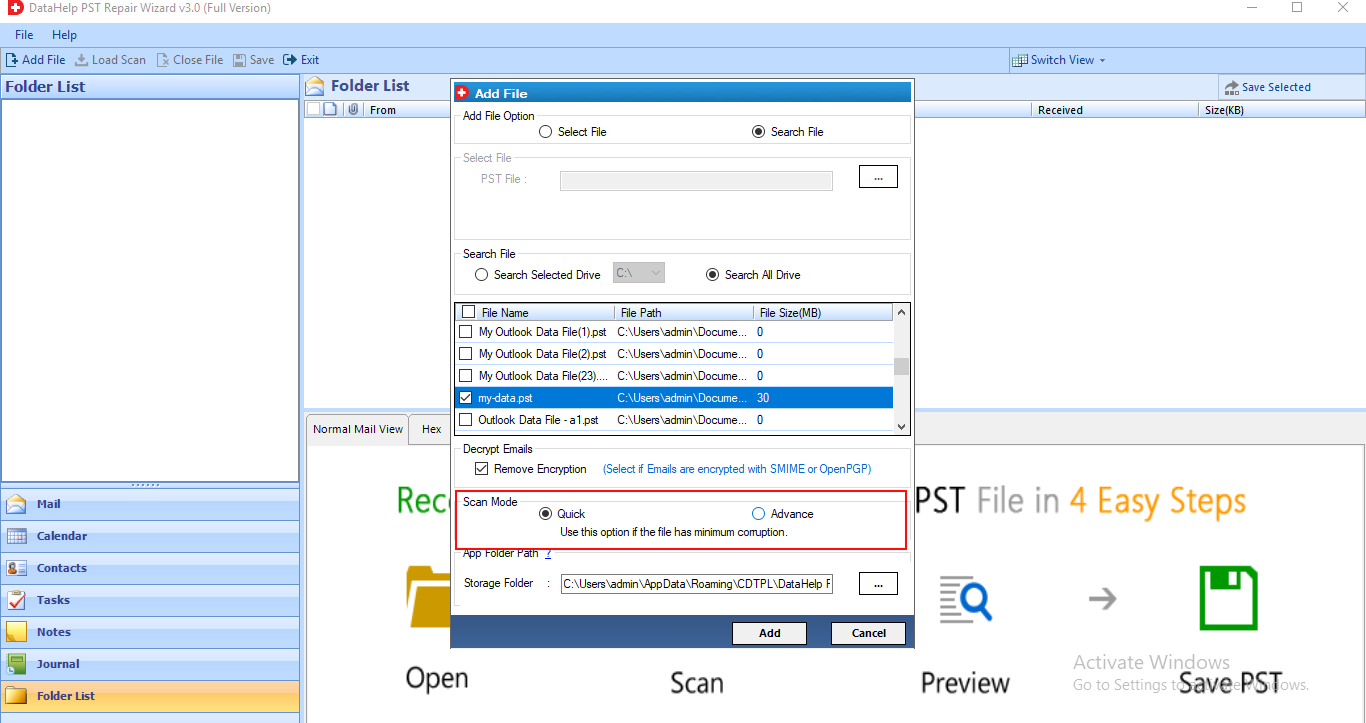 Step 4. Preview the files and check the files or entire folder to export them.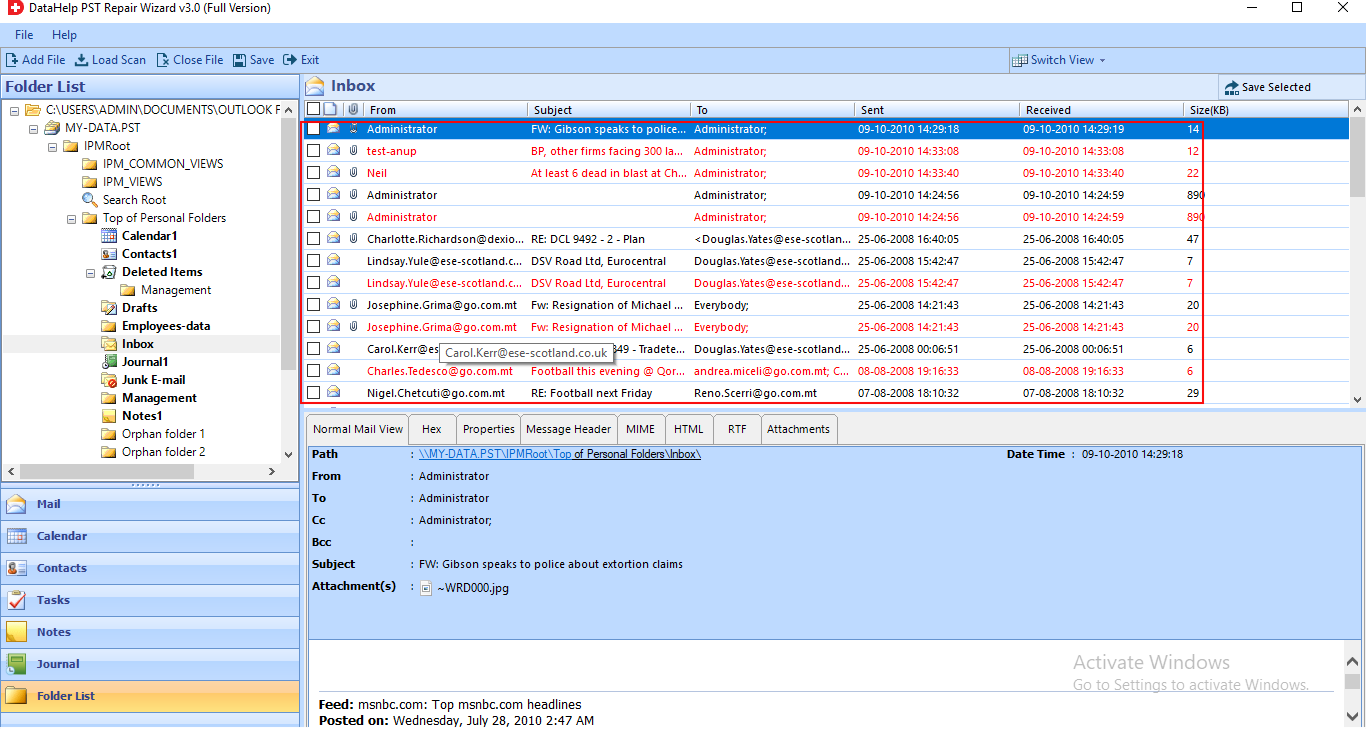 Step 5. Choose the file format you want to convert the PST files. You can keep the PST files in original format only or can also choose other formats from the list.
Step 6. Choose the Adv. Settings to customize according to your requirement.
Advanced Settings Options
PST Split option – It divides the Output file into multiple parts.
Date filter option – It will save specific data of a particular date range.
Categories – Select data items to save in PST.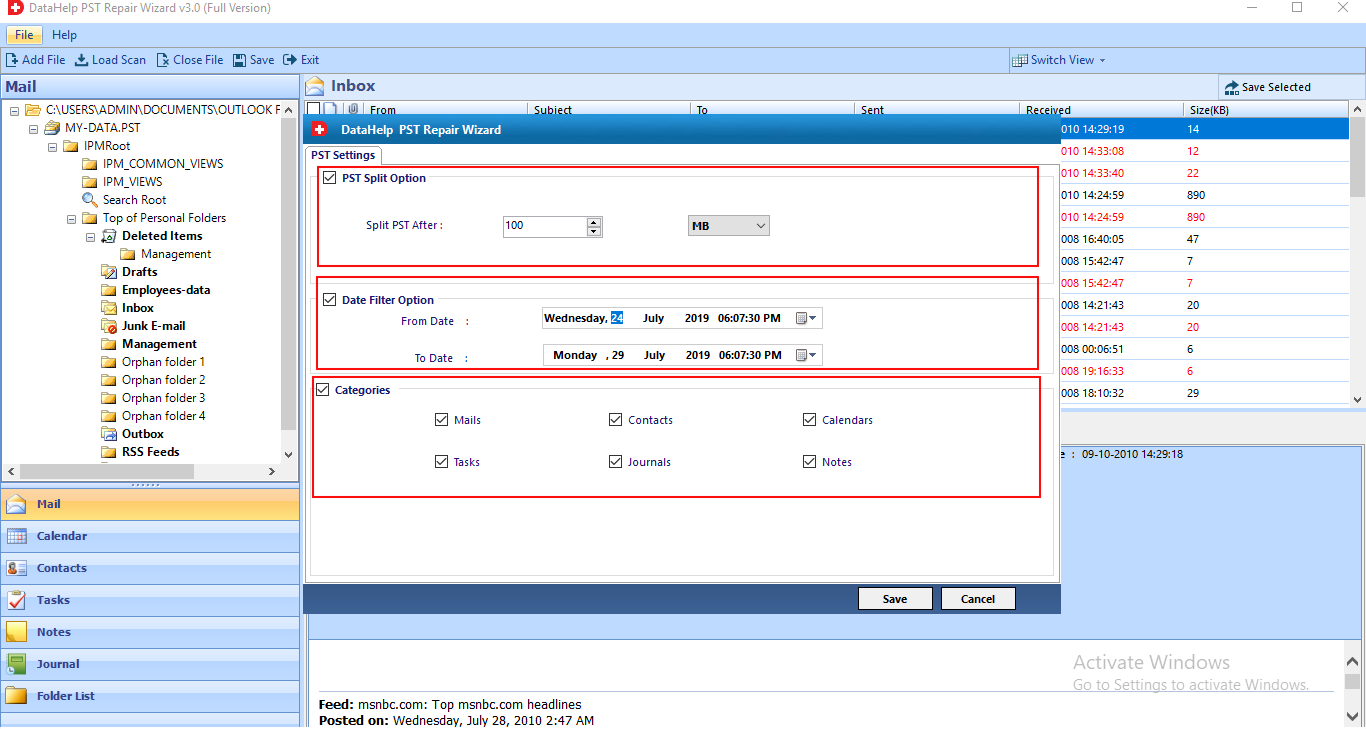 After choosing the options click on the Save button.
Step 7. Choose destination location to save the resultant PST files. Choose the additional options along with precise outcome data. Click on the Export button to start the export of the repaired PST files.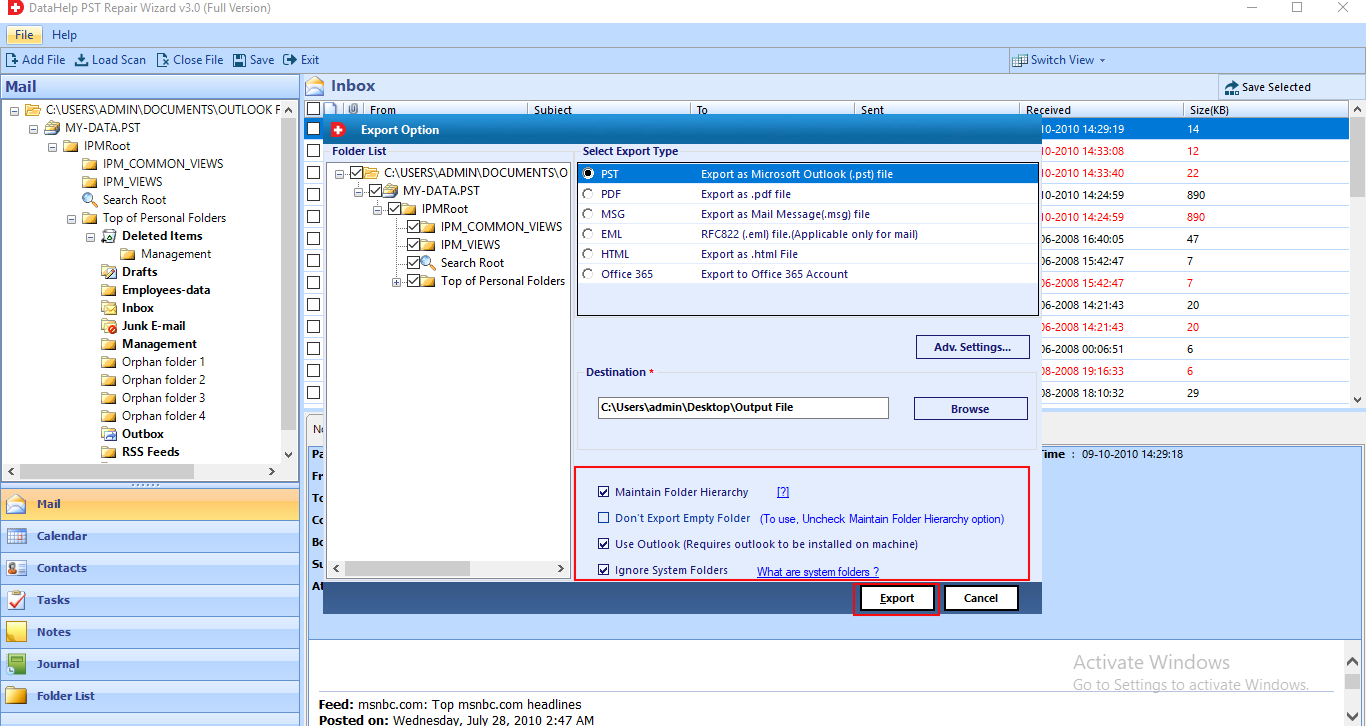 Within few minutes your PST files will repair and save in a healthy format to the specified location.
Get the Full Version – Once you are satisfied with the result then go for the full version of the PST repair tool for unlimited repair of PST files. After getting this tool you won't have to look out for any other solution for repair PST files.
Preventive Measures for PST Files
Do not exceed the Default File Size Limit for PST files.
Outlook 2002 is capable to store 2GB of data, Outlook 2003, 2007 enabled to store 10 GB of data, and Outlook 2010, 2013, 2016 default storage limit is 50 GB.
Won't Shut down Computer while Outlook is running
When a PST file is accessed by Outlook and the user abruptly closes the Outlook email application, there is a risk of PST file corruption.
Do Not Save PST Files to a Network Drive or Server
PST files can only be saved to a local device. Do not save them to a network drive or server. The PST file can be corrupted if it is saved on a network drive or server. Simplest solution to repair PST file without Scanpst.
Be Cautious of the Antivirus Software
It has been stated that antivirus software can cause PST file corruption. Antivirus often fails to secure your PST, and the entire PST file becomes compromised as a result of a single infected email. As a result, you must be cautious when using your antivirus software.
Outlook Add-ins Should Be Avoided
When add-ins are configured properly, they can cause the PST file to become corrupted. So, turn off any add-ins that you don't need and make sure that the ones that you do need are properly set up. Best alternative, if Scanpst does not repair PST file.
Back up Your PST File at Regular Intervals. You must make a backup of your PST file regularly in a short time interval. If you have a backup of your files, PST file corruption will not affect you. At any time, you can recover your data from a backup. Best solution to repair Outlook PST file without Scanpst.
Conclusion
This blog motive is to provide the best available solution for how to repair PST file without Scanpst utility. We have shown and performed step-by-step guidelines. Go for the demo version and after satisfaction get the full version of PST repair tool.