How to Repair Corrupt MS Access Database Files? – Solved
This article explains how to repair corrupt access database files and make accessible. Experts have verified that all of the steps are safe to use. Simply follow the steps below to repair Access database file yourself.
MS Access Database is a less venerable and secure database. Microsoft guarantees complete data security and integrity. However, cyber-attacks are common these days, and they can result in access database corruption. In this case, the user must take specific steps to repair corrupt Access database and make it accessible.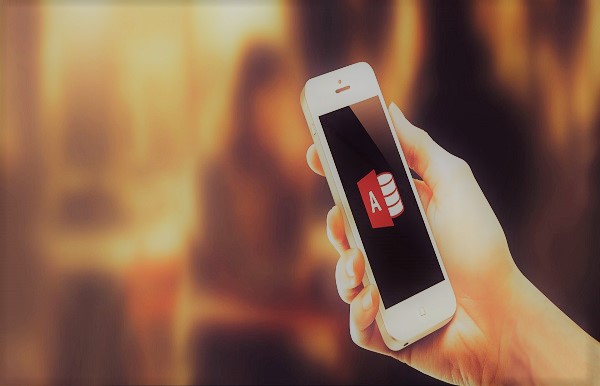 Why MS Access Database Files Get Corrupted
Various reason may corrupt the Access database file which deliberately makes the user annoyed or angry and to overcome such a situation user try all possible attempts to repair corrupt access database.
Recurrent data edits in the Memo fields tend to increase corruption chances due to problems with the VBA module surely posing a risk of database design damage. It can result in MS access database corruption.
Interrupted data changes due to network service failure can lead to Access database corruption marking the database file to be corrupt.
Viruses infect the Access MDB database file, and when the file is used after the database is opened, this virus infection spreads to the Access database file and thus corrupts the .mdb/.accdb file.
Another corruption reason can be hardware failure for example loss of packets on the network cards as well as bad sectors on the hard disk drive can lead to the corruption of the Access database.
Wrongly designed/installed 3rd-party MS Access plug-ins can also lead to the corruption of the database.
More than one user of the same Microsoft Access file having separate Jet-service-packs as well as updates that are installed, with only some differences in the Access database's MDB file along with the file-lock mechanism can lead to the corruption of the Access MDB database file.
Access as well as Jet software's bugs can also sometimes lead to this ms access database corruption menace.
Though it is a rare instance, sometimes anomalous system shutdowns while the database is still running with some activity still being performed can also cause corruption.
All of the scenarios listed above can lead to Microsoft Access database corruption. The section that follows explains how to repair access database without opening it.
Methods to Repair Corrupt MS Access Database File
Usually, when an Access corruption problem occurs, the best resolution is to send the database to some repairing firm or call over the experts. But, sometimes, when the corruption issue is minor one, then you can repair the corrupted MS Access database file by yourself. For this, you have to perform some steps carefully. Three different methods are explained here to repair corrupt access database file.
All these three methods are explained in below section step by step. You need to just follow the instructions as explained.
Method-1: Restore Healthy Database from Backup
If you have latest healthy backup then it become quite easy to repair corrupt Access database files.  Firstly try to restore Access files from the backup available. Before trying to repair corrupt access MDB file by restoring from a recent backup, the user must work on the below-mentioned steps:
Delete .ldb file, which Jet-database-engine auto-creates when the database opens
Make use of Jet-Compact-Utility designed especially for rectifying small Access corruption issues
You have to remove all of the compiled VBA code from Access corrupt database
Changing the path for MsAccess.exe
Method-2: Use In-Built Compact & Repair Feature of MS Access
If no recent backup is available one should try the Compact & Repair utility to repair corrupt Access database files. The following steps involved repairing access database files using the Compact & Repair inbuilt command:
Open Access (do not open database file)
Go to Database Tools
Then go to Compact and Repair Database
Here, locate the corrupt Access database file
Then, click Ok
After that, the file that you have selected for the database is rectified to complete the procedure
After trying this, if the corruption continues import the corrupted database into the newly created MS Access 2010 version's database file. With the steps below to fix a corrupted Microsoft Access database:
Open MS Access
Create a new file for the Microsoft Access database
Under the tab for "External Data," click Access for importing the MS Access file
In the next window which will pop up, you have to click Browse
Now, locate the Access database file and add
The next process involves specifying the place as well as the technique for storing data in the new Access database
Then, click Ok
Select all of the database items and access them
Finally, click Ok
Method-3: Repair Access Database without Opening It
If the corruption problem persists after attempting the aforementioned methods, a high-quality Microsoft Access Database repair tool is recommended. One can also avail of MS Access file repair services from verified vendors.
SysTools has developed an all in one Access Database Recovery Tool for Microsoft Access database. It is compatible with the old MDB file and latest ACCDB file. You can use the same tool to repair corrupted MDB and ACCDB file without any limitation.
Steps to Repair Corrupt Access Database Files
To fix access database corruption effectively with the Microsoft Access file repair tool without harming the data within the MDB and ACCDB database file follow these steps:
Step-1: Download and Install the software in your Windows system to repair Access database file.
Step-2: Browse the corrupt Access .mdb/.accdb file in software using Browse button.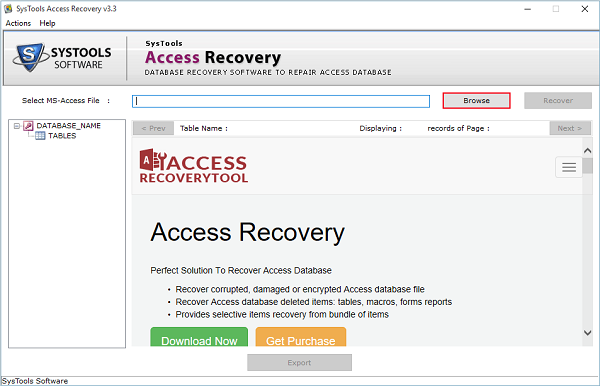 Step-3: Now Click on the Recover button to repair corrupt MS Access database file.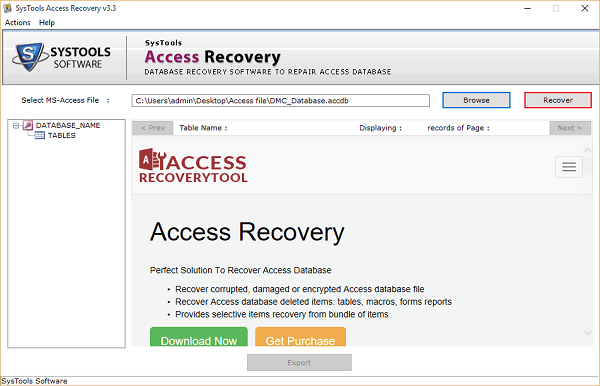 Step-4: After clicking on the Recover button, Access File Repair Tool will start the recovery process. While repairing MS Access file, one can Analyze the live running progress report.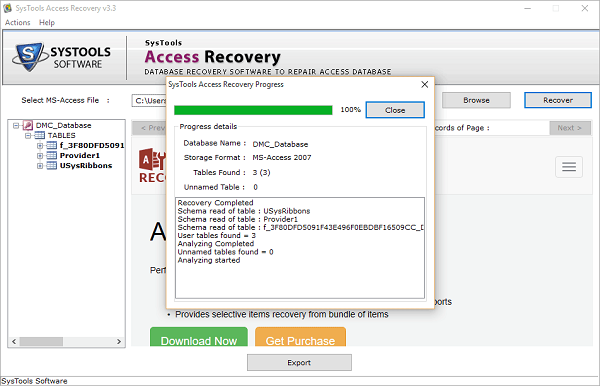 Step-5: After completing the repair process the software will list all the tables in software panel. Here you can preview the data of the corrupted database. Now, Click on the Export button to export the repaired Access database.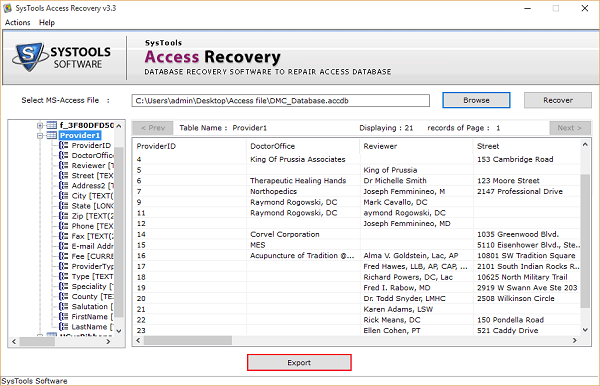 Step-6: Access file repair tool will show the number of records after clicking on the Export/Save button. Now you a healthy access database file that you can easily access.
Concluding Words
No wonder the MS Access database is very stout, but still not completely free from corruption damage, and when it happens. One can repair Access database files either by employing free manual methods or can also go for recommended Microsoft Access repair tool. Which works best in repairing highly corrupted access database file.