How To Recover Deleted Emails In Outlook Under Exchange Environment?
Shayadri Sharma | October 30th, 2014 | Tips
Data deletion in Outlook happens to take place in two forms, i.e., Soft Deletion and Hard Deletion Outlook. When a soft deletion takes place the item is shifted to Outlook's Deleted Items folder and remains recoverable till the folder is emptied. However, hard deletion (permanent deletion) takes place when both; Shift and Delete Keys are pressed simultaneously for deleting item(s).
Meanwhile, items can still be recovered even if the hard deletion Outlook process was used in an Exchange-Outlook environment. This is possible with the Dumpster facility. It is an invisible folder which neither exists in Outlook nor can be called the Deleted Items folder. It is responsible for storing the permanently deleted items of a mailbox till the retention period (defined by the Exchange admin) lasts.
NOTE: The first version of Dumpster was Dumpster 1.0 (Exchange 2003 – 2007. Applicable for Emails items only) and the latest one is Dumpster 2.0 (Exchange-Outlook 2010 Dumpster and later versions. Also applicable for Non-Email items).
This article will be guiding you on the entire concept of the Dumpster, hard deletion of items in Exchange, and how to recover hard deleted items in Outlook.
Permanent Deletion Of Data In Exchange-Outlook Environment: –
In Microsoft Exchange Server, you can control for how long your deleted items are tracked, by using the Dumpster feature. Thus, every time a user deletes an item from their mailbox, it is sustained by Exchange and will remain available to the respective mailbox owner for recovery, at least till the retention period allows.
However, in order to use the Dumpster facilities of recovering permanently (hard deleted Outlook) items, make sure that the DWORD Value 'DumpsterAlwaysOn' key is added to the registry.
Following are the steps to enable DumpsterAlwaysOn registry key:
NOTE: Be aware that incorrect editing of the registry can even lead to severe consequences that may include; reinstalling the entire operating system.
WARNING: Problems caused as a result of editing registry incorrectly may not be reversed or resolvable either. Thus, before you make any changes to the registry, make sure that the valuable data is backed up and the correct steps of editing registry are followed precisely.
The Deleted Item Retention policy must be configured on the Exchange by the admin. Without doing so, there won't be any deleted items kept in Dumpster to perform recovery on.
On the client machine that is being used for carrying out deleted items recovery operation, from the Start Menu open Run window and type in regedit. Click Ok.
Now, locate and click on the given registry subkey:
HKEY_LOCAL_MACHINE\SOFWTARE\Microsoft\Exchange\Client\Options
3. From the Edit menu, point towards New, then click on DWORD Value.
4. Then, type 'DumpsterAlwaysOn' and hit Enter.
5.  Double click on DumpsterAlwaysOn.
6. In the Value data field type; 1. Click on Decimal from the Base Area and click Ok.
7. Close the Registry Editor.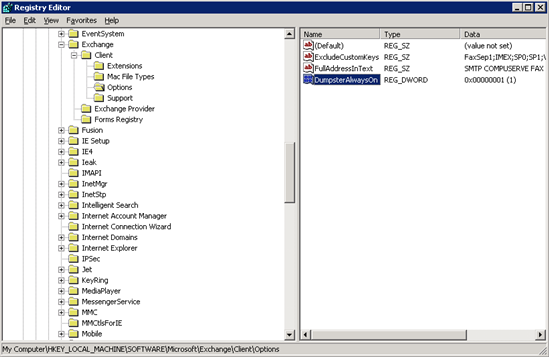 8. And restart Outlook to implement the settings.
Tip: If DumpsterAlwaysOn key is enabled in the registry, it will not only allow you to perform hard deleted email recovery, but also supports the recovery of the non-email item (contacts, calendar, tasks, etc.).
Once you successfully enable Dumpster Outlook 2010 Windows 7, the Recover Deleted Items… option will get enabled in Outlook under Tools menu.
How To Recover Hard Deleted Items in Outlook?
NOTE: Before trying to recover hard deleted items in Outlook, make sure that you have proper permissions, i.e., owner rights on the mailbox you will be performing recovery of hard deleted items.
Following are the two ways of performing deleted item recovery in Outlook (once DumpsterAlwaysOn is enabled):
From Deleted Items Folder
Run the Outlook client having access to Exchange mailboxes having deleted items.
Click on the Deleted Items folder.
Go to the Tools menu and click on Recover Deleted Items.
Choose items that have to be recovered. Click on Recover Selected Items.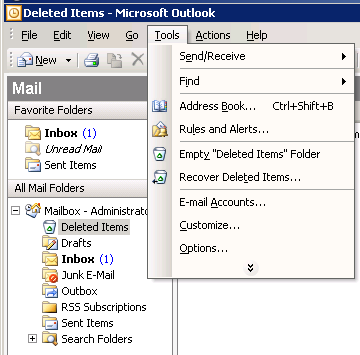 From Any Outlook Folder
Run Microsoft Outlook with access to the mailbox(s) having deleted items in them.
Now, choose the respective item/email folder with deleted items.
Click on the Tools menu and choose Recover Deleted Items option.
Choose the item(s) that you need to recover and proceed by clicking on Recover Selected Items.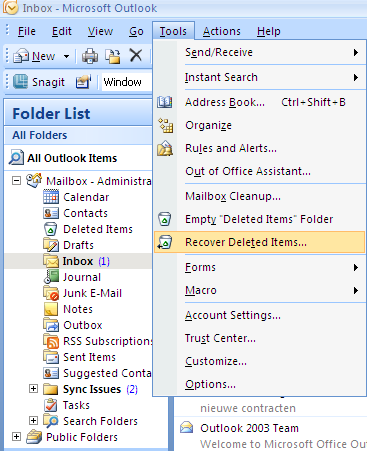 Conclusion: Understanding the role and importance of Dumpster is very important. Before the awareness of the Dumpster, users applied backups for performing recovery of all types along with restoration. However, the role of backup is to restore entire mailboxes and not just particular data items. Thus, the backup should only be taken into consideration during DR and not simply for performing the recovery of a few items you lost from your mailbox. Dumpster is evidently time, efforts, and resource saving method of performing hard deleted  Exchange mailbox data. Employing this article will help you know how to recover deleted emails in Outlook for Exchange mailboxes, with the help of Dumpster.