A Proven Technique to Recover Document from SharePoint Database
Shayadri Sharma | May 30th, 2018 | Tips
During any SharePoint database corruption, recovering documents from the database become a critical issue. SysTools SharePoint Document Recovery is capable to Recover Document from SharePoint and other SharePoint items from a corrupt database.
"Recently, our SharePoint database has encountered some serious error. As a result, the entire database became corrupted. We cannot access any of the documents that have been stored in the data. Unfortunately, we do not have any backup of the database either. It has become really necessary for us to restore deleted files from SharePoint. Please suggest us how to fix SharePoint database corruption and restore items from the database."
For every Office 365 user, SharePoint is a useful and essential service. Besides storing data and creating websites, it allows users to manage their entire business. But, what if the SharePoint database suffers from some corruption and they have to recover some documents from SharePoint? It may seem like a difficult task, but SharePoint Recovery can make the entire recovery process effortless. This application can export the SharePoint documents besides recovering them. In this post, we will talk about the prime features of this program as well as operating instruction of this tool. But first, we will see how to recover the document from SharePoint so that users can choose this application over other tools.
Why Choose SharePoint Recovery Software
Despite having many other applications available for SharePoint database recovery, readers should use SharePoint Recovery because –
Ability to fix any SharePoint corruption
Easy to understand interface
Affordable and competitive price
Three licenses to choose from
Highlighted Features of SharePoint Recovery
Recover Deleted Documents from SharePoint: This application can fix SharePoint MDF file corruption and recover SharePoint database items. Documents, sites, Lists, Triggers, Functions, Rules, metadata, permission, workflow state, etc., are some of the items that this application can recover.
1. Facility to Export Recovered SharePoint Documents: The utility does not only restore deleted files from SharePoint but also exports them. There are options to transfer the recovered data to SQL Server Database or as SharePoint Database.
2. Preview Items after Quick Scan: Once the corrupt file is added to the program, it quickly scans the file. Afterward, it previews all the recovered items of the database with attributes. Thus, users can check which files they need to migrate.
3. Export Selective Items/ Documents: For the convenience of the users, this tool provides the option to export selective data. Users can select the items they want to export and migrate them only. Thus, both time and space get saved for the user.
4. Supports Latest versions of SQL Server: After recovering data from SharePoint, the data can be exported to SQL Server Database. Presence of SQL Server is compulsory to export SharePoint documents to SQL. However, the software is compatible with SQL Server version 2016 and all lower versions.
5. Provides Summary Report of the Process: Once the recovery is done, the tool generates a summary report. It contains database name, database version, table count, Functions, Rules, Triggers, Pages read, stored procedures, views etc.
How to Use SharePoint Recovery Tool to Recover Document from SharePoint Database
First of all, download or purchase the software and install it on your system. Now open the software.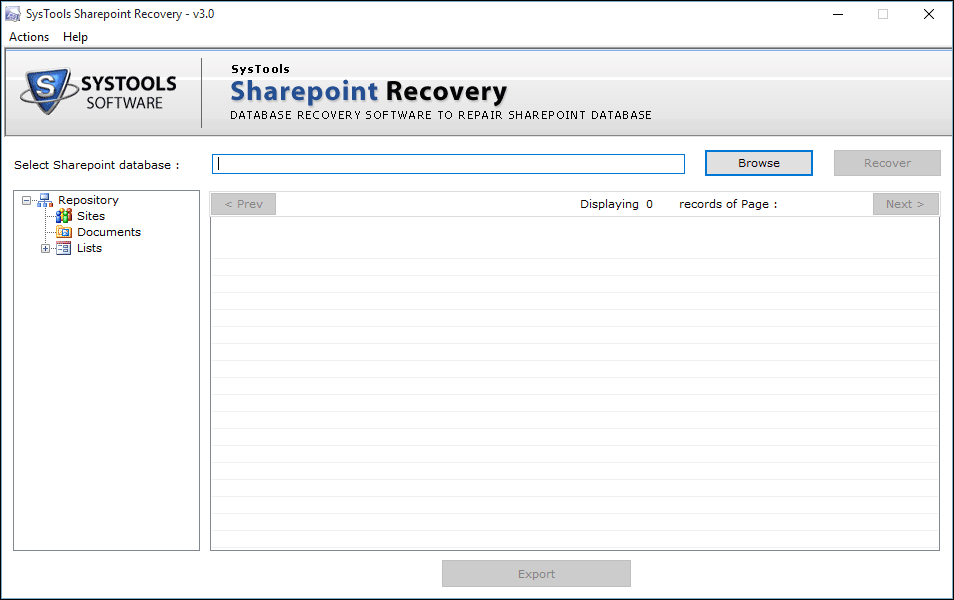 Click on Browse button of the Home screen to add corrupt SharePoint MDF file.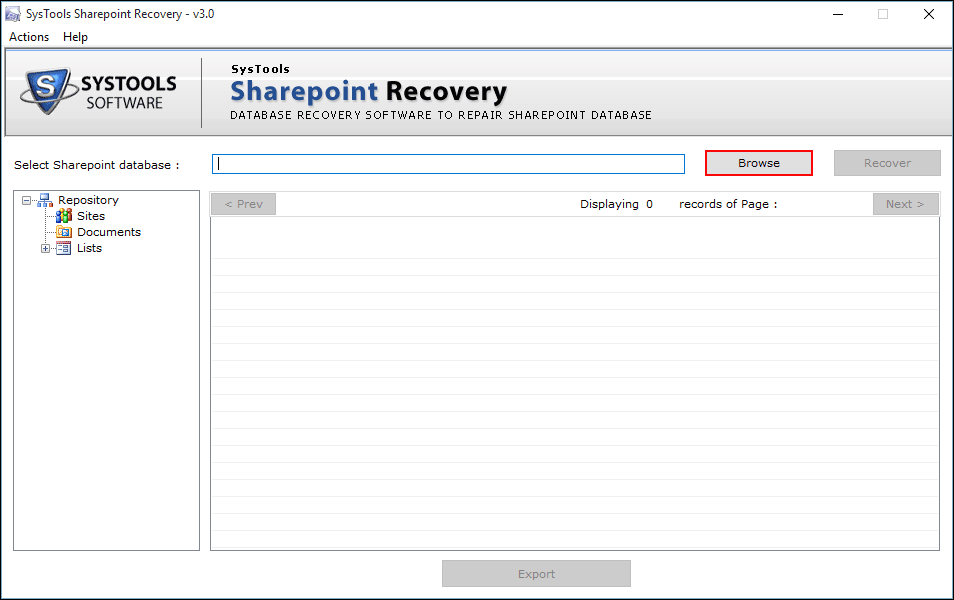 Navigate to the folder where the MDF file is located. Select the file and click on Open.

The file will be added to the application. Click on Recover button now to begin SharePoint Recovery.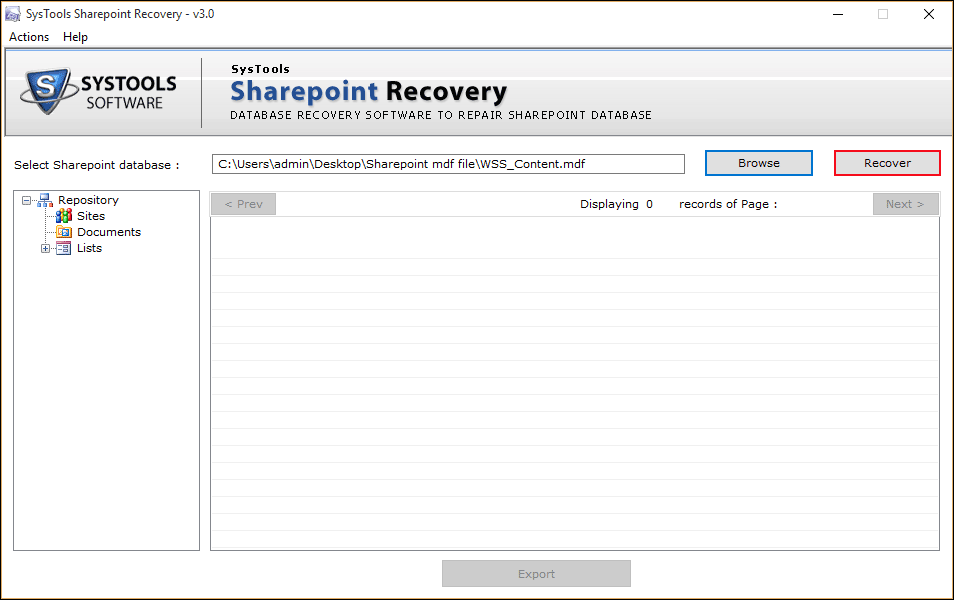 The process to recover the document from SharePoint will start. A window will appear to show the live status of the recovery.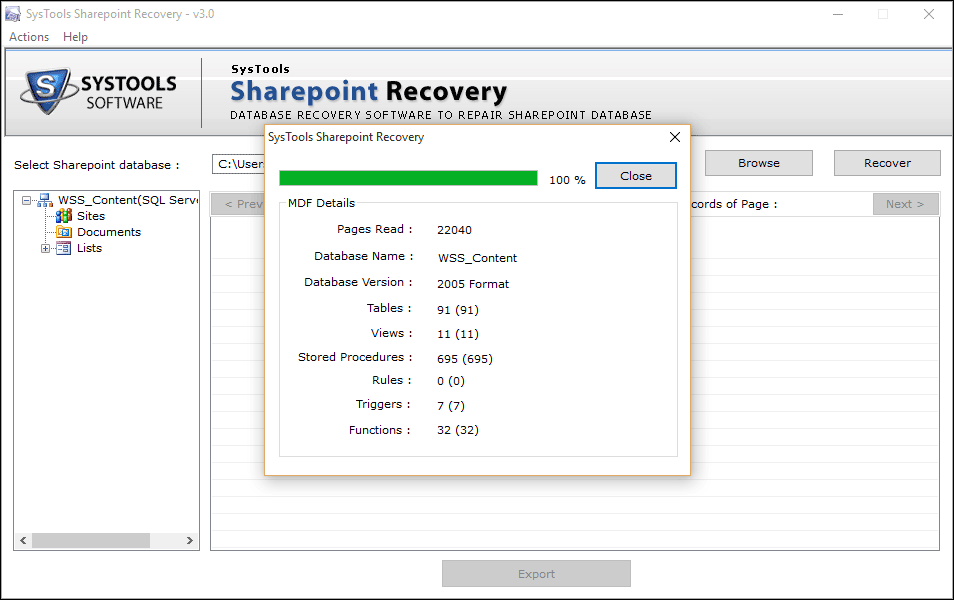 Once the recovery is done, the preview of all SharePoint database items will be shown on the software window. In order to migrate these documents, click on Export.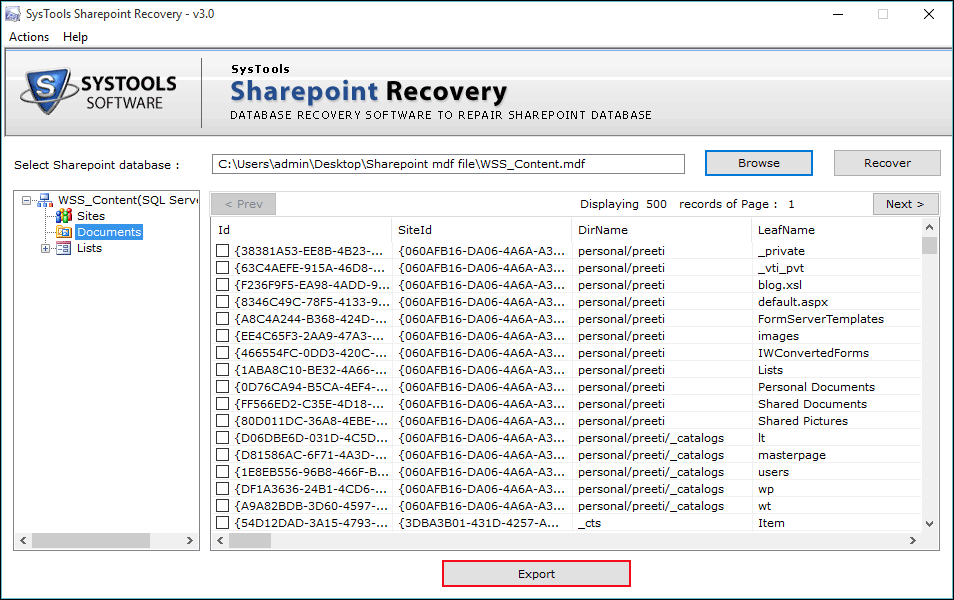 On the next screen, two options will appear for export: SQL Server Database and SharePoint Documents. Users can choose how they want to export the retrieved documents by clicking on the radio button of any of the options.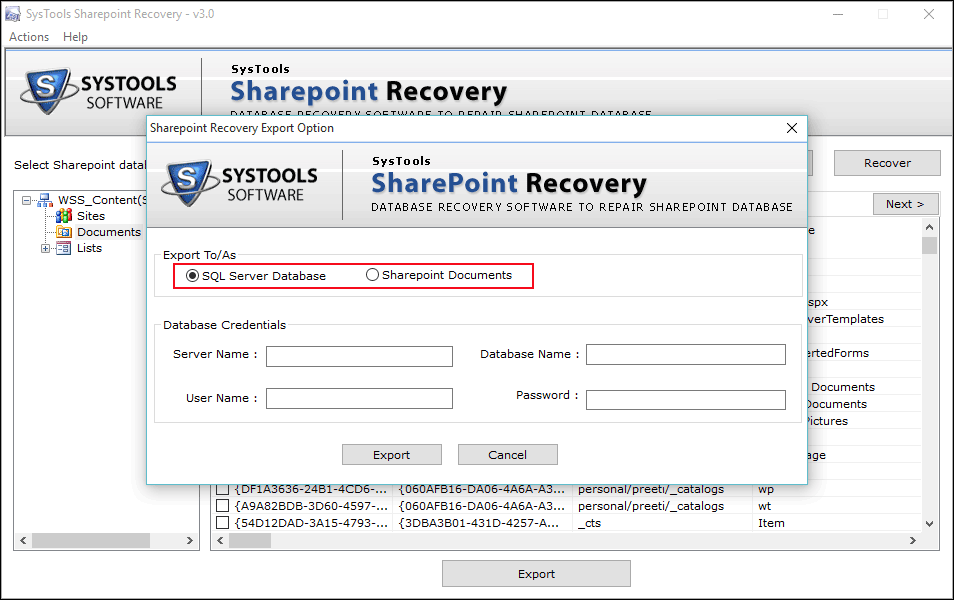 While creating a new database in SQL Server to export. You need to set database collation to Latin1_General_CI_AS_KS_WS. In case of all MS SQL Server editions, select these New Database properties step by step:
Open SQL Server Management Studio
New Database
Options
Collation
Select 'Latin1_General_CI_AS_KS_WS'.
Also, enter necessary credentials to continue to the next step.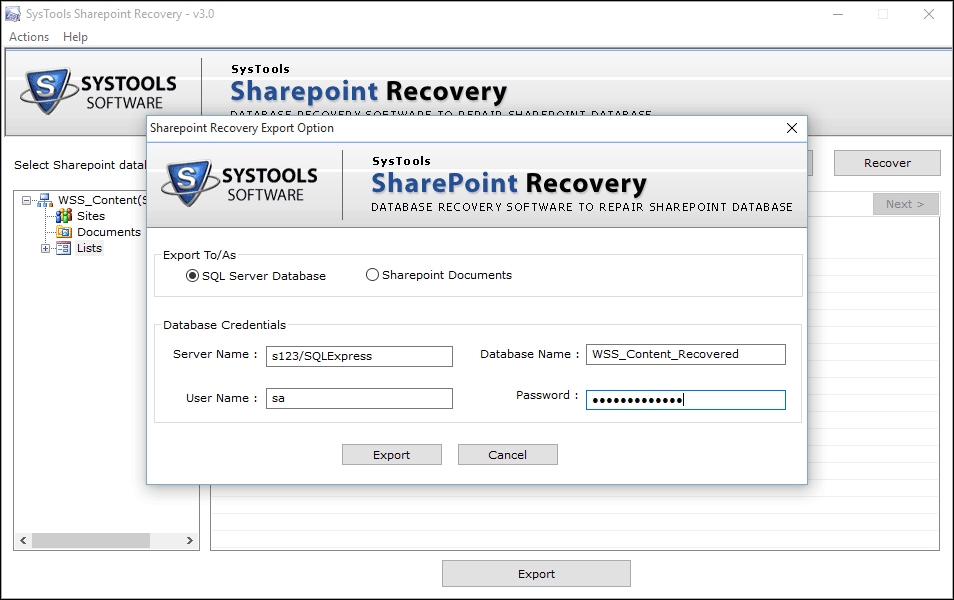 Now it is time to decide whether to delete the exported documents or not. Click on Yes/ No button based on your choice.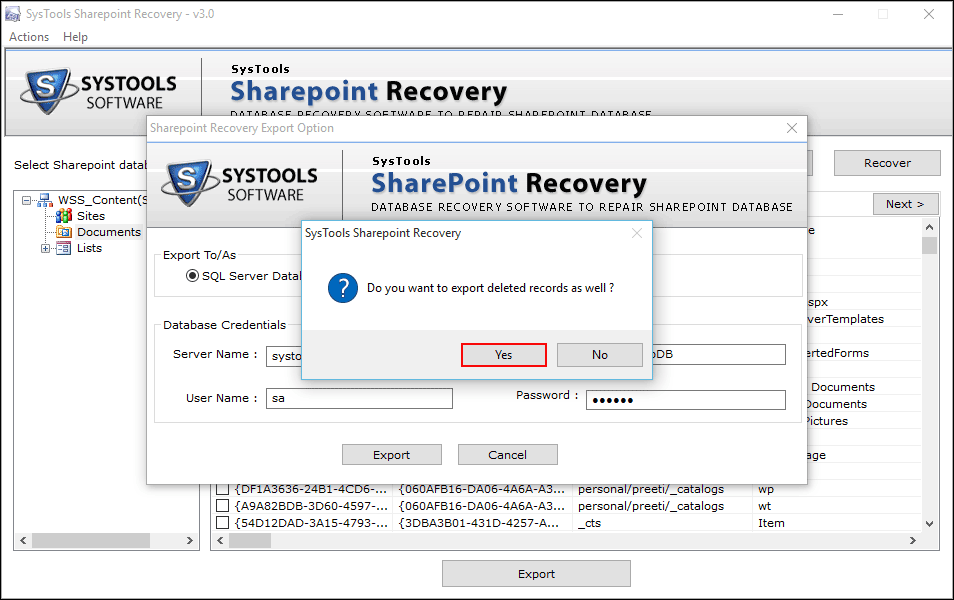 The status of recovered SharePoint data export process will also be displayed in real-time.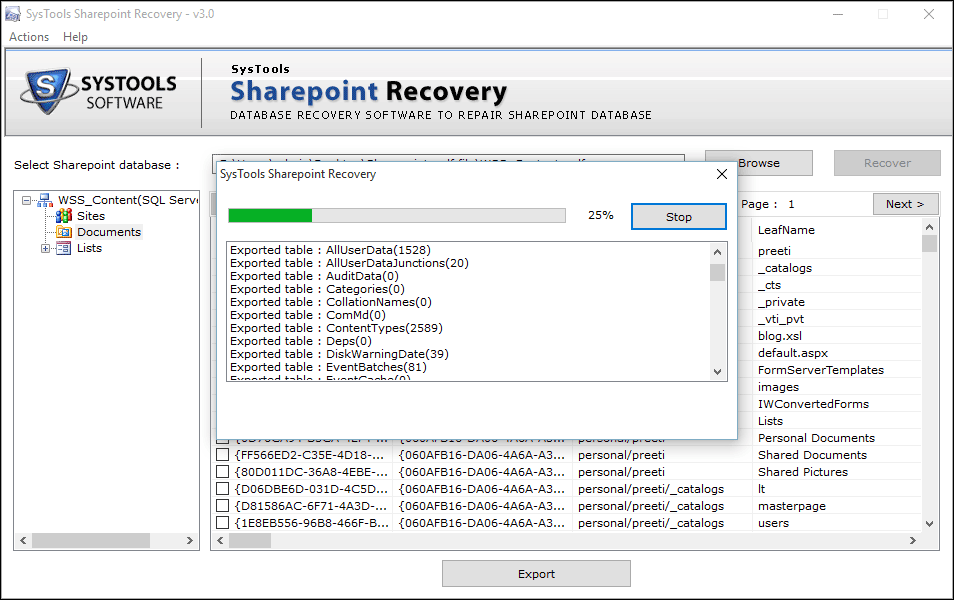 After data export is done, table names and record count that have been exported.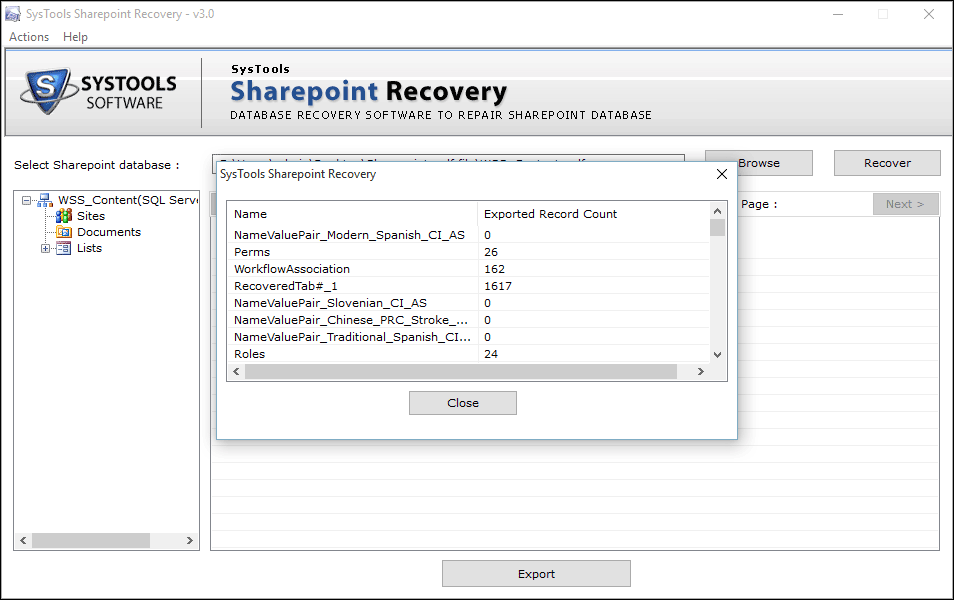 Conclusion
As the above discussion states, SharePoint Recovery Tool is equipped with many useful features. It can be run in several easy steps to recover the document from SharePoint Database. To fix minor and major corruption and recover items from SharePoint database, this tool is quite popular among SharePoint users. If you want to restore deleted files from SharePoint, you can opt for this application without any hesitation.