Outlook PST To Gmail Simplest Migration Tips
Need to Import PST to Gmail
I was working in an organization but recently moved into a new organization. My problem is that the organization where I was working, manages all data in Microsoft Office 365, but the new organization uses Google Apps for data management of employees. Therefore I want to migrate Outlook PST to Google Apps / Gmail Account. I read many solutions, but could not able to get the perfect one to transfer PST file to Google account.

How To Import PST to Google Mail
Manual Method For Outlook to Gmail Migration:-
It involves IMAP account because Outlook can interact with online email services, like Gmail, Outlook.com in two main ways either by POP3 or by IMAP connection.
POP3 -> It is the only way to collect messages from Gmail or Hotmail & transferring them to your computer. And with the POP3 account, there will no direct effect on those messages that stored online. You can make changes or save them for future without any interruption to another one.
IMAP -> Mirroring what's in your online account on your own computer. And if you set up IMAP connection between Outlook email client and Gmail then any change to a message will affect both copies. If you delete a message in Outlook, it will disappear from Gmail as well and if you add a message to Outlook, it will also be added to corresponding Gmail account.
Note:- If either IMAP or POP3 is already configured then you can use the step by step procedure of Google Apps Migration for Microsoft Outlook (GAMMO) or alternatively you can go for Outlook to Google Mail for migration.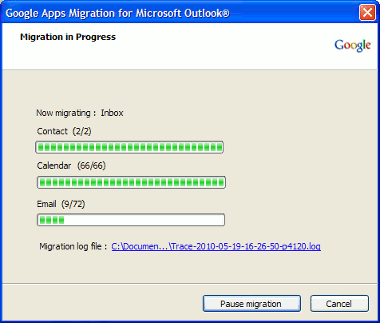 Steps To Upload PST file to Google Mail using Third Party Tool
1. Download the tool and register your domain name.
2. If the domain name is unique move further, otherwise reset the domain name.
3. Now click add files or folder to select the PST files and then click Next.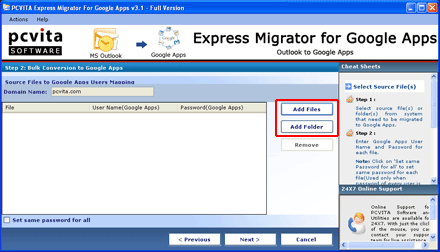 4. Select the PST files and click on Open button.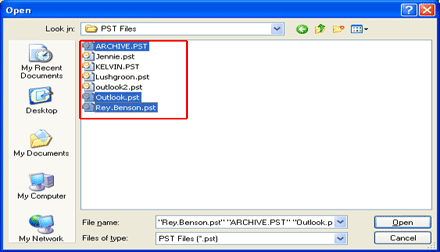 5. Now, set the username and password of the google mail account and click Next to continue.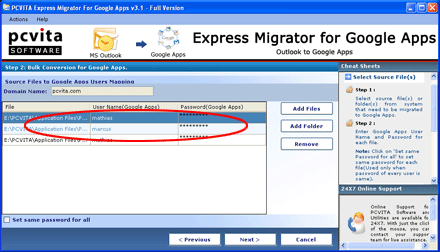 6. Choose the email filter option and then click on Export to start the migration process.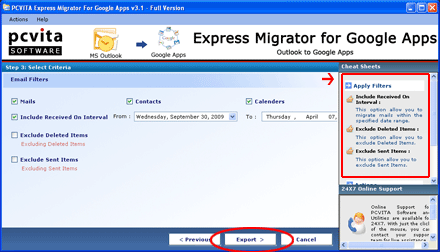 7. Once the transfer from Outlook to Gmail is done click on OK. Here you can see all the PST emails in google mail account.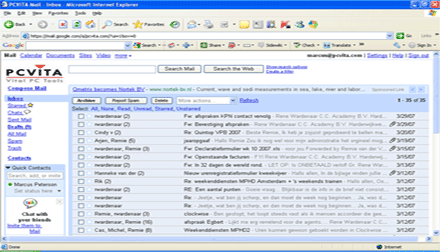 User Queries
1. Can I import email messages from Outlook to Google mail with the help of this tool?
Yes, you can easily transfer PST to Gmail with the help of Outlook to Google mail migration tool, it will help you moving all PST files at one time.
2. How can I import all emails from outlook 2010 to Gmail?
To effectively import all emails from Outlook to Google mail you can follow the steps of the discussed software utility or you can use the tool provided by Google to import Outlook Items into Gmail.
3. Can I migrate contacts from Outlook to Gmail?
Yes, you can easily migrate Outlook PST contacts by following the discussed above steps.
4. Can I add Outlook calendar to google calendar using above steps?
Yes, you can effectively send all your calendar data from PST file to Gmail. Because Outlook to Google mail software is developed in such a manner that will allow you to transfer each and every item easily.
5. My query is 'how to change email from Outlook to Google mail'?
You can move items from PST file to Gmail, but you cannot switch email account from Outlook PST to Gmail with the help of the tool. For that, you need to follow above-discussed transition steps.
6. How do I copy email from PST to Gmail?
If you have configured either IMAP or POP3 account you can copy email by dragging and dropping from previously existing folders into Gmail folder which is created by Outlook.
Conclusion
This post is written to help users while moving from Outlook PST file to Gmail. The tool which is provided by Google to import Outlook to Gmail is the best option when you try to transfer Outlook items. But an alternate way of exporting PST file to Gmail is also discussed in case you do not have either of the accounts IMAP or POP3 configured on your system. In such situation, the third party tool will help you.