A Complete Solution to Migrate Windows Live Mail to Google Apps
Shini Mohan | March 3rd, 2018 | How to
"Hello! Currently, I am using Windows Live Mail and I have about 25,000 emails in my inbox. WLM is responding very slow and the problems were started when I get multiple copies of my emails in my WLM inbox. Whenever I was receiving any email, I was unable to click on the URL links of the email message. Then, I thought to migrate Windows Live Mail to Google Apps. Is this a good idea? If yes then, what is the perfect way to migrate local folders and messages to Gmail. Before few weeks, I have tried to create a folder structure in Google Apps and moved chunks of messages at a time to the IMAP folder. But, now I have to migrate data in bulk so, I am afraid that maybe this task will consume a lot of time or may result in the permanent data loss. So, please someone suggest me any automatic and easy way to upload my every email of WLM account to Gmail."
Are you facing issues while using Windows Live Mail and searching the solutions to transfer data from WLM to Google Apps? Then, you have landed on the right solution page. Here we will discuss some manual and automatic techniques to resolve the same task.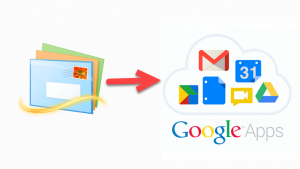 Why Are Users Migrating from WLM to G Suite?
Windows Live Mail is a desktop email client offered by Microsoft to replace the Outlook Express. It is an application of Windows Essentials suite that includes various fine programs, such as Live Mail, Photo Gallery, Live Writer, MovieMaker, and OneDrive. Unluckily, the suite has not been updated since the year 2012 but users can still use it for downloading emails from any email service. WLM does not support the new applications programming interfaces (APIs). Microsoft company could update this mail client but instead this, they asked users to switch to other different email programs.
On the other hand, G Suite is a web-based and collaborative service that includes all facilities as tool management, Google Talk, Google Docs, Google Calendars, Google Videos, and Google Cloud Connect. Also, its quick working speed and simple GUI attract users towards it. Thus, users are migrating from Windows Live Mail to G Suite to get rid of the issues of WLM.
Manual Techniques to Export Windows Live Mail to Google Apps
Now, comes to main point that how to migrate from Windows Live Mail to Google Apps? Well, in this section we will introduce users with some manual solutions for the same task.
#Approach 1: Configure Windows Live Mail with Gmail
Users can configure their WLM with G Suite account so, that they can move their data from Windows Live Mail to Google Apps. To do this, go with the subsequent guidelines:
First, log in to your Gmail account with credentials
Here, click on gear icon for settings
Select Forwarding and POP/IMAP menu and click on Enable POP for all mail and enable the IMAP
Then, click on Save Changes button
Now, open the Windows Live Mail account
Next, click on Add an Email account >> Accounts
After that, click on Add icon
Enter the credentials of your Google Apps account here
Type imap.gmail.com at Incoming mail server and smtp.gmail.com at Outgoing Server box
Here, enter your full email address and username with password
Type 465 port number for Outgoing Mail Server and 993 for Incoming Mail Server
At the end, click on Next button
Now, open the email folder of your Windows Live mail account
Select the desired emails you are required to migrate
After marking email messages, hit a right-click and select Move to option
Here, select the G Apps account that you configured and click on front-arrow of email address
Choose the folder in which you need to move WLM emails
Let, the process complete successfully
#Approach 2: Migrating from WLM to G Suite via MS Outlook
The other manual way to move Windows Live Mail to G Apps is first, convert the data from Windows Live Mail to Outlook. After that, migrate the output to Gmail.
Step 1: Move WLM Data Migration
To import emails from Windows Live Mail to Google apps go with subsequent steps:
Launch both MS Outlook and Windows Live Mail email applications respectively
From the main screen of Windows Live Mail, click on File >> Export >> Email Messages
Choose the MS Exchange >> Next
Click on Ok button from the newly opened wizard named as Export Message
Select all the required folders you need to migrate and click on Ok
Now, the data-exporting process will start
After executing the process Export Complete notification will appear
Finally, click Finish to end the processes
Step 2: Migrate into G Apps
To move Outlook PST to G Apps, Google offers a utility named as Google Apps Migration for Microsoft Outlook (GAMMO) Tool. Via this users can easily import Outlook PST file in Gmail account. Here are the guidelines for the same:
First of all, download and install GAMMO tool
After downloading, launch the application and enter the credentials of your G Apps account and select Remember option
Click on Continue button for further process
Next, select your Microsoft Outlook profile and click on From PST File option
Now, browse the location of PST file and select all the options to migrate entire data of PST
Then, click on Migrate button and let the operation execute successfully
Demerits of Manual Method
Both of the described manual methods are good but they will consume a lot of time in executing the whole procedure. Also, these techniques require some technical knowledge and if not followed sequentially, they can lead to permanent data loss. Migrating data from Outlook PST to G Apps account via GAMMO tool is a risky operation. It is so because, if users are transferring a large amount of data then, the process might fail at any moment also, it is a very slow process.
Alternative Technique to Migrate Windows Live Mail to Google Apps
If users do not want to execute lengthy manual techniques and searching for a direct way to migrate data of WLM to G Apps then, we have a complete and guaranteed solution. SysTools EML to G Suite Importer is one of the best and trusted solution to convert WLM compatible EML to Gmail in bulk. This tool can get rid of all the limitations of the manual method and perform a direct data migration. It allows uploading selected data files/folders from WLM to Google Apps. While moving the data from one mail client to other, it maintains the attributes and meta properties of EML files. For safe and secure data migration is offers pause and resume option. Apart from all this, it maintains the folder structure of source EML file during and after migration. The best part of this software is that it is compatible with all versions of Windows.
Concluding Lines
Migrating from Windows Mail to Gmail is one is such a good idea to overcome the limitations of WLM. Thus, in this editorial, we have discussed some techniques to migrate Windows Live Mail to Google Apps. As manual methods consist many risks thus, we recommend users to use the automatic solution as their first approach.