Steps: How to Save AOL Emails to External Hard Drive / Flash Drive?
Why does an AOL Email client user need to save AOL emails to external hard drive? Is it an easy procedure to archive AOL emails to computer? Have you ever thought about this? AOL Mail is a cloud-based email application, and so the data security is one of the most important factors concerning its users. The data stored in your cloud-based email service is always prone to data loss and data breach. So exporting AOL emails to hard drive is having greater importance.
If you need to migrate AOL Mail data to any other location, the best solution is to first, download AOL emails to computer. Then transfer that file to the required location. There are few manual as well as automated solutions that will help to save AOL emails to external hard drive. The best and reliable way is to go for the third-party application like AOL Mail Backup Tool to archive email message in bulk. Storing to AOL emails to computer in the desired file format is one of the best solutions.
If you are still confused about backing up AOL data, then let us see why copying AOL emails to flash drive / hard drive is having this importance in these eras.
Backup AOL Emails – Why?
Are you confused about, why you need to take email backup? The following section will provide you a proper and clear-cut idea about the importance of AOL Email Backup. Here, in the upcoming section, we will see a user scenario.
"I am using AOL Mail since 2000 for both personal and business purpose. I am having multiple AOL Mail accounts and having very important data in it. Last day I tried to open and read one of my old but highly confidential email. But unfortunately, the email message opened was not in a readable format.

All I saw is a blue bar at the top of the page, followed by a few unknown symbols on the left, and there was no name, subject, date or data in it. I searched for solutions, tried various methods, but couldn't resolve it."
Save AOL Emails to External Hard Drive – Solution
AOL Mail store its entire data in a default storage proprietary area which is called as Personal Cabinet File. And AOL Mail has an inbuilt feature called Personal Filing Cabinet, which allow users to download and save important messages on the hard drive.
One can use this feature to make custom folders to organize an AOL email message, to search and read messages from downloaded emails. The user can use it even if the computer is not connected to the Internet. The second method is to save a single message in EML file format, (an individual file) on your computer / hard drive / flash drive.
Automated Solution – Backup AOL Email to Computer
To save AOL emails to external hard drive, SysTools provides AOL Email backup software, which helps you to store AOL email message in MBOX, PST, EML, and MSG file format. The application allows to single account backup option for all mailbox item like inbox, sent items, trash etc. It provides the export option of AOL emails to various email clients like Mozilla Thunderbird, Windows Live Mail, Microsoft Outlook etc.
From a user point of view, this is the best choice to export AOL emails to computer. You can export AOL email messages from any version of America Online efficiently with advanced filtering option. It also supports to backup version Mail email messages that are exported to AOL email client.
Also Read: How to migrate AOL emails to Mozilla Thunderbird?
Steps to Save AOL Emails in Flash Drive
Here, in this segment, we will discuss the step by step procedure to save AOL emails into external hard disk, computer etc. So, you have to follow all of them to execute the procedure. Let's begin:
Step 1: Download and install the AOL Email backup tool.

Step 2: Add AOL account credentials and login.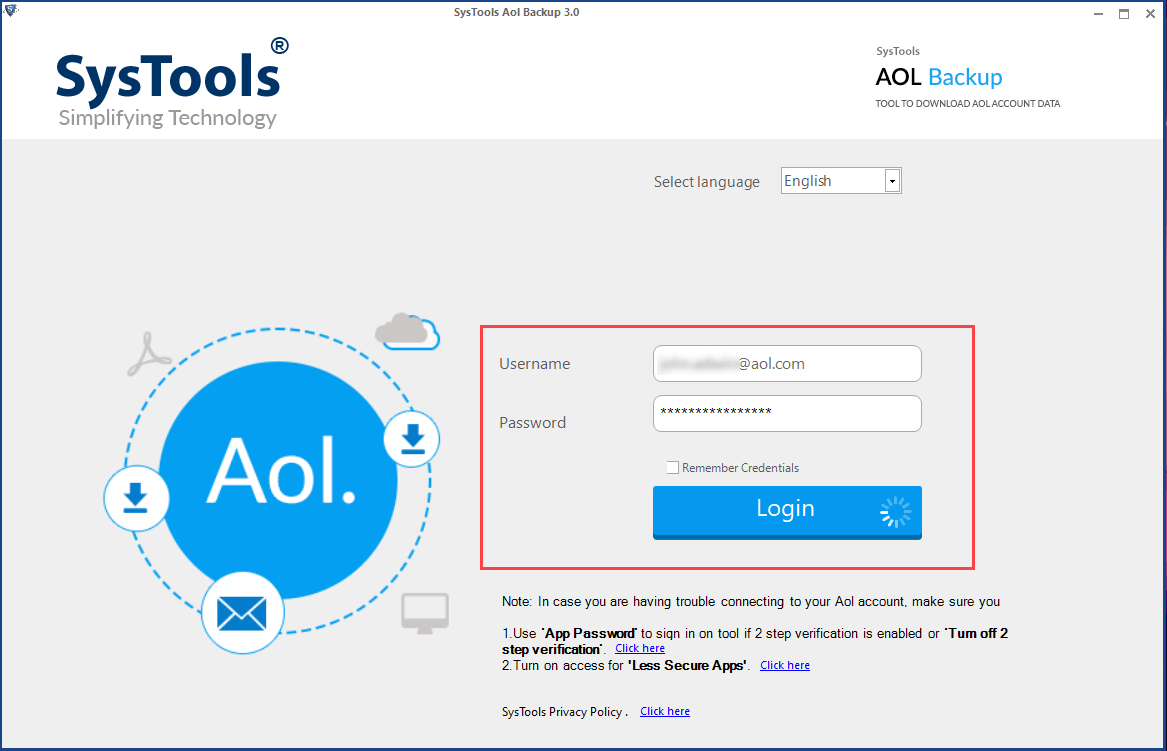 Step 3: Choose email format and select Apply Filter option to save selective AOL emails.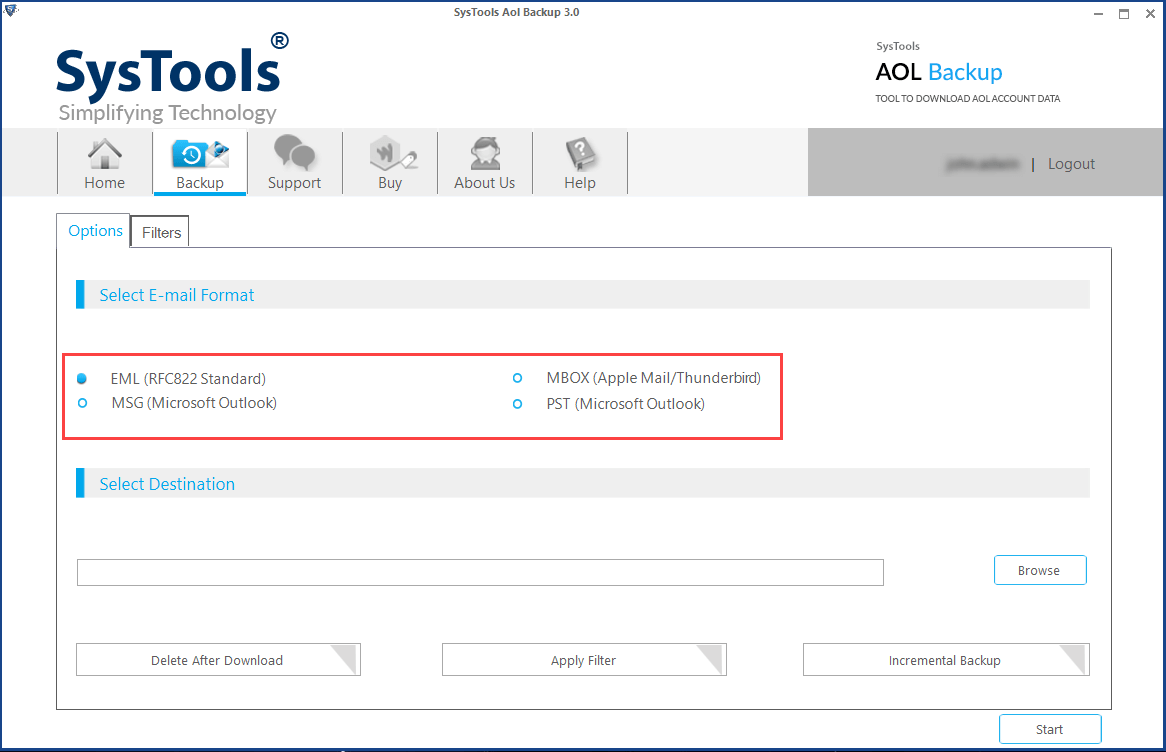 Step 4: Click on the Start button to begin the procedure.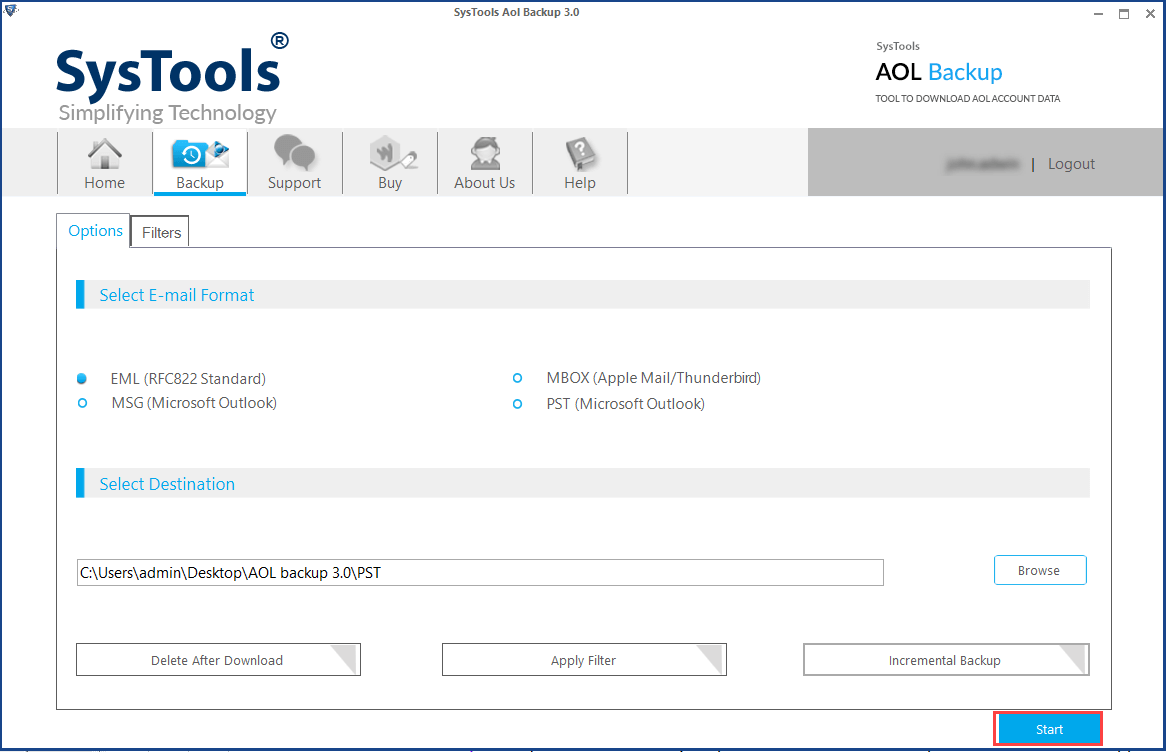 Alternative Manual Solutions – Save AOL Emails in Computer
Here we briefly explain two manual solutions to save AOL emails to external hard drive / flash drive. Two solutions to backup AOL email message are:
Using Print Message feature
View message feature
1. Using Print Message Feature
Login to AOL account and Open the message that is to be exported and click on More
In the Drop-down Menu, click on Print Message option
Now click on Change in the new tab opened
Select Save as PDF and press Save button to save AOL emails to flash drive
Choose the desired location and press Save
Note: The user needs to perform the same procedure for each mail, to export AOL emails to computer in PDF file format.
2. View Message Feature
Sign into AOL account Open the message and press More
Click on View Message Source in the drop-down menu
Press Ctrl + S and choose the desired location to save email
Now, change the file extension from .txt to EML and open the created file
Note: This method also does not sup[ports batch migration, and the email message does not get saved with a subject name. This may create confusions in later use.
Both the two methods explained in the above section can only support one email at a time. So, this methods won't help users who need to save AOL emails to external hard drive in bulk. There are few other traditional methods that can save AOL message to computer. A user can also try to save emails to PFC or can try to save as a .eml file (for individual email).
Conclusion:
Are you an AOL Mail user? Have you ever thought about archiving email messages in AOL email account? You can come across with the reasons and solutions for this query in the article. The best solutions to save AOL emails to external hard drive or flash drive is explained in this blog. Go through the manual as well as automated methods suggested in this blog.