How to Convert TIFF to PDF File Format Without any Hassle?
Nilesh Kumar | July 19th, 2021 | Convert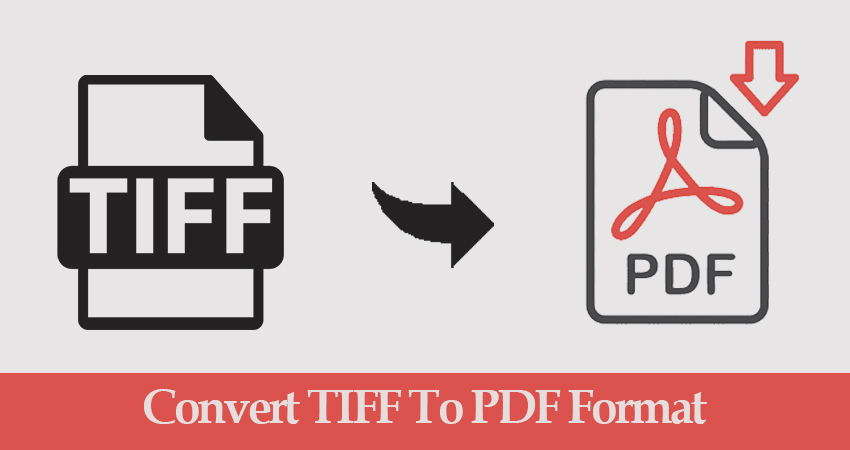 "Hey, I need to convert TIFF to PDF file format as it is the most favorable method to share images file to different platforms. But here the problem I have a bunch of folders that include multiple images and I have tried several conversion options that available on the internet but they are too time-consuming and have a lengthy process. So does anyone know the quick way to convert multiple TIFF files to PDF format ? Please let me know"
If you are searching for the answer related to the above query then you are on the right page. In this blog, we are going to check the complete and quick solution to export TIFF file to PDF format without losing the TIFF image quality.
Overview on TIFF Image
TIFF stands for Tagged Image File Format which is a lossless raster or bitmapped image format. These image files are primarily used in photography and desktop publishing and can save many different color formats and various forms of compression.
How to Save a TIFF as PDF Format on Windows
TIFF to PDF Converter tool is the best batch image converter software on the Windows Operating system. This perfect utility supports several image formats, for example, JPG, JPEG, GIF, PNG, BMP, Icon, EMF, EXIF, JFIF, etc.
Export multiple images file to DOC, DOCX, HTML, PDF, and Text (base 64).
The software allows users to convert multiple TIFF files to PDF format and can change the sequence of the added images accordingly.
Plus users can also allocate or customize the page size, margin, and page orientation.
The software is created with an advanced feature that preserves the image's quality throughout the conversion process.
Prime Features and Benefits of the Software
These are the advantages of using the TIFF to PDF Converter tool –
Export Several Images Format- The software is able to export several image formats such as GIF, JPE, JPG, JPEG, PNG, ICO, BMP, ICON, TIFF, TGA, into PDF, HTML, DOC, DOCX, and Text(base64).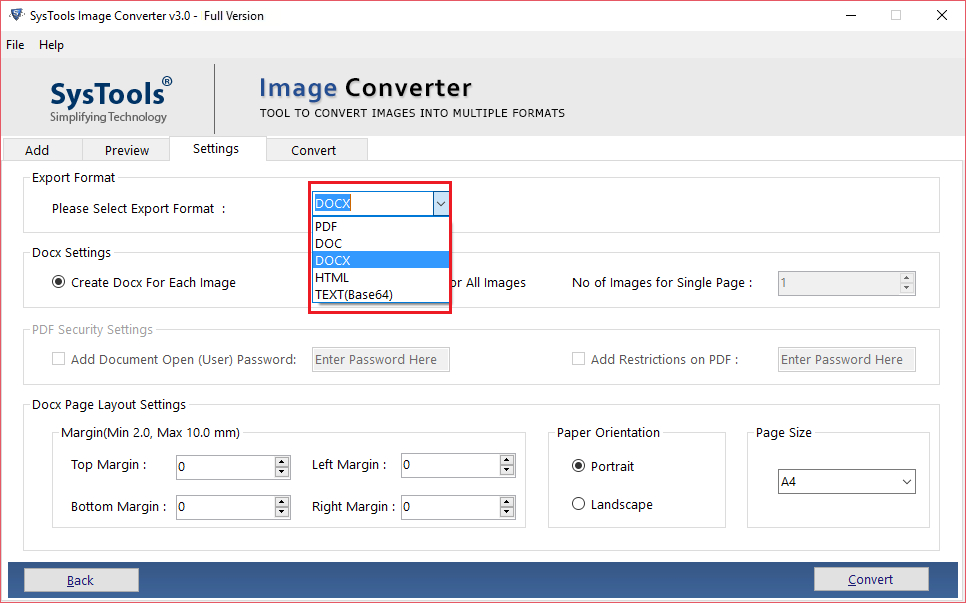 Create and Save Single or Multiple PDF Files- The TIFF to PDF Converter software will provide two options to save and convert Tiff to PDF file format on your device-
Save Single File for Each Image Option – Select the option to create a single PDF file of each TIFF image
Create Single PDF File For Every Image- Select the option to save multiple TIFF images in one single PDF document.
​Maintenance TIFF Images- Save a TIFF as PDF file without harming the image quality as this software is constructed with advanced features that allocated the size of the image do not affect TIFF properties.
Provide Customize Page Settings-
Margin- Change the page margin between 2mm to 10mm.
Size- Choose the page size which is generally A4 size to change it as required.
Paper Orientation-Change the style of the exported file by either choosing the Portrait or Landscape mode.
Option to Change Multiple TIFF Image Order- This tool will provide you the two options to arrange images accordingly-
Move Up Button: Select this option to move or drag the required image upward.
Move Down Button: Drag the required image downwards.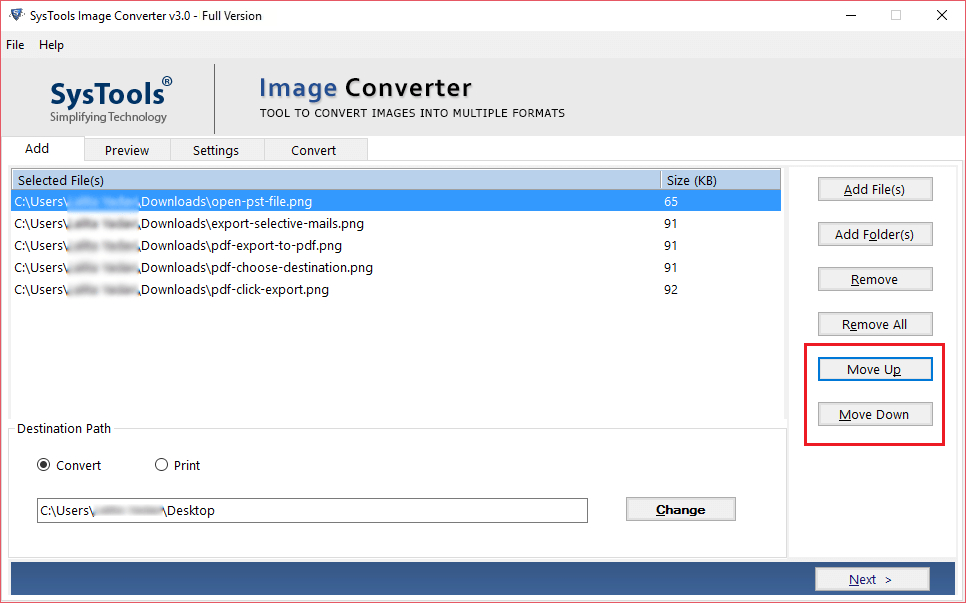 Select Path of the PDF Files- This feature of the software that helps you to convert TIFF to PDF file format will allow users to save the PDF files on the desired destination. By default, it is set to desktop.
Steps to Export TIFF to PDF Format
Install and run the software to save a TIFF as PDF file format.
Select the 'Add File' and 'Add Folder' options.
Click the 'Change' button to select the location for exported PDF file.
Select the 'PDF' file format and proceed further to PDF settings.
After customizing the required PDF settings, click on the 'Convert' button.
Testimonials
"The best product to export TIFF file to PDF format in hassle free-way. It supports all the formats of images and can convert them into 5 different file extensions. Totally reliable and trusted software to save a TIFF as PDF file format.
"It is the best software to export or convert multiple TIFF images to PDF documents. It has many benefits and features which help me to carry out the task easily."
Final Words on How to Save A TIFF as PDF File Format
There are a lot of quires related to how to convert multiple TIFF files to PDF extensions. Hence in this blog, we have provided the complete smart solution to carry out the conversion procedure.
However, there is a number of manual methods available to convert TIFF to PDF file format on the Windows operating system. But they are time-consuming and users have to repeat the same process for each and every image.
So to overcome these issues, use the professional utility that will easily export the TIFF files into PDF format.