A Comprehensive Guide on How to Add MBOX to Thunderbird Email Client
Nilesh Kumar | January 11th, 2019 | How to
"I am working in an Organization where I used Thunderbird application. Yesterday, I tried so hard to upload MBOX file to Thunderbird email client. Although due to some reason, I was unable to figure out how to add MBOX to Thunderbird. So, kindly suggest me a simple and reliable approach to do this task. Thanks in advance!!"
Mozilla Thunderbird is the most popular email client whether at the professional or personal level. It is an open-source and feature-rich email program, which saves data in "MBOX" format. MBOX known as Mail Box that can store all data in plain text format. In addition to this, it is the most widely used format, which is supported by different mail clients such as Thunderbird, Mac Mail, Eudora etc. Through this application users can easily send/receive messages, email filtering as per requirements, save contacts in Address Book, and so on.
At certain times, Thunderbird users want to import MBOX file into Thunderbird account. Well, in the upcoming section, we are going to explain different methods by which users can add MBOX to Thunderbird easily.
Manually Upload MBOX to Thunderbird Application
Before executing the manual process, first, you have to install the add-on ImportExportTools to Thunderbird email client. Make sure you create a backup copy of MBOX to prevent data loss in case the import process gets failed or interrupted. Read further to know more.
I. Install the Import/Export Tool Add-on

II. How to Add MBOX File in Thunderbird Email Client
Start Thunderbird application, click on Tools and select ImportExportTools
After that, you can choose Import MBOX file option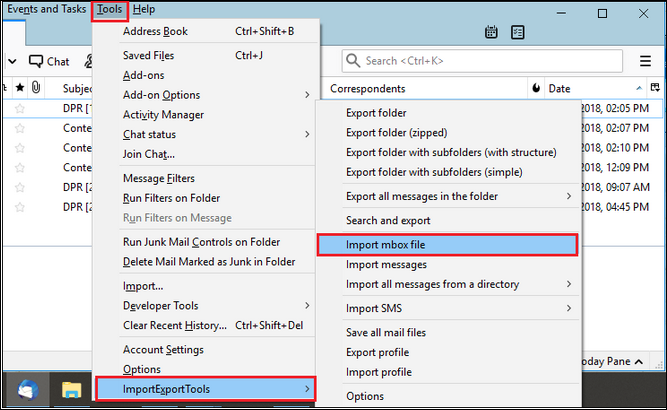 From the dialog box, you have to choose Import directly one or more MBOX files. Then, you can change the selected option as per your requirement and click OK button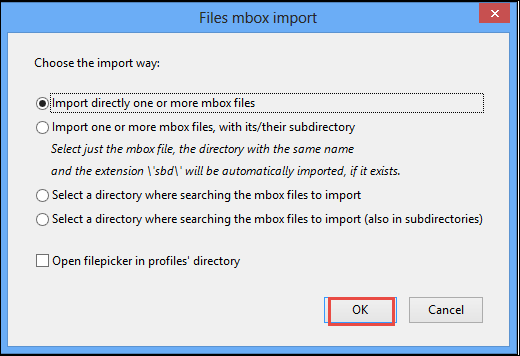 Select MBOX file and click open button.
Please be patient while all your MBOX file data gets loaded into Thunderbird. This may take a while depending on the size of added MBOX file.
Do you know which MBOX file variation you are actually trying to import? It is not mandatory that the MBOX file you have is created by Thunderbird because multiple email clients are capable of creating MBOX files. Many times users may have MBX or MBS files. In such cases you may get issues when trying to load that file in Thunderbird application.
Is manual approach not giving you intended results? It is taking too much time? Thunderbird is crashing due to the load? Or maybe some data is lost during the transfer? No worries. In such cases, simply shift to the smart solution below.
Professional Way to Add MBOX to Thunderbird
In case, one fails to upload MBOX file in Thunderbird manually, then he/ she can go for an alternate solution i.e, SysTools Thunderbird Import Wizard. It is an excellent approach, which helps to add MBOX file to Thunderbird in bulk. One can easily avail this email application as it offers an interactive user interface that even a naive user can use it. Also, it keeps on-disk folder hierarchy while uploading multiple MBOX files into Mozilla Thunderbird. Other special features of the tool are listed below:
Allows to add MBOX email messages along with attachments.
Provide Data Filter feature for moving MBOX folder to Thunderbird.
Uploads MBOX file(.mbx, .mbs, .mbox, no extension mbox) directly without changing anything.
Retains meta-properties, attachments, email formatting and many more.
Compatible with all latest version of Windows Operating System including Windows 10.

A Complete Procedure to Add MBOX File to Thunderbird
Launch the Thunderbird Importer Wizard on Windows system
The software offers Add File or folder option to proceed further
After that, it provides Date filter to load selective MBOX files
Finally, your MBOX files will be successfully added into Thunderbird.
The Bottom Line
There are several reasons due to which users want to upload MBOX files to Mozilla Thunderbird mail client. Thus, in this blog, we have discussed two different methods, i.e., manual and automated for the same process. But, sometimes users might face an issue while implementing the manual approach. In this case, users can take the help of a reliable third-party tool named Thunderbird Import Wizard. With this software, one can easily add MBOX to Thunderbird without any risk or data loss.