Download Google Email Extractor | Extract Emails & Attachment Locally
Samuel Adams | September 14th, 2020 | Tips
Unable to extract emails and attachments from your Google Account? Or maybe you need to extract email in a format other than MBOX! Download the free version Google Email extractor and extract your Google emails into five different formats as per your liking.
Google email client is one of the most generic / widely used email clients by free as well as a business organization. The most popular email client available in the market nowadays is Google email service. It is available for free and business users both. The free Google email service provides 15 GB of free storage space, now which is isn't enough for many users. Due to this Google users looks for a tool to extract emails from Google account with attachments. But unavailability of the right tool makes it complex to do this task.
Similarly, business Google account users also looks for ways to extract their Google account data to free-up some space. To resolve these problems we will be providing the solution to effortlessly extract emails & attachments from the Google account.
SysTools Google Extractor – An All Rounder Extraction Tool
The capability of SysTools Google email backup wizard is estimated based on its performance, features, accuracy & flexibility. The flexibility factor corresponds the capability of the tool to extract specific folder emails as well as attachments. The Google extractor stands tall in all these four fronts with its powerful algorithm and delivers high performance.
Download For Windows Purchase Now
SysTools provide different tools for the different query of  Google users:
Free Google Account users 
Business Google Account User – Paid Account
Google Email Extractor – Extract Emails from Google Account with Attachments
The tool works an efficient utility in extracting emails as well as an attachment in 5 file formats, such as:
Apart from just emails, the same utility can also extract contacts, calendars, and documents from Google account in one fell swoop.
After the extraction of emails, the tool will maintain all the email attributes and integrity of all extracted data. The tool is operable on Windows 10 and below versions of windows.
Note: Similar utility is also available for Mac operating system. Simply download Google emails extractor for Mac and extract emails with attachments in five formats, i.e., PST, MBOX, MSG, EML & EMLX.
Simple Steps to Extract Emails from Google Account
Step 1: Launch the tool & login via email id (@gmail.com) & password
Step 2: Select the Category as "Emails" & email-format for extraction
Step 3: Browse the location to save extracted Google emails
Step 4: Use Additional filters & then click on Start button.
Here are the elaborated steps to extract emails from Google account with attachments
1. Download and Launch the software & choose the desired language for tool.
2. In the same window, provide the email id & password for login.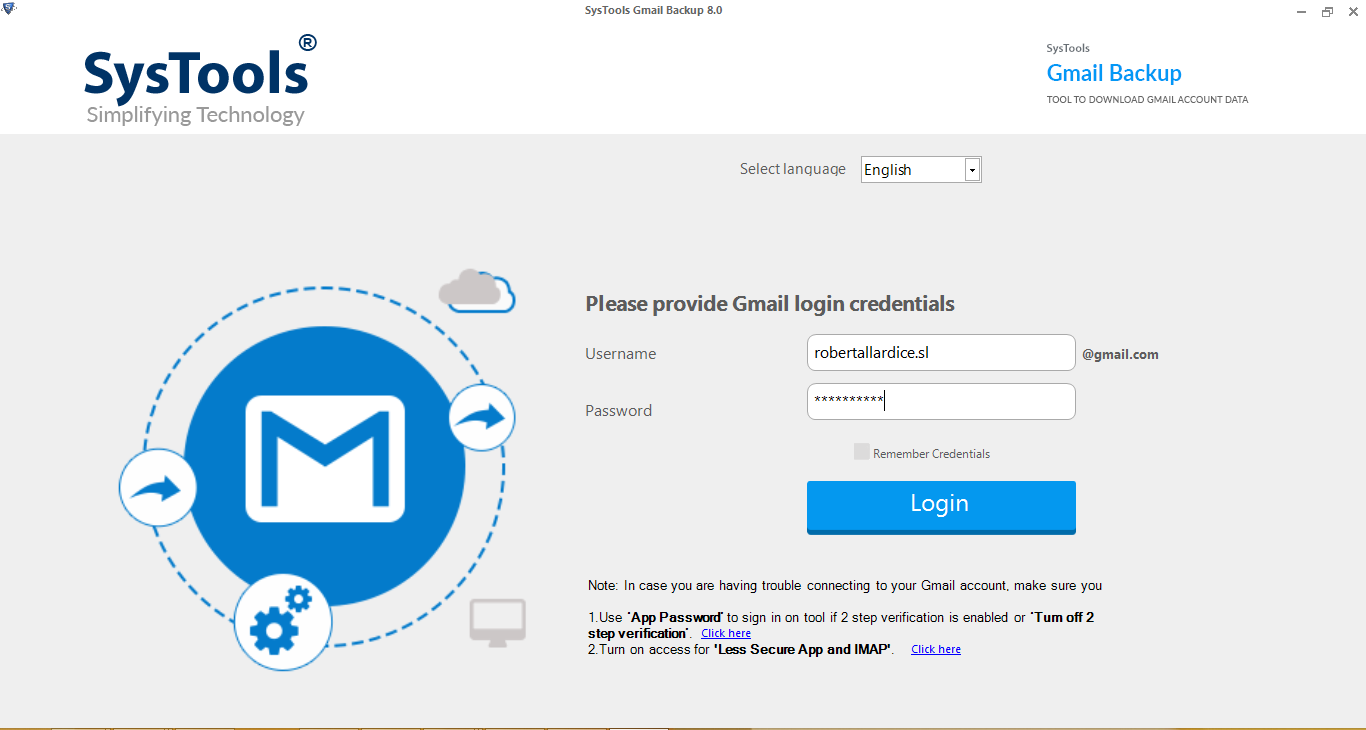 3. After login, you will be redirected to a page for the authentication of your Google account and providing permission to the tool for data extraction.
4. From the next tool window, click on the Activate button and provide the activation code to use to full version of the extractor, otherwise, skip to the next step.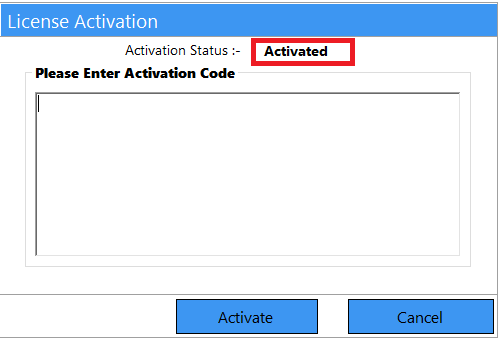 5. Now, select the Category of items to extract from Google account. The tool provides a category filter for Emails, Contacts, Calendars, and Documents.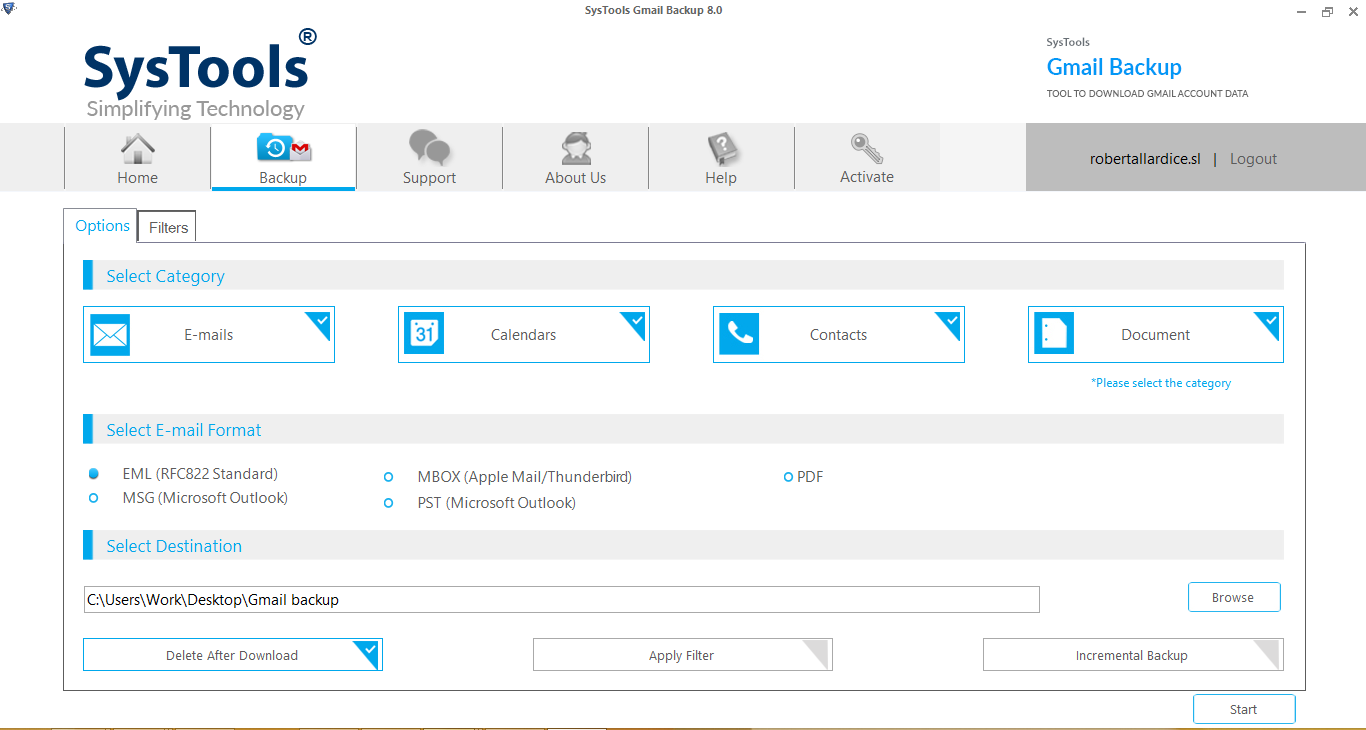 6. Next, choose the format in which you want to extract emails from Google account. Tool offers email extraction in 5 formats, i.e., PST, PDF, MBOX, EML & MSG.
7. Browse the location where you wish to save the extracted emails from Google account.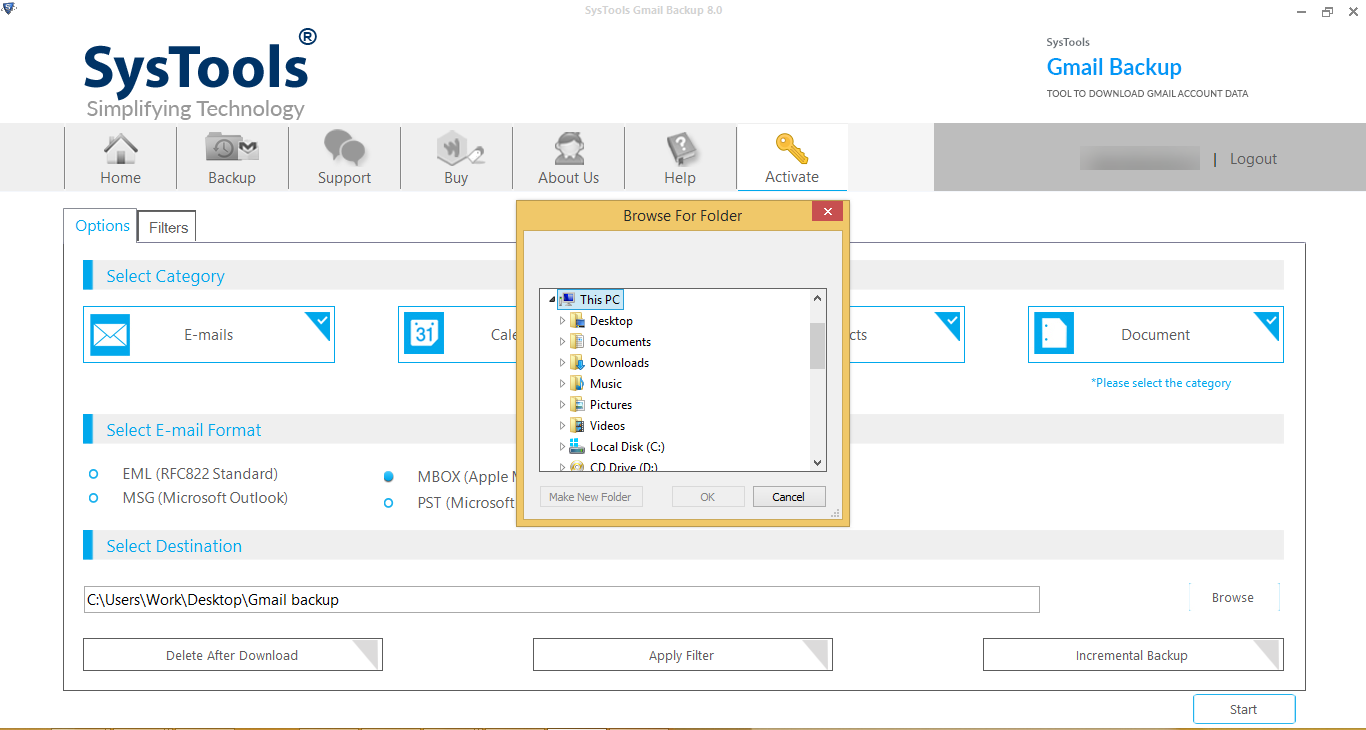 8. Use the Apply Filter option to extract particular mailbox and set the date-range filter for the emails.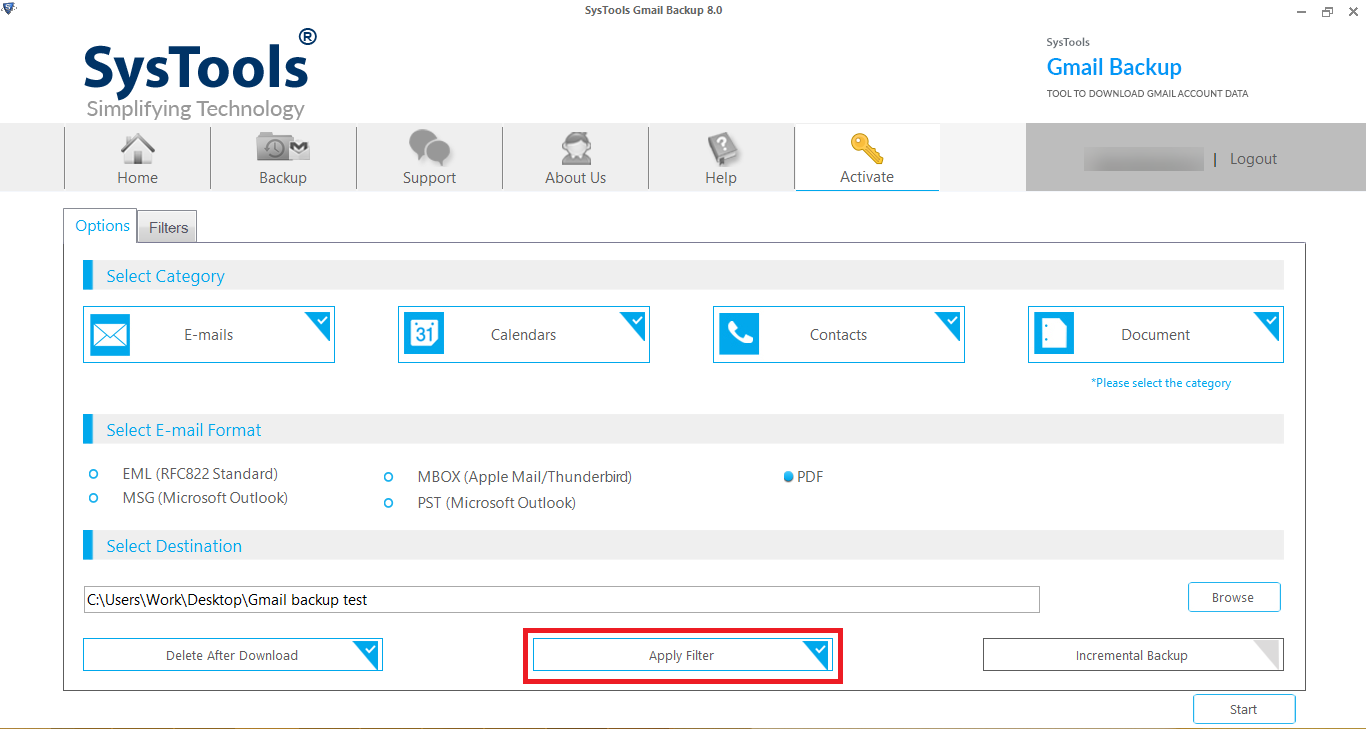 9. Finally, click on Start button to begin the extraction of emails & attachments from Google account.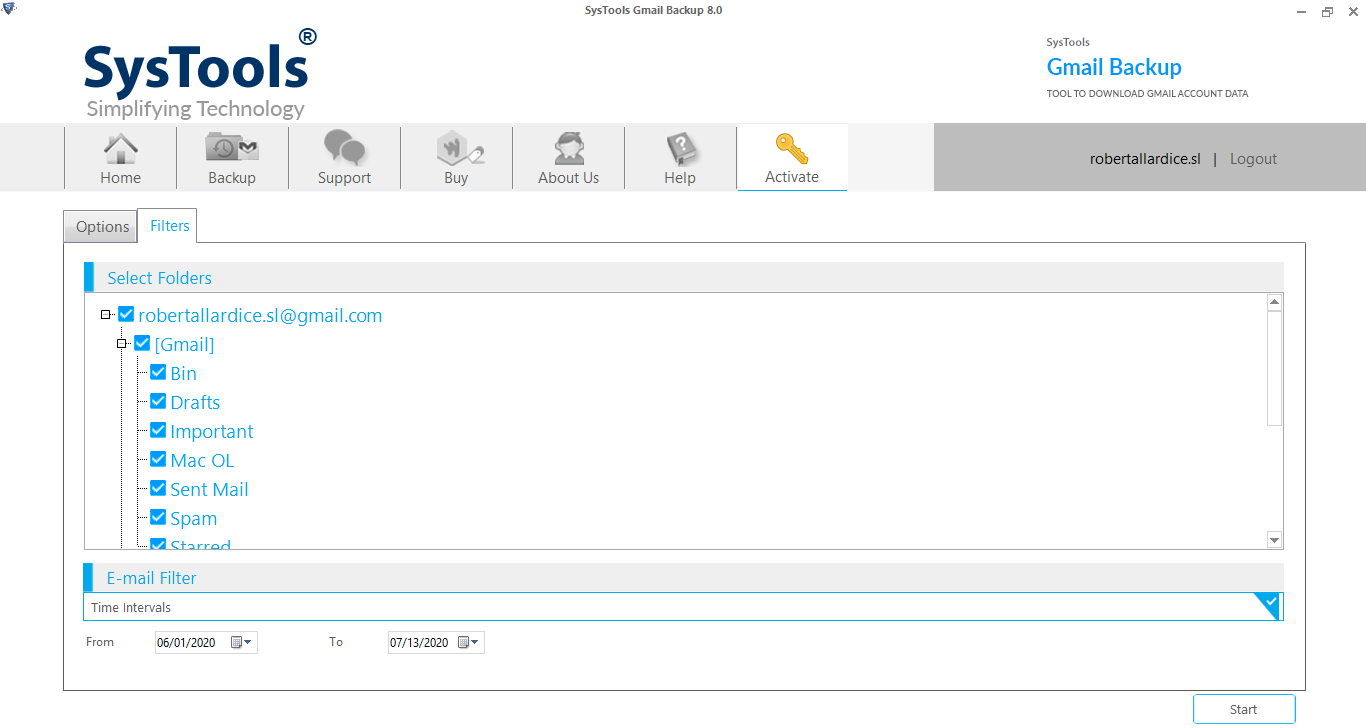 10. After finishing the extraction, the tool will create a report that contains the list of items extracted from Google accounts.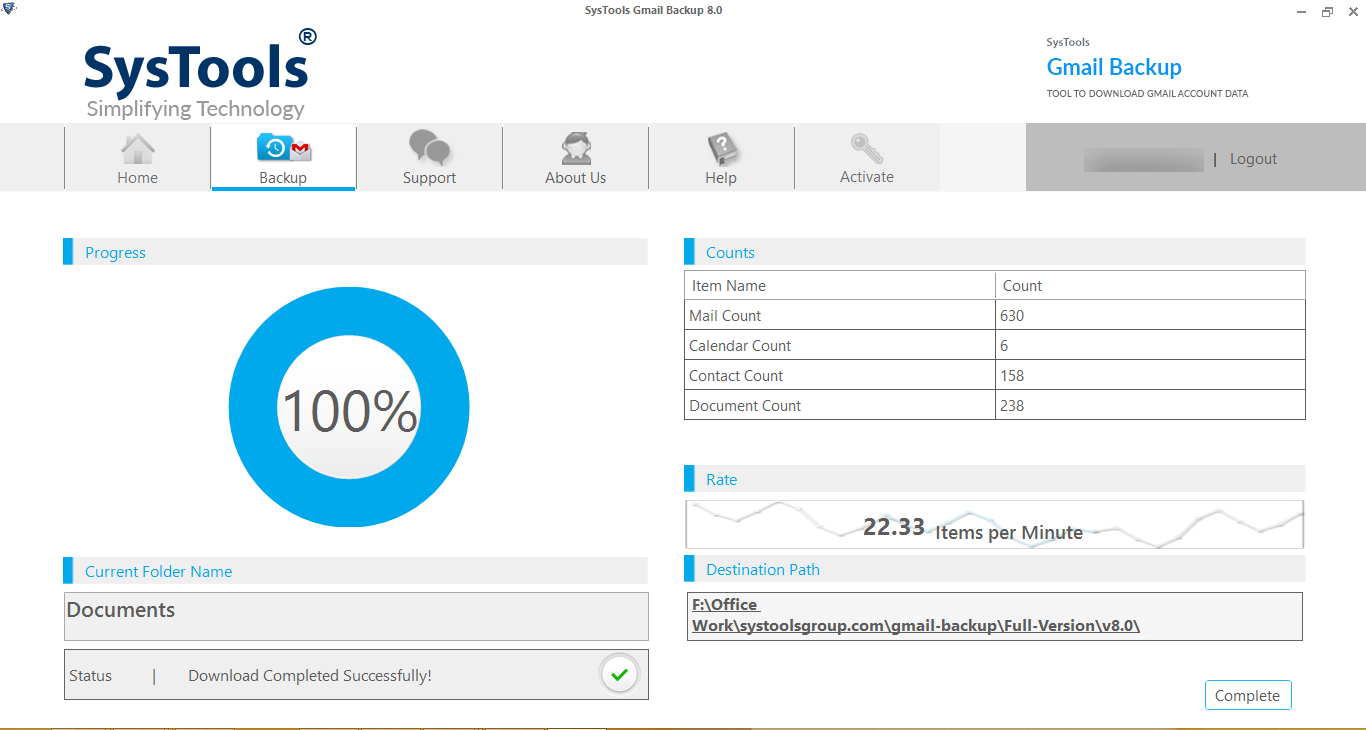 Benefits of Google Extractor Tool from SysTools
Extracts emails in multiple file format
Download attachment along with emails
Apart from emails, extract contacts, calendars & documents
Category & Folder filter option for flexible email extraction.
Incremental option to skip previously extracted emails of last attempt.
Delete after download option to free-up Google server space.
Generates a complete export report.
Observational Verdict
With the increase of the email/file size of Google, the problem of storage running out of space is quite common. This arises the demand for Google email extractors so that users can save their account data locally. Use the aforementioned tool to extract emails from Google account with attachment along with it. This tool will help you in extracting emails in multiple file formats. First, test the tool by downloading it for free and extract 100 emails & 25 other items of each category.