Ho to Export Skype Contacts and View Them Independently
Shayadri Sharma | October 16th, 2020 | Tips
The article provides a solution on two things i.e., how to export Skype contacts and then, view them without its supportive program installation. The provided approaches do not require spending of dollars to acquire or implement them. This means that measures are available totally for free.
What is Skype : Have A Quick Glance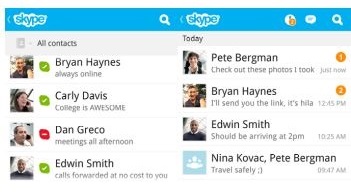 Skype is like a communication means for carrying out things together, whenever we are far. It has now become simple and easy to share the experience and work through Skype chats, videos, and voice. In today's arena, it is possible to conduct business meetings, video conference, celebrate a birthday, etc., without any physical presence at the location.
Users Query
Following queries were given by Skype users who want contacts from this communicating app due to one or the another purpose :
"I need to export Skype contacts from my son's system and explore them on my machine. I am unaware from the measure for the same. Is anyone there who can help me out in this?"
"My manager has provided me with a folder having Skype vCard files. He has asked me to explore few contacts information from that list. But, the issue is that this file is not getting supported by any of the program installed on my system. Please suggest me an approach to explore these Skype VCF contacts  file."
How to Export Skype Contacts?
Till now, we have learned about the Skype contacts and its importance. But, sometimes a situation occurs in which users look for a solution to extract address book from Skype. So, following instructions will help readers in doing the same for further use :
1. Open the Skype program and go to Contacts >> Advanced >> Backup Contacts to a file
2. A 'Save File' wizard appears in which you have to locate towards the location where vCard file is to be stored
3. Click on drag-down menu of Save As Type and choose *.vcf option from the list
4. At last, hit on Save button to finally export contacts from Skype in VCF format
Now, finally you have saved the Skype contacts in VCF format. But, a question arises that if any machine is not having vCard supportive programs then, how will one open and view it? Don't worry, here we are also offering a solution to view VCF files on Windows 10, 8.1, 8, and all below versions.
The solution requires downloading and installation of a SysTools VCF Conversion Software Once you are done with this, follow below set of instructions 
1. Open vCard File Viewer Pro on your PC 

2. Click on Add File  or Add Folder tab
Browse the vCard files from machine where software is installed
View all the contacts detail with their related attributes and images too
The software exhibits many astonishing features to expand vCard file. Following highlighted points will help you in learning benefits of using this Software :
Support Batch Conversion of VCF vCard Files to Google, Yahoo CSV file Format
It Supports vCard files from Outlook, GSuite, iCloud, Skype, etc.
Capability VCF file versions like vCard 2.1, 3.0, & 4.0
Time to Wrap Up
The blog assists readers with a step-by-step approach to export Skype contacts. Users can use this measure and save contacts of Skype in the VCF file format. After successfully exporting vCard on the machine, an individual can freely view it in absence of the parent application. This is possible just by utilizing vCard Viewer Pro Tool , which is a Windows-based freeware to open and read vCard files.