Thunderbird Email Disappeared : Efficient Solution
Shayadri Sharma | May 4th, 2021 | Tips
I am the Mozilla Thunderbird user and having around 3000 emails in the inbox. However, from yesterday morning the email application is having some issue and keeps on displaying a "Not Responding" message and Thunderbird Email Missing. To solve the issue I tried to compact the inbox but it is completely empty now. I have lost all my important emails maintained in the inbox though few of them are there in Sent Items folder. New email messages are received as normal but I want to access the previously received emails also. Therefore, I am searching for a solution to fix this Thunderbird Email Disappeared issue. Can anyone help me out of this where I found those emails and access them again?
Among all available email applications, Mozilla Thunderbird is the commonly used email application. As it is free of cost, therefore, has reached the height of popularity. However, there are some situations in which users encounter issues while accessing the Inbox folder. Sometimes Thunderbird folder's visual aspect loses the track of inherent structure. Due to which the Thunderbird show only unread messages, or deleted emails are present. Therefore, in this post, the common problems that a user encounters due to which Thunderbird Email disappeared are covered. Moreover, how one can resolve Thunderbird not showing all emails problem is also discussed.
Troubleshoot Thunderbird Email Disappeared Problem
It is always suggested to first look for a problem that results in Thunderbird inbox empty. Therefore, to identify and resolve problem manually, go for the checklist given below:
It is possible that conversation view hides the messages. Therefore, to confirm, go to View >> Messages and View >> Threads and make sure that both are set to All. After that, go to View >> Folders and change it to All. However, it can also be possible that Unified view is creating problems. It is also advised to go to View >> Sort by and modify it to Unthreaded.
A user is also suggested to confirm that the anti-virus software has not deleted or Thunderbird Quarantined Inbox. It is because the anti-virus software sometimes automatically quarantine the inbox whenever it finds an infected message in the inbox.
If the incoming email has been sent with a wrong date then, also a user can face this Thunderbird Email Missing Issue. Due to this, it's quite possible that message is placed in between some old messages due to the date-based sorting. Thus, please make sure that the system date is set correctly. Because incorrect date can make the message appear out of the sequence.
Make sure that the search field in Quick Filter and Global Search bar is empty.
It can be possible that the Global search specific index gets corrupted. Therefore to overcome and resolve search index corruption, exit Thunderbird and delete the global-message-do.SQLite file from the profile. After that, try to run the Thunderbird again and it will rebuild the search index. It will take time depending on the number of mail a user has. Quick Filter and the Quick Search bar don't use that file
If the mailbox is having some empty folders then have a look at the Empty folders.
It is possible that fragmented or compacting does not work perfectly due to which folder gets corrupted and Thunderbird mail Disappeared.
If any of the above solutions does not work perfectly then, try to run Thunderbird in safe mode (Please do not confuse with Windows safe mode). It temporarily disables all added themes or extensions.
Manual to Fix Thunderbird not Showing all Emails Error
Undelete Messages: (https://www.datarecovery.institute/recover-mbox-file-manually-with-x-mozilla-status-header/)
It can be possible that a user has deleted the messages. Thus, the easiest way to recover them is from the trash folder if they are still there. Moreover, a user can Undelete a message in many different ways if the folder is not compacted.
Junk or Trash Folder:
Another manual way that one can try is to look in the Trash and Junk folders. It like due to Junk Mail Controls set up, the messages are sent automatically to the trash or Junk folder.
Check Message Filters:
If there is any message filter set by the users then, it's possible that email has been moved to another folder. To confirm the filter definitions, go to Tools >> Message Filters and select the account from the drop-down list. One can verify the log file by pressing Filter Log option. However, if the logging is disabled, one can enable it in a case of Thunderbird Email Missing issue repeat.
Message Aging Feature:
It can be possible that a user is using the message aging option for the inbox folder. This will delete the permanently based on the settings. To confirm follow the steps below:
1. First of all, right-click on the Inbox folder, click on Properties >> Retention Policies
2. After that, verify that it is either set to Don't delete any messages
3. If it is set to use my account settings then, go to Tools >> Account Settings >> Synchronization & Storage >> Disk Space and select Don't delete any messages option
4. In the older versions of the Thunderbird, go to Tools >> Account Settings >> Offline & Disk Space >> Disk Space and uncheck the Always delete read messages option
Repair Folder Option:
If any of the above-suggested manuals does not work perfectly then, it is due to the corruption in MBOX file. Now, to recover the corrupted MBOX file of Thunderbird, follow the procedure given below:
1. First of all, select the Thunderbird Email Disappeared folder
2. After that, right-click on the folder, for example, Inbox folder
3. Then, select the Properties option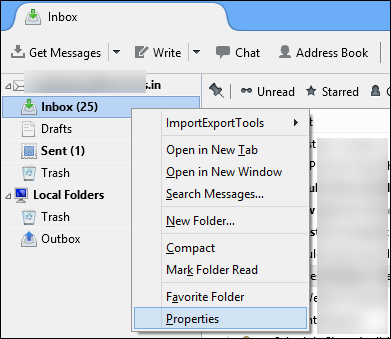 4. Now, from the General Information tab, click on Repair Folder option >> OK button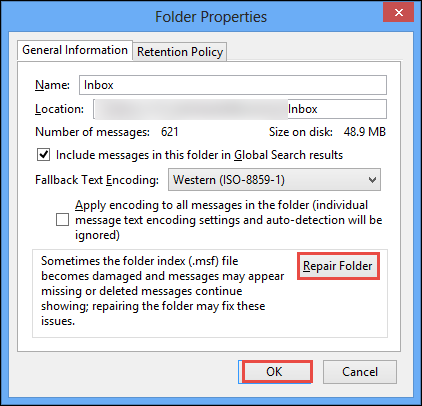 5. This will restore the messages from the server. All messages appear automatically as the downloading completes
Advanced Solution to Remove MBOX File Corruption
If a user is not able to resolve the Thunderbird Email Disappeared issue due to corrupted MBOX file, then, it is suggested to go for a third-party tool i.e. MBOX File to PST Converter. However, it is really difficult to manually repair MBOX file. Therefore, it third-party tool will be the best solution. Apart from converting MBOX file to PST format, the software will recover the corrupted MBOX file also. Moreover, it is an easy-to-use tool that requires minimal technical knowledge.
Conclusion
Thunderbird not showing all emails is the most common issue faced my the Mozilla users. Sometimes, it becomes really urgent for them to have access to old emails also. Hence, understanding the difficulty faced by the users, we have discussed various manual solutions and troubleshooting ways. One can try any of them and gets rid of this Thunderbird Email disappeared issue. However, if the cause of error is corrupted MBOX file then, a third-party tool is also suggested that a user can use. This will help users in solving this problem permanently.