Troubleshoot MS Outlook Unknown Error Code 0x80040154 in Windows OS
Are you receiving Outlook unknown error code 0x80040154 in Outlook 2016, 2013, 2010, 2007, 2003 versions? This is one of the most common Microsoft Outlook error occurs due to corruption in PST file in Windows OS. As we know that MS Outlook 2016 is an email client that allows the users to send or receive emails and store entire data in a PST file format. The Outlook PST or Personal Storage Table is a file, where all the Outlook mailbox items like emails, contacts, calendars, tasks, journals etc. get stored. It is created in every MS Outlook version such as Outlook 2016, 2013, 2010, 2007, 2003 and more. Sometimes when the users try to send emails messages using Microsoft Outlook, then 'An unknown error has occurred, error code: 0x80040154 in outlook 2016' message appears. So, the first question that comes in the user's mind is how to fix Outlook error code 0x80040154? Therefore, in this problem-tackling post, we are going to discuss some easy way to resolve error code 0x80040154 Outlook 2003, 2007, 2101, 2013, 2016 in Windows 10 OS in an absolute way. Thee users only need to follow the guidelines sequentially to fix Outlook error message.
Reasons For Outlook 2007, 2013 Error 0x80040154
Best Solution in Brief!!
The best and quick way to fix Outlook PST file errors and corruption is defined here. The SysTools Outlook File Recovery Software is one of the best application is available in the market to repair damaged PST file in Windows OS without any file size limitation. The application is 100% reliable and trust-able, that it guarantees no data loss during the process and after the process.
It might be possible that either the Windows Registry file gets corrupt or some of the files are unregistered. This error commonly appears in Outlook 2003, 2007, 2010. The root cause of this PST error can be the inetcomn.dll file. If this DLL file gets erased or lost from MS Outlook program, then the PST files become inaccessible. As a result, the Outlook data files get corrupted due to this Outlook unknown error code 0x80040154. For the same, a number of reasons are responsible and some of them are listed below:
Any attack of a malicious virus on the Outlook 2010/2007/2003 program
Accidental loss or deletion of inetcomn.dll files from Microsoft Outlook
Damage in Personal Storage Table files can cause the error 0x80040154
Large PST files can give rise to errors in the different Outlook versions
Any type of corruption or improper installation of MS Outlook profile
An incomplete configuration of Microsoft Outlook email account in the system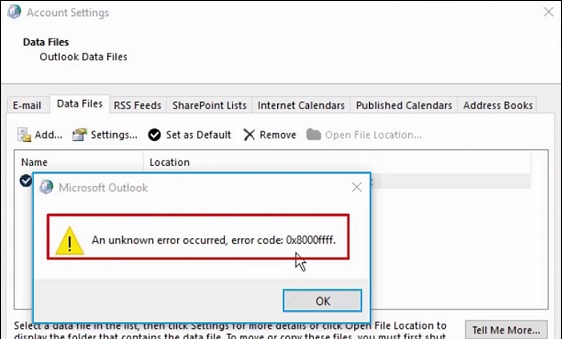 Fix Outlook Unknown Error Code 0x80040154: Troubleshooting Techniques
In order to resolve the 'An unknown error occurred, error code: 0x80040154 Outlook 2016' and below version; first fix damaged PST files. For this, the user can go through the below-given methods in order to fix Outlook 2003 error 0x80040154:
Solution 1: Add Unregistered Files
Initially, click on Windows Start icon and open Run dialog box.
Next, type regsvr32 "inercomm.dll" and hit Enter key.
After that, restart the system or PC.
Launch Outlook program on the machine. If you are not getting the error, then this was the issue of unregistered registry files.
Solution 2: Check the Anti-virus Software
If the problem cannot be resolved by the above method, then use the following practice. In this, the user needs to start the computer in Safe mode and launch the Microsoft Outlook program. If the error still appears, then the computer virus might be responsible for a 0x80040154 error code. So, in order to fix this, uninstall the suspected program that comprises harmful computer virus.
Solution 3: Make a New Outlook Profile
If the above-described methods get fail to resolve 0x80040154 error, then create a new Outlook Profile. For this, first, create a backup of Outlook data to prevent loss of files from any disaster during the process. And, make a new MS Outlook 2010 account and move all of your old profile data into the new Outlook profile.
Still, if users are receiving the Outlook unknown error code 0x80040154, then you need to repair corrupted PST using the third-party software.
An Unknown Error Occurred Error Code 0x80040154 in Outlook 2016: Expert Solution
It is evident from the above that manual techniques might be complex for non-technical users. Also, it does not guarantee the reliable recovery from this unknown Outlook error message. So, in place of that, the user can use Outlook PST Recovery software. It is capable enough to search the corrupted or damaged PST file and repair PST file efficiently. Also, it can recover any accidentally deleted data items into PST, HTML, EML, MSG, and Office 365. If the user creates a password on the .pst file, then no problem, it can fix encrypted PST file too. Additionally, the Outlook Recovery utility offers multiple filters for selective PST data extraction. Moreover, it can easily run on Windows 10 operating system and in earlier releases also.

Concluding Lines
The Outlook unknown error code 0x80040154 in Windows 10, 8, 7 OS may occur for a number of reasons. That is why we have comprised some simple solutions that can fix Outlook 2016, 2013, 2010, 2007, 2003 error 0x80040154. Also, use a professional solution as suggested above; that is suitable for solving Outlook PST related problems. It performs a detailed scanning of the Outlook program, find out the root cause of the error and repair it quickly. Now, users can choose any of the techniques to resolve error code 0x80040154 in Outlook 2016 and lower version programs.