Export Zimbra Address Book to Outlook | Quick Solution
If you are making a strategy to export Zimbra address book to Outlook then, this blog post will be helpful for the users as here we are going to explain working solutions for Zimbra contacts to Outlook migration. Before proceeding towards the solution section let's check the errors faced by users.
I have a backup of Contacts files exported from the Zimbra webmail client. But now I want to import all my contacts to Outlook. Please suggest a trustworthy method to migrate my thousands of Zimbra contacts to Outlook mail client because I don't want to transfer contacts one by one.

Minora Romania
Zimbra Contacts to Outlook | First Move
In the above scenario, the user is ended with a TGZ file. In case, if you don't have the TGZ file then, no need to worry. Simply carry out the number listed below to extract the contacts file.
Open Zimbra Webmail.
Move to Preference >> Import/Export button.
From the Export panel selects the Contacts button.
In the last click on the Export button to Extract the TGZ file.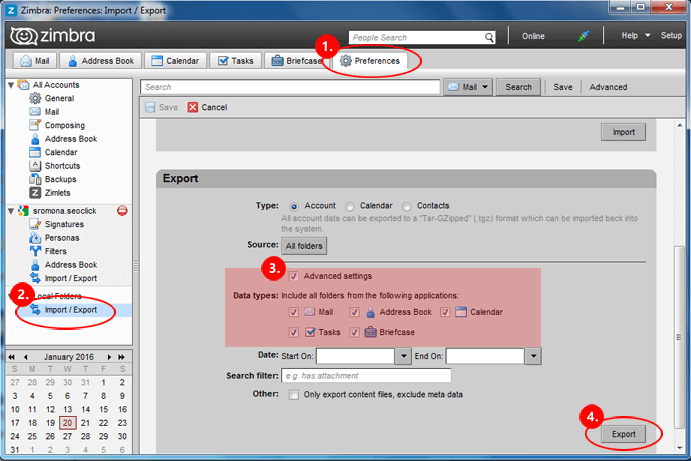 Here, you successfully extracted contacts from Zimbra and move one step closer to export Zimbra address book to Outlook.
Export Zimbra Address Book to Outlook | Automated Approach
The SysTools Zimbra Converter is an advanced automated approach that allows to convert Zimbra contacts to Outlook within a minute. This smart solution allows converting TGZ contacts in vCard format which is compatible with Outlook. Also, it allows converting TGZ files into 5 different formats including PST, PDF, vCard, MBOX, and EML file format.
Users can download this software for free and can access all the features of the demo version. The demo version allows the conversion of the first 25 files of each folder. Once you get satisfied with the working of the demo version you can smartly invest in a licensed version to convert files bulk. Let's check out the working of the demo edition.
Export Zimbra Address Book to Outlook | Automated Tool Working Explained
1) Download and Install the utility and the software interface will appear like this.
2) Click on Add Files button and it displays two options Add File or Add Folder.
3) Now click on the Browse button to add the Extracted TGZ file.
4) Software will scan and display all the files with their properties.
5) Use the Export and Export Selected option to start the conversion process.
6) Select the vCard format from the next list and click Export.
Here, you successfully converted Zimbra contacts to vCard format. The next, step is to import them into Outlook.
Import vCard to Outlook | Final Move
Finally, you reached the last step of the conversion process here, you will transfer all your contacts to Outlook. Carry the number of steps listed below to continue the process.
Run Outlook and select File > Import and Export option.
Import and Export Wizard dialog appears. Select Import a vCard File (.vcf), click Next.
Locate and select the location of the vCard, click Open.
Click on your contacts in the left navigation panel and you preview all the contacts in Outlook.
So There You Have It
Export Zimbra address book to Outlook can be a complicated task for the user if don't know from where to start. We have described a relevant solution for the Zimbra Contacts to Outlook. One can download or purchase the licensed version of this tool as per his/her requirement.
Frequently Asked Questions by Users
Q Can I Import Generated vCard File in Any Outlook Version?
Yes, you can access the converted vCard files in any version of Outlook.
Q Can I Convert Multiple Zimbra Contacts Files to vCard?
This efficient utility allows converting the unlimited number of Zimbra contacts of vCard format.
Q I Have Windows 8 Can I Access This Utility?
This automated tool is compatible with all the latest versions of Windows OS, so you can this utility on Windows 8.