Export Outlook Cached Contacts to MSG Files
Looking for a solution to export Outlook cached contacts to MSG file format on MAC operating system? Then your search ends here!
MAC Outlook cached contacts or Nickname cache is called Recent Addresses. Every MAC machine generates its own local database of Recent Addresses. Outlook store 1000 contacts in its cache. It is not necessary that all these contacts are saved in your contact list. Maybe some days you had received or sent an email to contacts that are not on your list. But all these contacts will be saved as Recent Addresses in your Outlook cache.
So, next time when you will start typing any email address it will autocomplete itself. That is why this feature becomes effective and time-saving for most users.
Now if you want to switch to Windows Outlook or want to save these contacts in your Microsoft Exchange server. Then, you can export Mac Outlook Recent Addresses in MSG file format with the help of a tool designed by SysTools. Although the tool that I am talking about also has the option to convert Outlook cached contacts to PST file as well.
MSG is a mail message file format used by Microsoft Outlook and Exchange Server. Users can also use this format to archive or scan the files for any malware.
Let's see how to use this tool!
How to Export Outlook Cached Contacts to MSG on MAC
Download this tool to export Recent Addresses of MAC Outlook 2019/Office 365, 2016 & 2011. You can try the free demo version here that will transfer 10 cached contacts to MSG files.
Note: To run this software kindly install JDK & JRE 8 from HERE.
Follow these steps to transfer MAC Outlook cached contacts to MSG:
1. This software has two ways to search for MAC Outlook profiles/ identities. Either select Auto Location or 'Let me browse' option.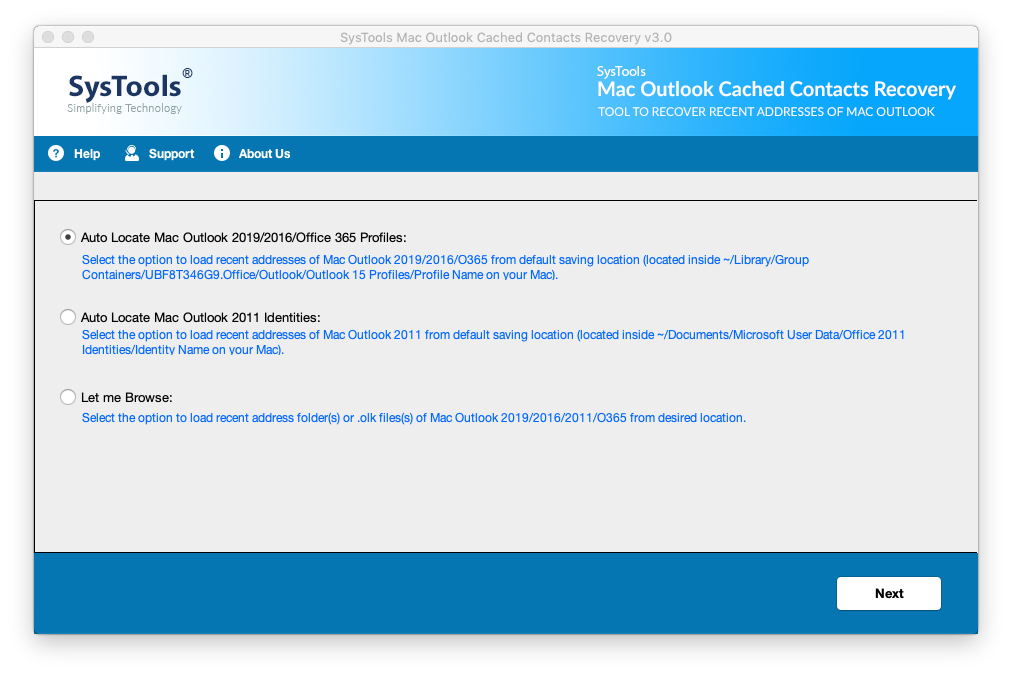 2. A window will appear where you have to choose Profiles/Identities from which you want to export Mac Outlook Recent Addresses to MSG.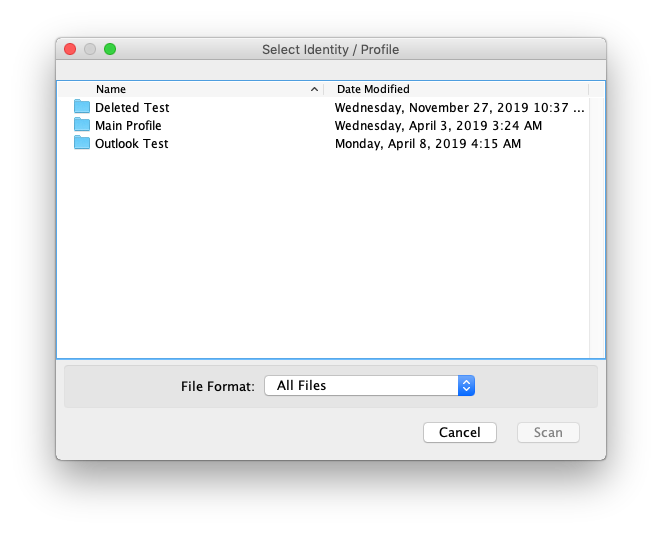 3. Now click on the MSG radio button and click on the Export button.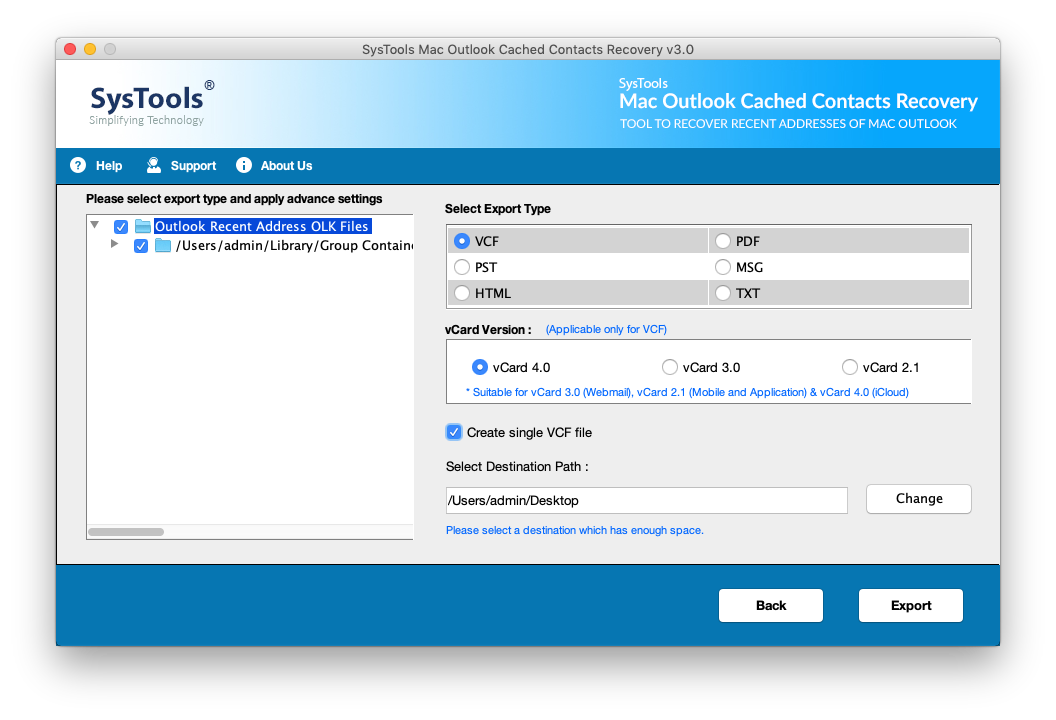 That's it! Now you can transfer resultant MSG files into your Windows operating system.
What All You Will Get In This Software
As you can there is no other software that is designed only to cater to MAC Outlook Recent Addresses. Yes! You have read it right. This is a unique software that has been engineered by SysTools to satisfy their user demands.
Because earlier Users have to purchase the expensive OLK converter to do this single task (OLK is a file format used by MAC Outlook). Let's see its features:
1. This software can recover lost or disappeared MAC Outlook cached contacts.
2. You can export MAC Outlook Nickname cache to MSG, PST, VCF, PDF, TXT & HTML.
3. This tool is designed to work with both OLK 14 & OLK 15 Mac Outlook files.
4. In VCF you have all the options to make any vCard versions: 4.0, 3.0, & 2.1
5. You can create single or separate VCF & PDF files for all exported cached contacts.
MAC Compatibility: MacOS X 10.8 (Mountain Lion), MacOS X 10.9(Mavericks), MacOS X 10.10 (Yosemite), MacOS X 10.11 (El Capitan), MacOS X 10.12 (Sierra), MacOS X 10.13 (High Sierra), MacOS X 10.14 (Mojave), MacOS X 10.15 (Catalina)
Conclusion
Now, you can easily convert Outlook cached contacts to MSG on MAC. Then, you can import these MSG files of Mac Outlook Recent Addresses in your Microsoft Outlook or Exchange Server (as Exchange Server does not synchronize with MAC Outlook). However, you can check out other formats as well. Also, you can restore any lost Mac Outlook cached contacts with the help of this tool. You can visit SysTools to Know more.