Export Contacts from Outlook for Mac to Excel – Complete Solution
Shini Mohan | September 9th, 2021 | Mac Outlook
Are you searching for how you can export contacts from Outlook for Mac to Excel? Or very curious to know about how you can convert olm contacts to the CSV file format. So you are landed in the right place. In this write-up, we get to know about the different techniques to perform this conversion process. And also discuss the important concept which comes during conversion.
Difference between Mac Outlook and MS Excel
Mac Outlook is a Mac adapt version of MS Outlook after their great success on Windows OS]. As windows Outlook it is also a personal information manager which is usually known for managing emails, messages from Emails folders, contacts, etc. Mac Outlook is a subscription-based service that is used for sending and receiving emails.
Whereas MS Excel is the software of Microsoft that is capable to store data in Spreadsheets. In MS-Excel one can easily manage the bulk data because it's providing you the advanced method of calculations through various graphical tools and tables as per the user requirements.
Why Convert Mac OLM file to CSV?
There are various advantages to export contacts from Outlook for Mac to Excel. Some of them are listed below.
Comma Separated Value is supported by my various email clients like MS Outlook, Gmail, Thunderbird, Yahoo, Google Apps, iCloud, Hotmail, Apple Mail, etc.
CSV file format is designed in such a way that it can be accessed through any spreadsheet program like MS Excel, Google spreadsheets, etc.
One can store unlimited contacts with full details in the CSV file.
The CSV file format is very easy to and simple to understand for both technical and non-technical users.
Manual Method to Export Contacts from Outlook for Mac to Excel
Open Mac Outlook on your Mac OS X
In the Tools menu select the Export option
Afterward, select the Contacts and hit the Continue button
Locate the Destination folder for the resultant file
Click on the Save As button to initiate the process
By simply following the above steps one can export Mac Outlook contacts to CSV file format.
Limitations of Manual Method
The manual method is a lengthy method and also time-consuming.
The manual method is also complicated to understand by which a non-technical user is unable to execute this process.
The file may be corrupt or damage or corrupt during the process.
Require technical assistance to execute the whole process.
Not capable to migrate the contacts in bulk.
Read More: Backup Outlook For Mac 2016
Expert Method to Convert OLM File into CSV Format
Download and Install SysTools Mac OLM Converter Tool.
Add the OLM file using Add File and Folder option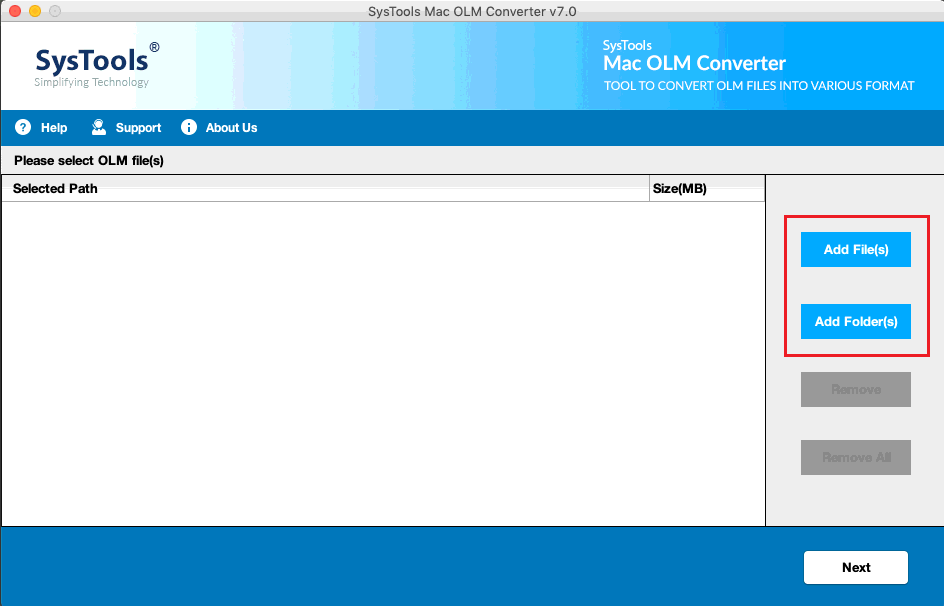 Now, Select CSV file format from Export Type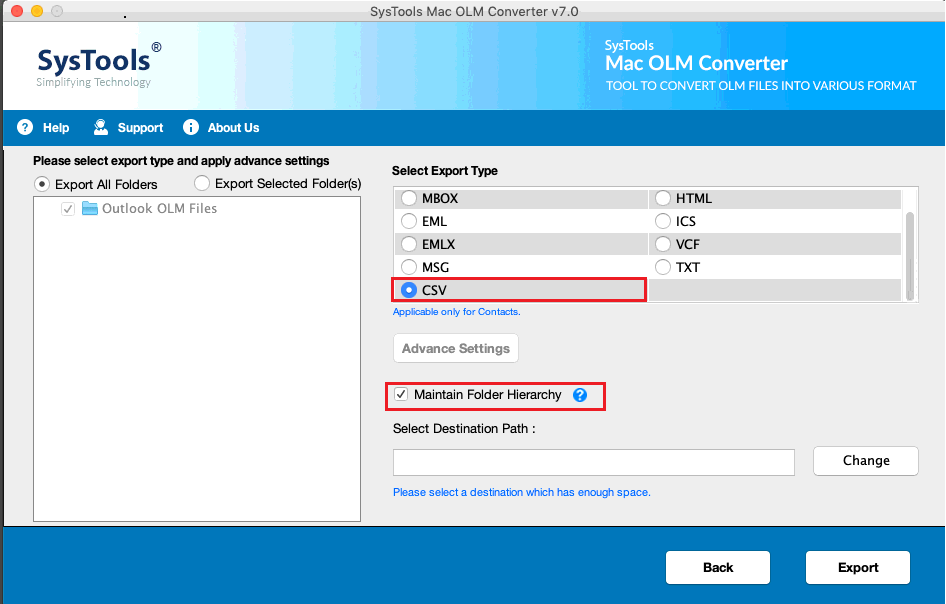 Browse the destination folder for the resultant file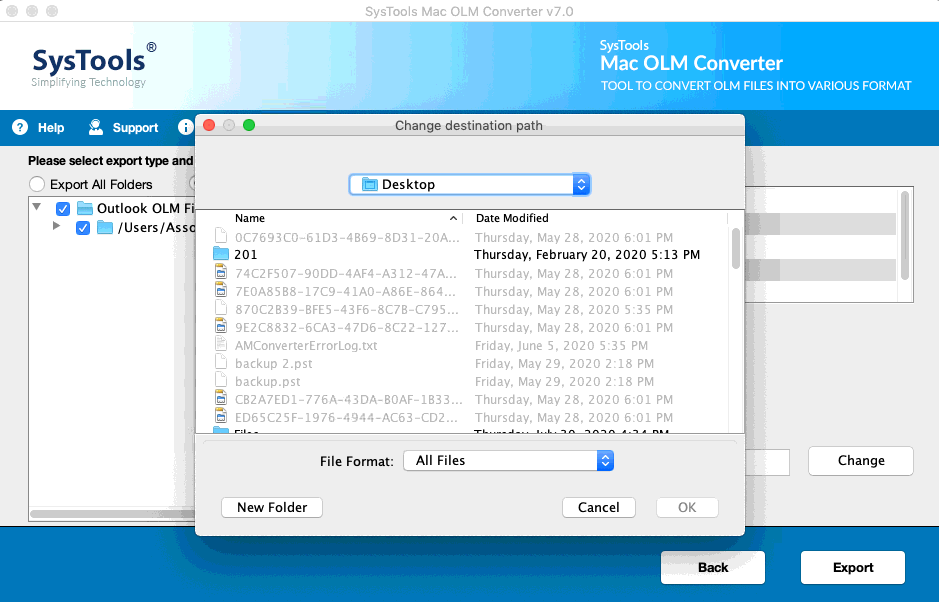 Hit the Export button to initiate the process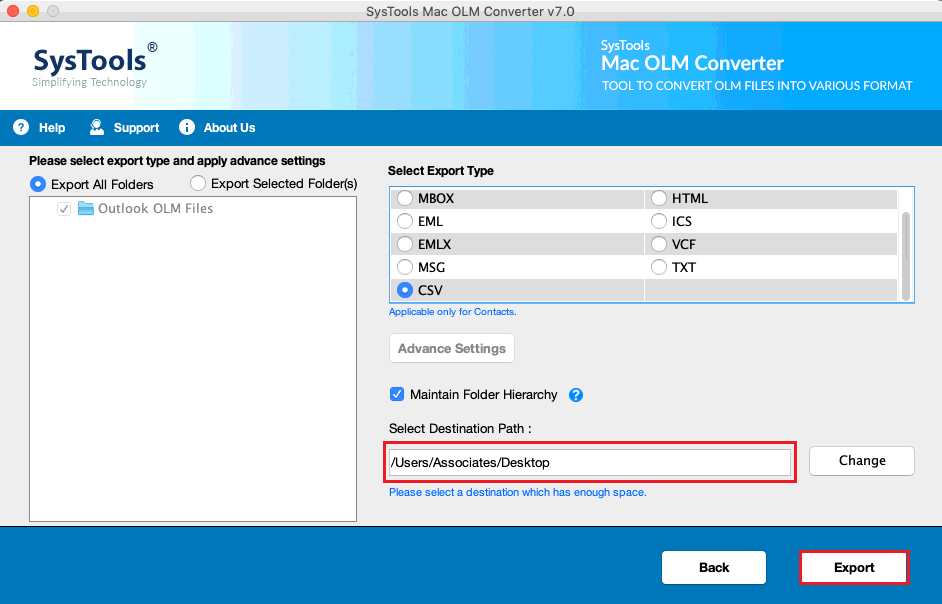 Wait for a while once the export process is completed this is how one can easily export contacts from Outlook for Mac to excel. 
Read More: Import OLM Contacts to iCloud
Conclusion
In this article, we will let you know the perfect solution to export contacts from Outlook for Mac to Excel. Above are some instructions for exporting your crucial contacts from Mac Outlook. We provide you two different techniques to get your work done in a trouble-free manner and you can also use the same tool to import OLM contacts to iCloud Mac. But as the manual method have some consequences that are it is a time-consuming method so we suggest you to opt automated solution to complete your conversion process.