Learn How to Use WhatsApp on PC
Best Way to Emulate WhatsApp on PC
Some Smartphone android-based apps leave users enchanted and users crave for their usage even on PCs. In fact there are many users who actually do not use Smart phones and need to enjoy the service on their PCs. WhatsApp messenger popularity has been witnessed by us and the idea of using this app on PC is equally exciting. But, is possible to run dual-OS on PC? Well, yes it is. This article will be surely beneficial for you if you too fall on same category and want to emulate WhatsApp on PC.

There are several ways to do so ->
Official Android Emulator
This option is provided by Google itself as a part of Android SDK. Using this you can run Android OS in a PC with existing Windows OS in it gibing complete access to entire Android Operating System.
But, it was designed intentionally for testing purpose of Android apps and thus has some limitations. Hence it is recommended not to use Android Emulator for daily purpose. In case you too just want to testify the Android apps you can easily do it by following method;
Download Google's Android SDK
Open SDK Manager
Go to Tools>>Manage AVDs
Click New and then create (Android Virtual Device)
Click Start to launch it
Android – x86
This method is applicable for Intel & AMD processors, which allows your laptop or tablet to run Android in it. This method too strictly supports certain devices like Samsung Q1U, Lenovo ThinkPad x61 Tablet, Dell Inspiron Mini Duo, etc. But to use this technique you should be able to install it inside VirtualBox. This allows you to install Android inside a virtual machine. Moreover, it is completely not recommended as it can highly damage the hardware of your system.
BlueStacks Application
This method is highly recommended to emulate WhatsApp on PC for daily usage of messenger. This process will not alter the OS in your PC; it actually helps you run Android apps in your Windows OS itself. Nowadays, this method is most popular android emulator which can be used for both laptops and desktop computers. What all you have to do is get BlueStacks on your PC, get the app you want to run, and use it. For detailed step-wise method follow the below section:
Installation of BlueStacks:
Step 1:
The very first step to be followed is downloading the BlueStacks app player. It is available on its official website: http://www.bluestacks.com/. (Different app players are available for both Mac and Windows OS.)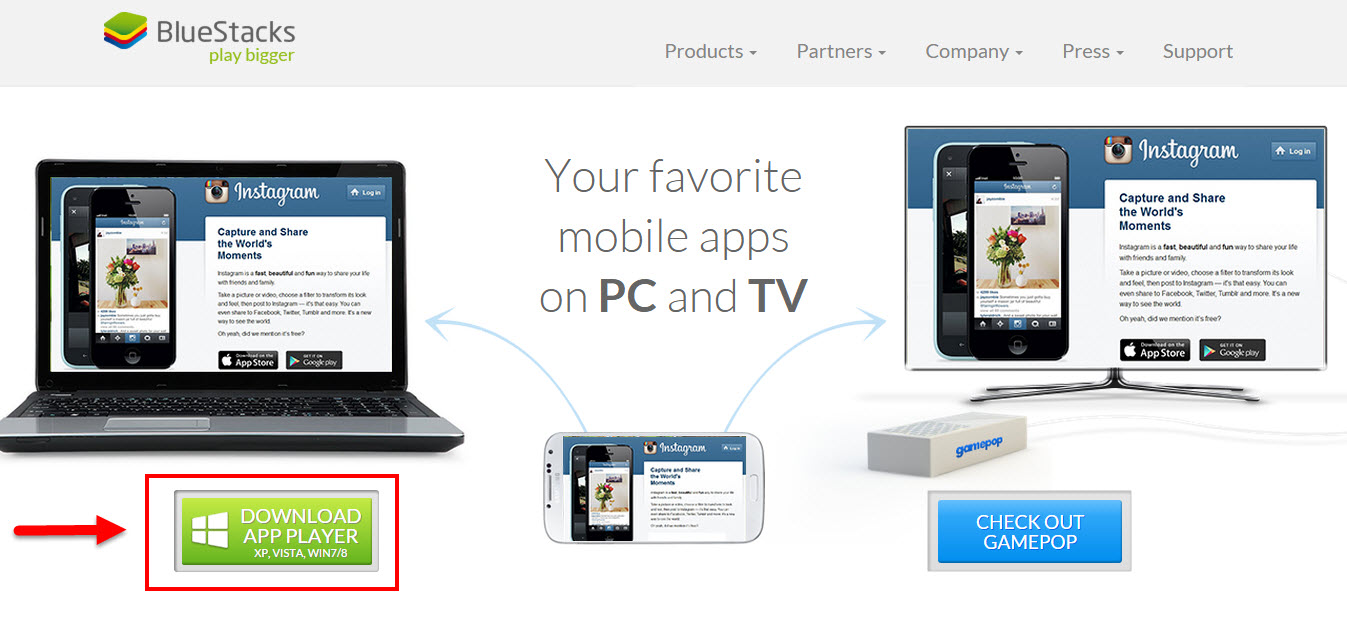 Step 2: As soon as the .exe file is downloaded, double-click it to start the installation process. Window like below will be opened, click on "Continue".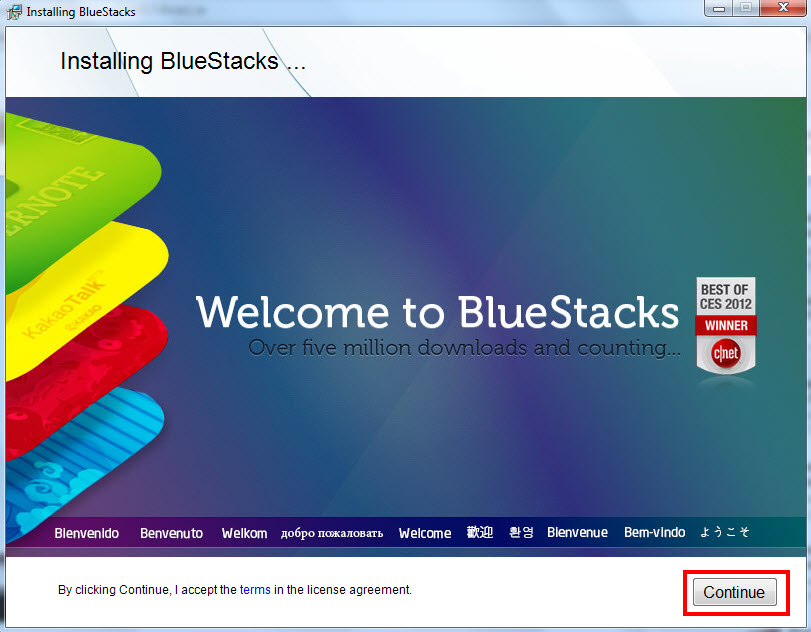 Step 3: Click on "Install" option.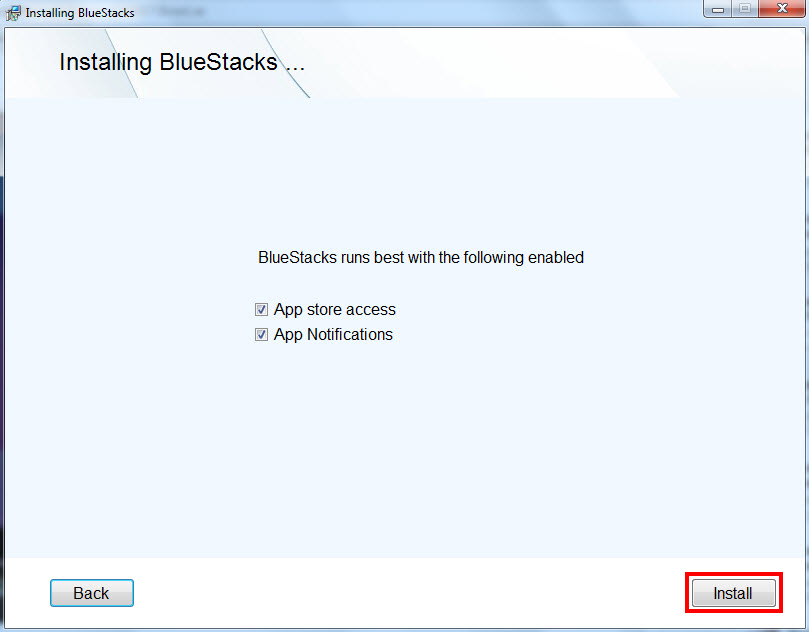 Step 4: Wait until the downloading process ends. This downloading process might take a lot of time depending upon the speed of internet.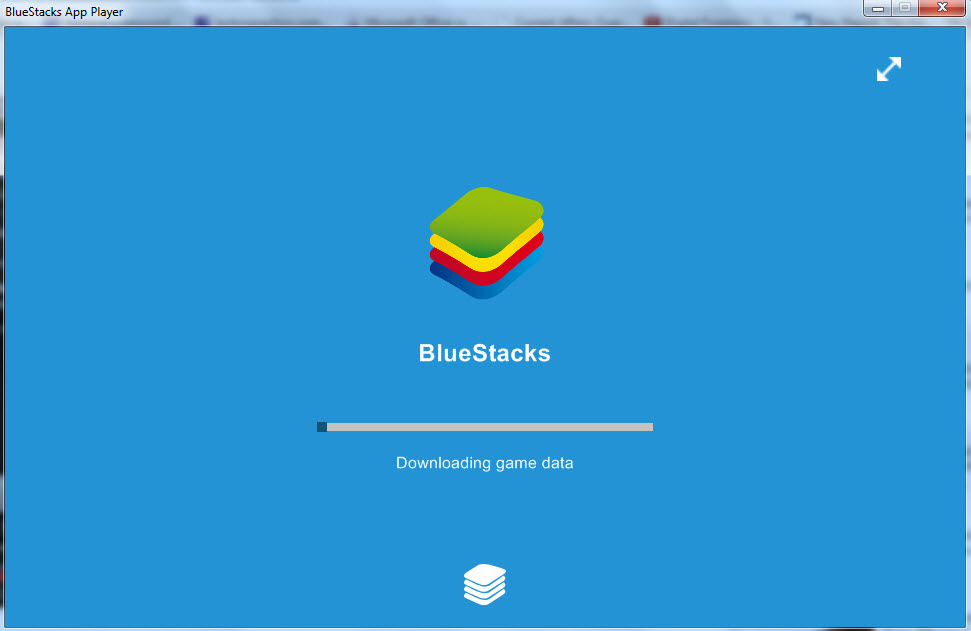 Step 5: Right after the download process finishes screen like below will be opened showing all the apps. You will see here top rated apps and a search option to search the apps. Here our need is "WhatsApp" so we will go for this app.
Note: To search on the Play Store for downloading the app, you need to have an account. You can also Sign Up in Bluestack App Player which will be automatically prompted if you are not having the account.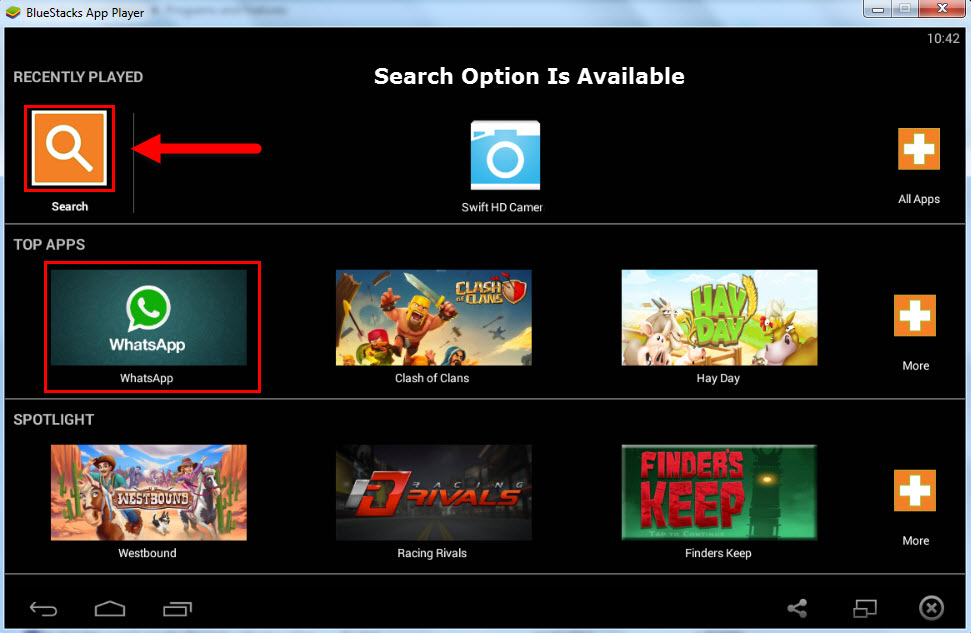 If it is not visible in the list, you can also go for Search option. It will lead to the Google Play Store.
Step 6: Here, type the app name you want to download. Now you will be able to see the WhatsApp Messenger screen. Click on "Install" option.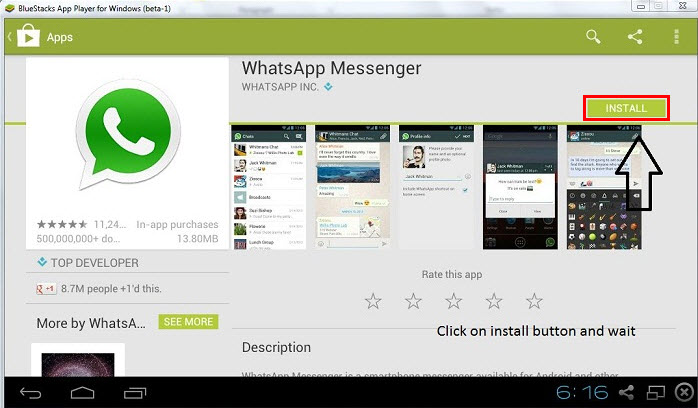 In this way the WhatsApp messenger will be automatically installed in your PC and you will be able to enjoy the messaging using WhatsApp Messenger. Following features can be availed once you are done with the installation.
You will be able to send Audio, Video, Voice messages, and Images to your contacts.
Group conversation can be done using this WhatsApp messenger.
No extra charges for accessing account on this app.
Offline conversation will be also saved as it does on Smart Phone.
Conclusion:
It hardly needs any explanation why BlueStacks is most popular amongst all android emulators. Its installation is very easy and is available for all versions of Windows. You can use android apps on PC without any issue. The only drawback with this method is this application takes time for download process. It might also slow down your PC while downloading process is going on. So I would suggest doing this when you are not doing any important work and once you emulate WhatsApp on PC you can use this messenger worry-free.