Can I Do Digital Marketing Courses After 12th Class? – Perfectly Explained
Summary: It's a big question after completing 12th class. What to do next, go for academic study (BA, Bsc., B. Com, etc.) or job oriented course like Digital Marketing. Read this write-up and decide.
So you want to do a digital marketing course after 12th? If the answer is yes, then stay tuned till the end of this article!

In what follows, I'll give a brief introduction about everything digital marketing, and then some more.

You'll learn:
What is digital marketing?


Why you should care about digital marketing at all?


What you'll be learning in it?


What are the best ways to learn digital marketing after class 12th?


And the best digital marketing institute from where you can learn it.
Question: – Can I Do Digital Marketing Courses After 12th Class?

Answer: – Yes, you can definitely do digital marketing after 12th class. In below section you will come to know all pros of doing digital marketing.
What is Digital Marketing?
Put simply, digital marketing is the way to market products and services through digital mediums. These digital mediums can vary from search, social media, email to video. However, the main objective of using all these different mediums is the same- to reach a prospective buyer with your product or service.
Note: – You can join SeoClick Digital Marketing Institute, a group of working professionals.
Why Should You Do Digital Marketing Courses After 12th?
In India, the number of internet users has reached a staggering 700 million in 2020. And this number is only expected to grow to 974 million by the year 2025, as shown in this study by Statista. And when we look at the larger globe, the numbers are even more humongous with 4.57 billion active users in 2020.
In the age of the internet, traditional marketing efforts don't give as good a return of interest as they used to. In comes digital marketing, through which companies can market their products and services to customers directly through their digital devices.
Due to the rise of the internet, which is only expected to rise further still, the demand for digital marketers has also risen exponentially. This article by McKinsey shows how the demand for digital marketers raised by 45% in 2018 alone, know here.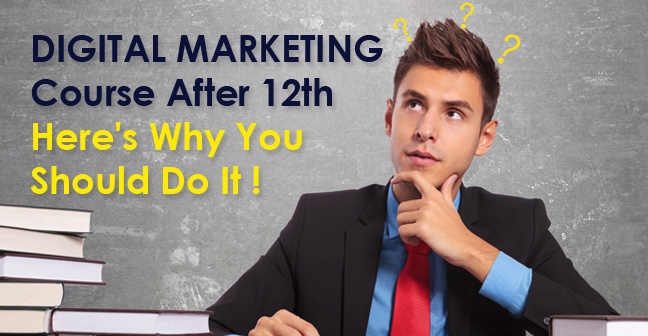 There is another dilemma that a lot of students find themselves in. Should they go for a traditional three or four-year-old university degree? Or should they go for a skilled-based course, like digital marketing courses after 12th. In our research, we found that the value of traditional degrees is not what it used to be. More than 80% of the engineers are unemployed, according to this survey published by India Today.
Similarly, only 47% of Indian MBAs were able to get a job in 2016-2017, as per this survey by The Economic Times. The situation for students in other non-professional courses like BA, BCom, etc. is even direr. In such a situation, it would far better to invest your efforts to do digital marketing courses after 12th, which is skill-based and will help you in landing a high-paying job right away.
Where to Do Digital Marketing Courses After 12th?
The good thing about the internet is that knowledge cannot be hidden by gatekeepers. Resources to learn digital marketing are abounding on the internet like the Google digital academy, Udemy, etc. But all of these resources have a critical problem in common. They all lack the ability to provide you a platform where you can practice your digital marketing skills on a daily basis.
Like anything in life, you can only grow in digital marketing if you are practicing on a daily basis. This is why here at SeoClick, we provide you with an internship to practice what you are learning from day one. You'll get an opportunity to work on live projects. And this is why SeoClick is the Best Digital Marketing Institute in Delhi.
Also, digital marketing is a vast field. Here you will learn all the skills that you can master for your growth and specialization.
Why SeoClick?
There are multiple reasons to join SeoClick. Some of them are:
Learn Digital Marketing on Live Projects
Sit in MNC and Understand Marketing Concepts
Learn from Professionals by Sitting beside them
Proper Office Environment (Makes you Professional)
Monday to Friday (9:00 AM to 6:00 PM)
100% Job Guarantee (Paper Written)
Note: – Know more about Digital Marketing Diploma Course.
That's all, Folks!
So there you have it.
It will be far better for students to do digital marketing courses after 12th rather than enrolling in a traditional regular college degree. It will help them learn a critical skill of the 21st century and help them bag high-paying jobs.
Also, you should choose a place which can provide you with practical training along with theoretical classes. And that's why, if you are looking for the best digital marketing courses after 12th, SeoClick is your best bet.