Delete Duplicate Tasks in Outlook | Updated 2021 Guide
Shini Mohan | June 7th, 2021 | Outlook
A Task is a data item that you create in Outlook to track a task until it completes. Through the use of tasks, Outlook allows you to create a single to-do list, enhanced with reminder and tracking. But sometimes when a user tries to create a task, it appears twice in a task panel, and when they try to delete duplicate tasks in Outlook, then it automatically deletes another one as well.
Hence, all these situations make the user look for a different solution to resolve or remove duplicate tasks in Outlook. Therefore, in this article, we are going to discuss multiple methods on how to delete multiple tasks in Outlook.
Reasons for Duplicate Tasks in Outlook
Once you see that there are duplicate tasks in your Outlook account, it becomes very hefty to delete duplicate tasks in Outlook without deleting the original content. This kind of issue can be caused by multiple factors, and some of the major factors are mentioned below.
Corruption in the to-do list leads to duplicate tasks issue in your Outlook account.
Maybe there is an issue in your View Setting which leads to saving multiple tasks in Outlook account
When users open the PST file from Outlook 2003 and Outlook 2007 in Outlook 2010, then users face this type of issue due to compatibility issues.
Techniques to Delete Duplicate Tasks in Outlook
In order to complete this task, we have two methods and they are stated below
Change View Settings for the Task Folder-Manually
As we said above one of the main reasons for the duplicate tasks in Outlook, is the issue in view setting. So in order to overcome the issue of view setting, follow the guidelines mentioned below to delete duplicate tasks in Outlook.
1: First open Outlook and then open Task folder.
2: Now delete the duplicate task from the task view this step will show all the task in a list view
3: Go to the View tab and click on the change view>>detailed option
4: After that click on view tab>>View Settings.
5: Now, and advanced view setting simple list dialogues will be open, then select the shot button
6: A short dialogue box will pop up. Select a subject from a short item dropdown menu, and click on the ok button
7: A warning dialogue box will appear. Now click just click on the yes button to confirm view modification
8: Now, select the duplicate task by comparing the similar ones then press shift + delete.
Export Solution to Delete Duplicate Tasks in Outlook
After attempting the manual method to delete duplicate tasks from Outlook. If you are still facing duplicate tasks in your Outlook account. Then an alternative method can be the best approach for you. SysTools PST Duplicate Remover Tool is one of the best and most effective tools to delete duplicate tasks in Outlook.
As well as this software also deletes duplicate calendars, emails, contacts, journals, notes, from Outlook OST/PST/BAK file in batch without any data loss.
Now, follow the step by step process to delete duplicate tasks from MS Outlook.
1: First install and launch the software on your local machine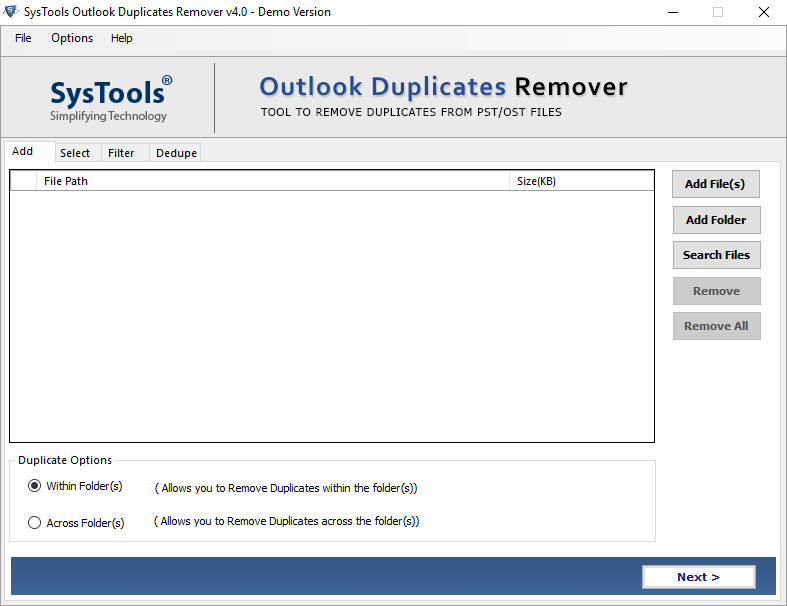 2: Now, click on the Add Files or Add Folder option to add PST/OST/BAK files.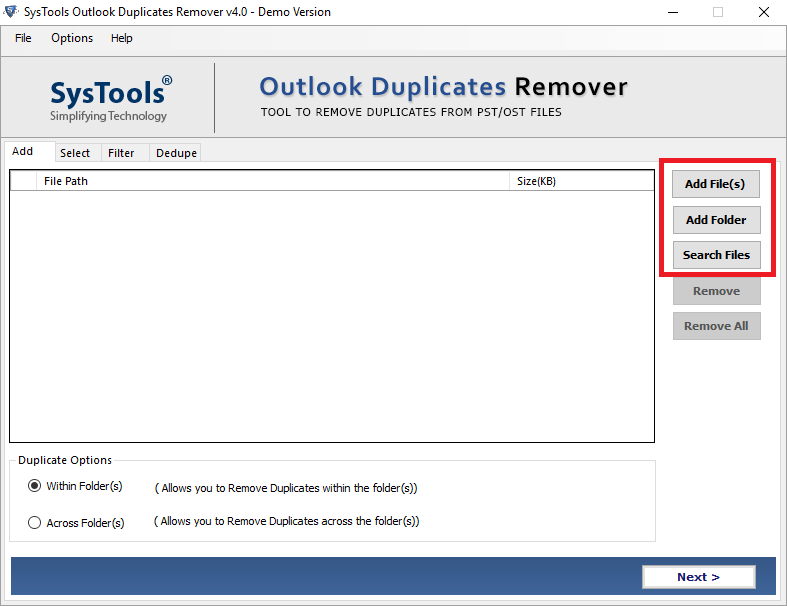 3: After that select Within Folder or Across Folder option to delete duplicates.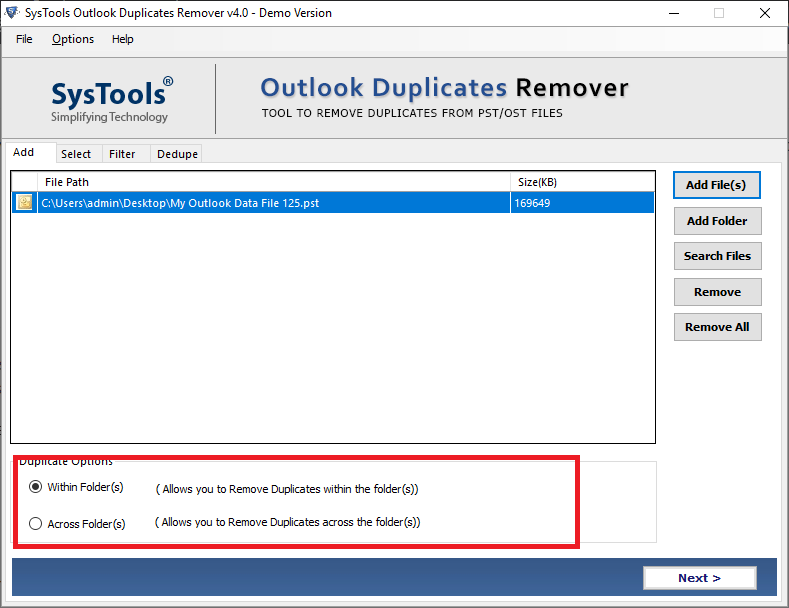 4: Click on the Change button to choose the destination location to save the result >> Next.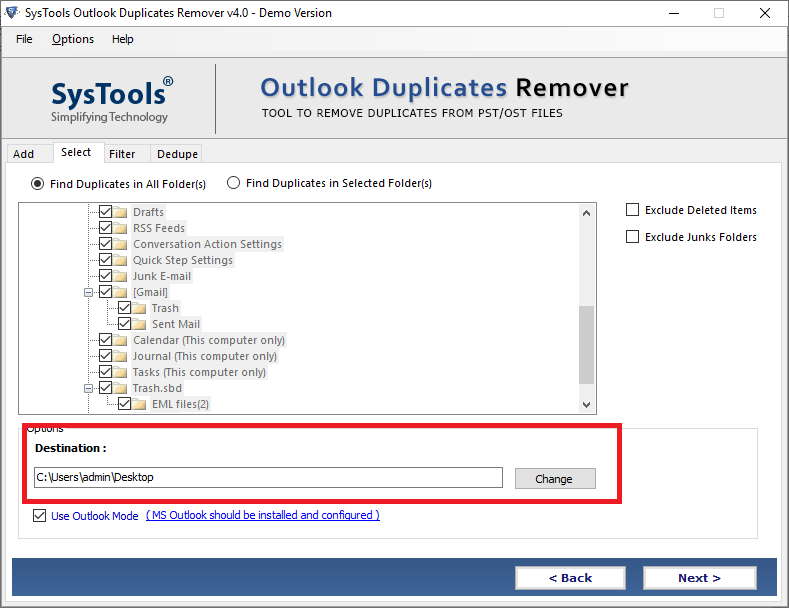 5: Now choose Tasks option from the Select filter and duplicate criteria option.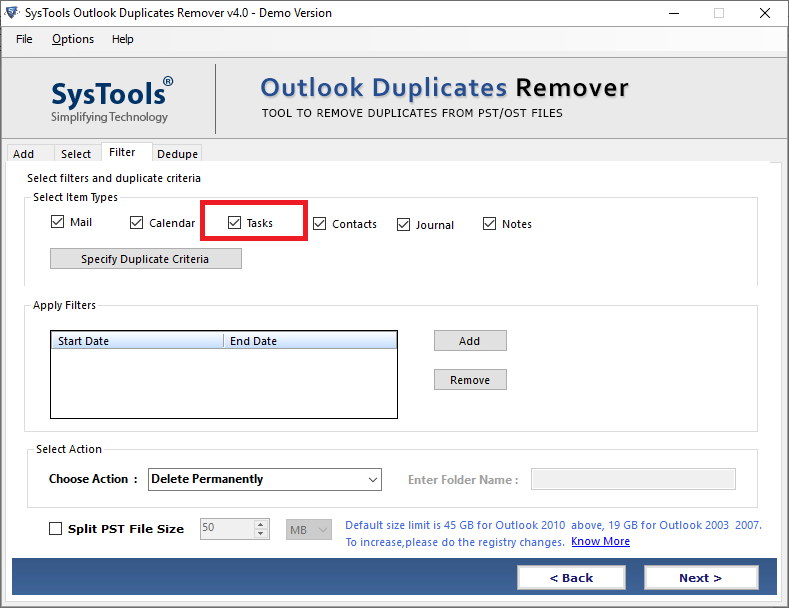 6: From Specified duplicate criteria option choose to specify properties or field to delete duplicate tasks like Subject, Start Date, Due Date and many more,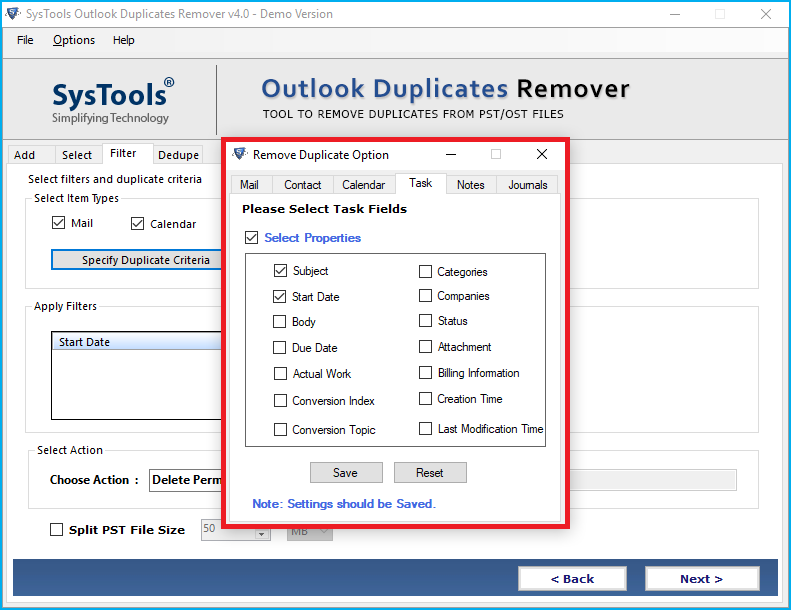 7: At last click on the Next button to start the process of deleting duplicate tasks from Outlook.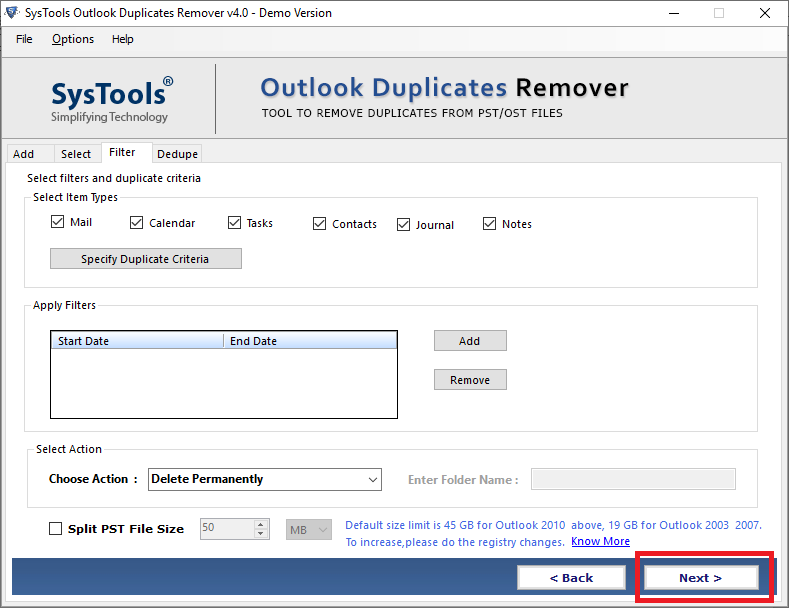 Additional Features of Software
Maintain Data Properties- This Outlook duplicate remover tool will able to maintain your folder hierarchy as well as it is capable to preserver the metadata during the whole process
Various Fields Option- This Tool gives you options like BCC, Subject, Cc, Start Date, Body, and many more to delete duplicates from Outlook account.
Diverse Removal Option- It provides different action to delete duplicate items from Outlook such as Delete Permanently, Move to Deleted Item Folder, Move to Folder, Put Flag, and Mark as Expire.
Two Way to Delete Duplicates- Facility to delete duplicate in two different wary like delete duplicate from within folder or delete duplicate from across folder.
Final Words
It is very hard to handle duplicates in Outlook because it creates lots of performance issues. Hence, the above article has covered all the possible ways to delete double tasks in Outlook. So, to delete duplicate tasks in Outlook, a user can consider manual approaches as well as automated solutions as per their requirement.