Convert Pocomail to Outlook PST File – Simple Techniques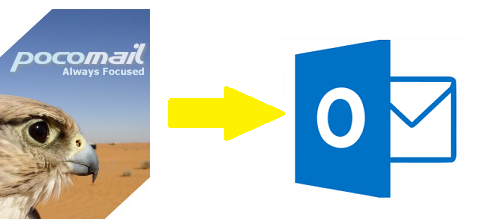 Pocomail was an email application for MS Windows developed by Poco Systems in 1999. It was developed with scripting methods for better spam and attack protection. This application supports IMAP and POP3 protocols. A user can access multiple accounts in this email client.It is believed to be a secure application but it is outdated. Due to which many users want to migrate their mailbox data from Pocomail to Outlook.
On the other hand, Microsoft Outlook is an email client and personal information management application. It has multiple mailbox items to save the data i.e emails, calendars, journals, contacts, etc. This application supports PST file format. One can migrate Pocomail emails to PST file format and easily access their emails in Microsoft Outlook. There are many queries asked by Pocomail users who are facing issues in moving their data, one among such queries is listed below:
"Hello! I was a Pocomail user with the huge amount of important data. Now I have tried Outlook and found that there are many features like simple interface, emails, and contact management, etc. So, I need to move my entire mailbox from Pocomail to Microsoft Outlook. Please suggest me any easy technique to do so. Thanks!!"
Reasons To Move Data From Pocomail To Outlook
There are a number of reasons to move the data from Pocomail to Microsoft Outlook. Such as:
Pocomail is one of the outdated email clients as we all know. But, it contains important emails and other data of many users, which they cannot access through this application now.
In terms of security and features, Outlook provides more secure storage of mailbox data as compared to Pocomail.
The interface of MS Outlook is quite easy and user-friendly.
Data corruption in Outlook is easy to handle.
Move Pocomail To Microsoft Outlook Manually
Since there is no direct method through which user can move mailbox data from Pocomail to Outlook. But it is possible to import the data by converting the MBOX file to Outlook PST file format. One can open that particular PST file in Outlook. This is how you can access your important emails in the other email application.
Automated Solution To Convert Pocomail to Outlook
As discussed, there is no direct method to perform this conversion. But you can go for another solution SysTools MBOX to Outlook PST Converter to import Pocomail to Outlook PST. The following tool has a number of features that can help a user to convert the Pocomail files. This process is easy to perform and it takes less time to convert bulk data. A non-technical user can also run this application and perform the conversion process. Listed below are some of the unique features:
The software allows a user to recover deleted items from MBOX file. You can export the Pocomail database file to Windows Outlook PST, EML, MSG and NSF file format.
If you have multiple files then also, you can merge these files and obtain a single PST file.
There is an option to create a single PST file for each Pocomail database file.
The software auto detects the location for configured email data.
There is no issue of compatibility of Windows operating system versions.
There is no need to install Outlook in order to perform the conversion process.
Note: If You are a Mac user and have pocomail database,  Then you can use this effective utility i.e. Mac MBOX Converter in order to Migrate your data to Mac Outlook.
Conclusion
As we all know, that there is no direct method to convert Pocomail to Outlook. But, you can opt for the automated solution and perform this conversion process. You can export emails from Pocomail to PST file format and access your important Pocomail mailbox data to Microsoft Outlook.