Know-How to Convert PNG to HTML File ?
Nilesh Kumar | July 20th, 2021 | How to
If you are searching for the solution to convert PNG to HTML file on Windows operating devices, then you are on the right page.
There are many developers around the world who wants to convert their PNG images files into HTML format extension to construct a website easily. Notwithstanding, there are tons of methods available online but have several disadvantages or drawbacks to export PNG images.
Hence in this blog, we are going to provide the most relevant and secure methods to convert PNG Image to HTML code on Windows 10, 8, and below version with ease.
Query- Hi, on my computer system I have saved multiple folders which contain the bulk of PNG images. Now I wanted to export or convert my multiple images/photos in an HTML code file. So please suggest me a safe and secure way to implement the process.
Manually Add PNG Image to HTML Extension
Use can use Google Drive to know how to add PNG Image to HTML code file extension.
Step-1 Open your chrome browser and login into your Goole Drive account.
Step-2 Second, upload the PNG image file to your Drive.
Step-3 Now Right-click on the image and select the Google DOCS option from the Open With drop menu.
Step-4 Then click on the File option and from Export To Option select the HTML format
This manual method is suitable for only a few PNG images. If the user wants to convert PNG to HTML files in bulk then he/she can go with Batch Image Converter Software for Windows.
Third-Party Application / Software
The PNG to HTML converter is the finest way and completely safe and secure solution that able to convert multiple image format such as JPG, JPEG, JPE, GIF, PNG, BMP, Icon, TIFF, EMF, JFIF, TGA, etc.
The perfect utility is capable to export multiple images into DOC, DOCX, PDF, HTML as well as TEXT (BASE 64) files extension in a single go without losing picture quality.
This tool also provides a facility to preview all the added images and can set page orientation, margin, and page size.
The software can convert PNG to HTML file format process in Windows 10, 8, and 7 (32/64 bit).
Steps Wise Guide to Convert PNG Image to HTML Code File
Step-1 Download and install the software to add PNG Image to HTML file on Windows.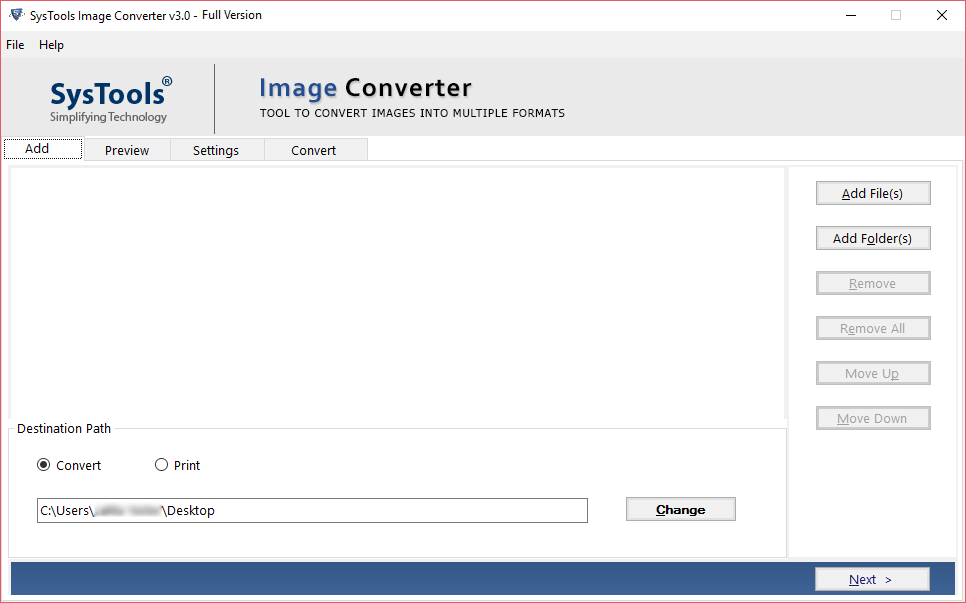 Step-2 Now click on the Add file or Add folder option to add multiple PNG images into the software.
Step-3 To arrange the added images properly select the Move Up Option to drag the required image upward and Move Down Option to move the required PNG image Downward.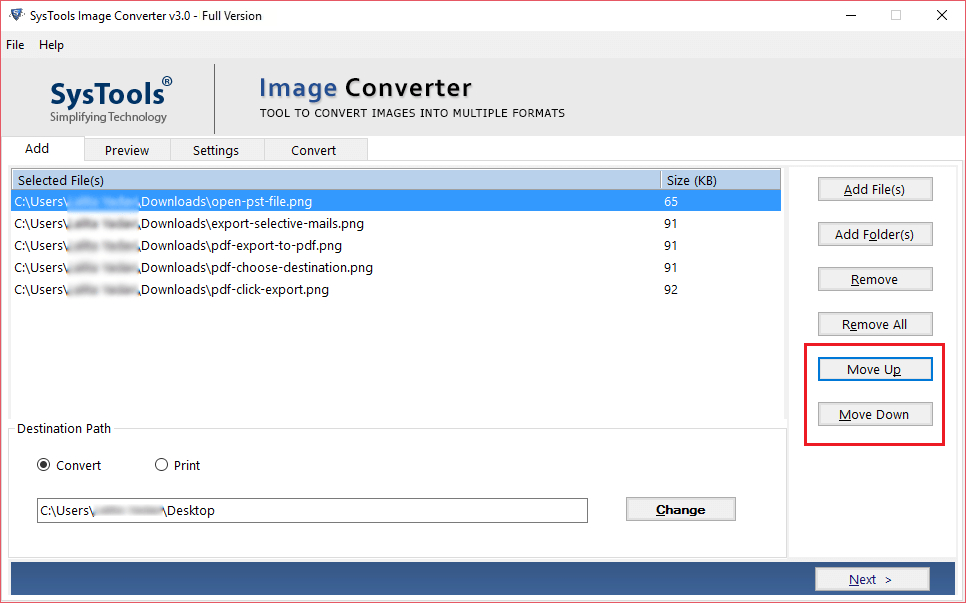 Step-4 Now select the path of the files by clicking on the Change button.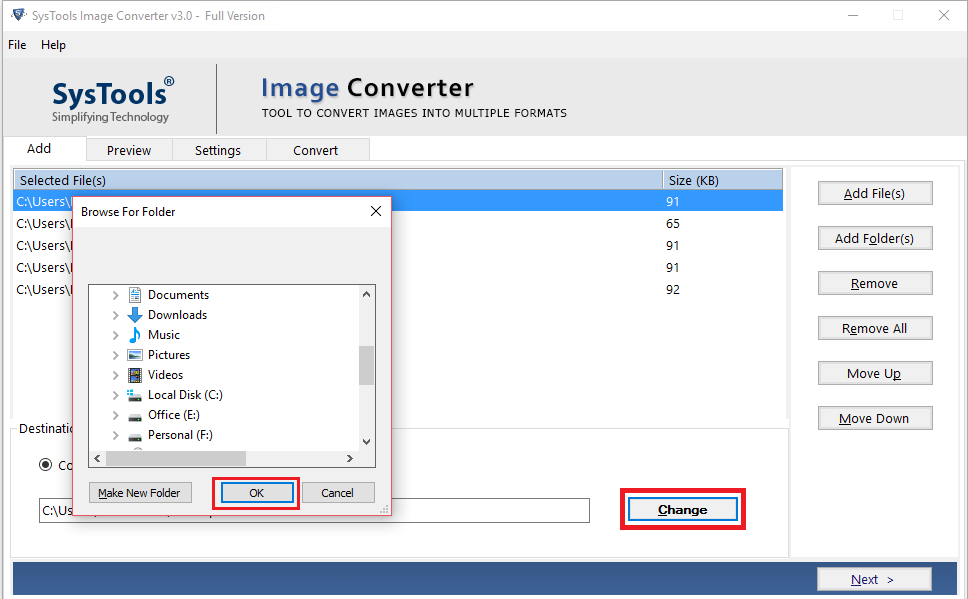 Step-5 Then click on the Next button and select the HTML button from the Export format option.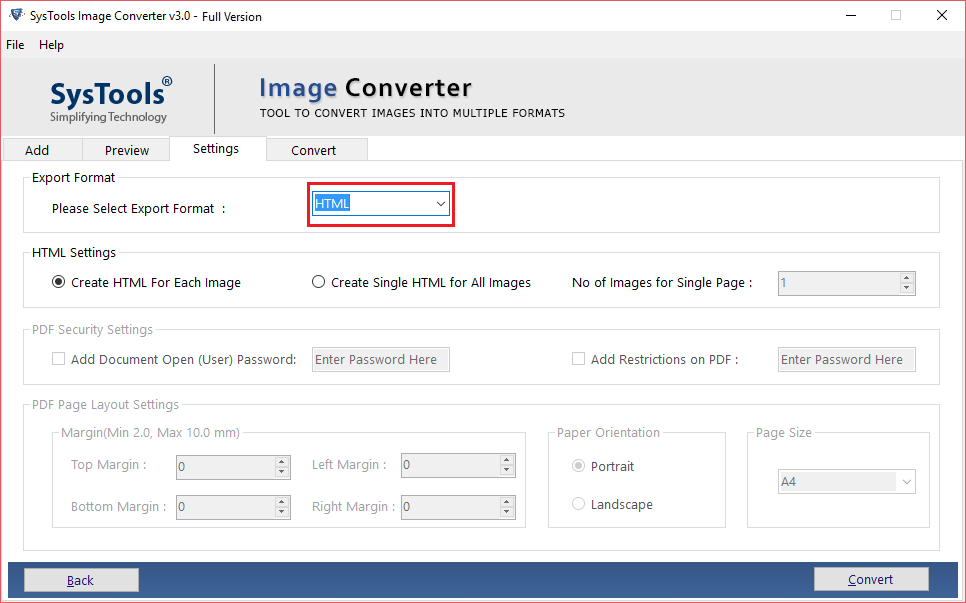 Step-6 You can choose the "Create HTML for Each Image" option or can go with the "Create Single HTML for All Images" option from HTML settings.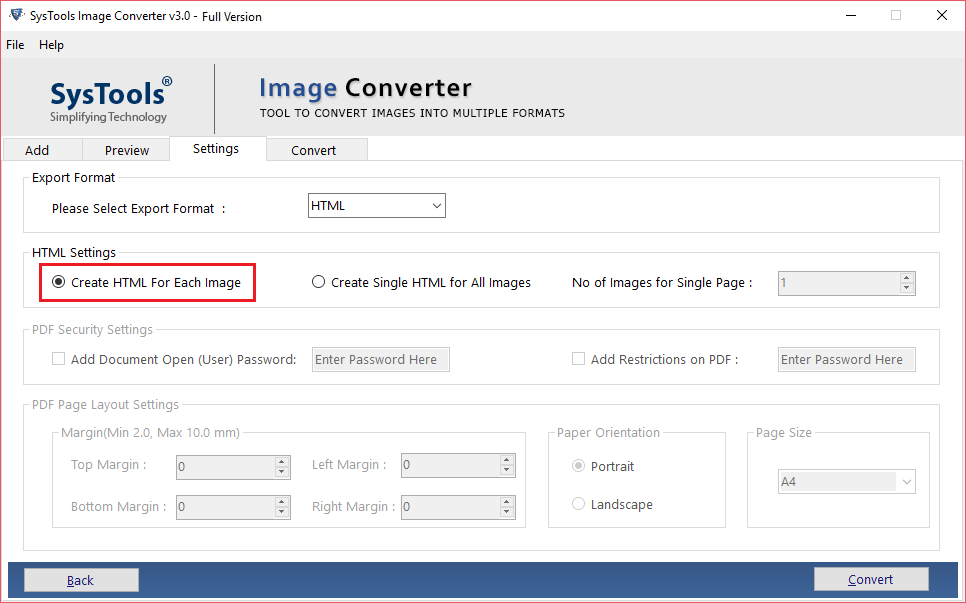 Step-7 Click on the Convert button to start PNG to HTML conversion process.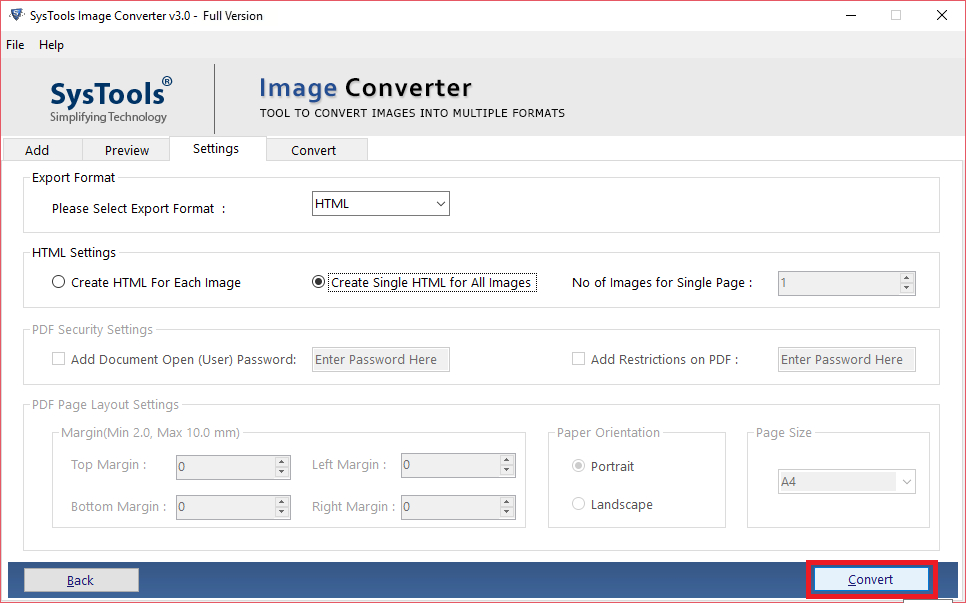 Step-8 The software will show the Image convert successfully message on the screen. Click the Ok button to complete the process.

Key Features of the Software Convert PNG to HTML File
Preserve PNG Images – The new allocated size to the multiple images does not affect their quality as the software is built with advanced features that maintain image properties and quality.
Save Single or Multiple HTML Files- The software provide two option to add PNG Image to HTML file format on Windows.
Create HTML File for Single PNG Image- This option will create a single HTML file for each PNG image.
Create Single HTML File Format for Multiple PNG Images – To store multiple PNG Images data into one single file.
Complete Conversion Report – The software will display the total count, Success Count, as well Fail Count of every exported file.
FAQs
Q. How do I convert a PNG file to HTML?
Click on 'Add File' or 'Add Folder'.
Select the required image and HTML file option.
Click on the 'Convert' button.
Q. How do I convert PNG to text ?
Select the 'Add File' or 'Add Folder'
Insert the images and chose the HTML format.
Click on the 'Convert' option.
Final Words on How to Add PNG Image to HTML File
In the blog, we have discussed the best manual and automated approach to convert PNG to HTML files on Windows devices.
But in the case of multiple images, we suggest you go with an automated approach to convert PNG Image to HTML code in a hassle-free manner.