How to Fix Cannot Open .oxps File in Windows 7 Error
"When I was trying to open an XPS document in the XPS viewer I received an error message i.e. Cannot open OXPS file in Windows 7. I am sure this problem is not with the document. There is some technical problem due to which this error message occurs. Observe the following error message and please let me know what does it mean? Please help me if you have any suitable idea to solve OXPS file not opening issue?"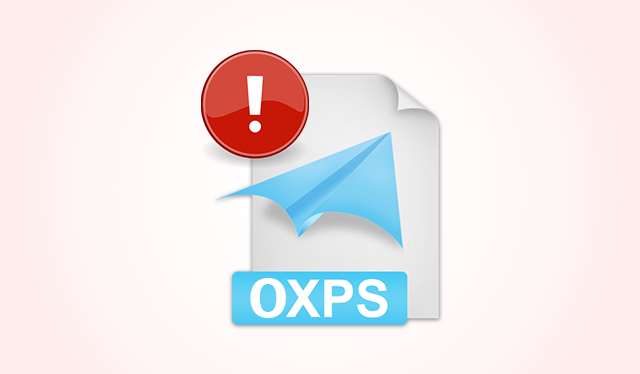 Most of the users have reported a situation, which is encountered while accessing the document. It generates an error message and does not allow the user to view .oxps file in Windows 7 or Windows Server 2008 R2. Depending on the reason, both Windows 7 and Windows Server 2008 R2 does not support the .oxps file format. Moreover, the .oxps files are only created in Windows 8 when the user goes to print a Microsoft XPS Document Writer (MXDW) printer. In the upcoming section, we are going to discuss user's general query on how to fix can't open .oxps file on Windows 7 error using the manual approach as well as using an expert solution such as SysTools XPS Viewer Tool.
Quick Glance at OXPS Document File
An OXPS is a file that can be created in an Open XML Paper Specification (OpenXPS) format. This same format can be used for .XPS files. It is similar to the PDF file, which describes the structure and content of the document.
How to Fix Cannot Open OXPS File in Windows 7 Error
Go through the following steps that will help to resolve the problem. Let's have a look:
First of all, install and download free OXPS to XPS converter tool.
Then, you can use this software to convert a .oxps file to the .xps file.
After this, you can use XPS Viewer to open a .xps file.
Simple and Short Tricks to Fix OXPS File not Opening Issue
To resolve this problem, you should uninstall the viewer and install it again or navigate to the Microsoft download center to download it again.
Due to unsupported files in which Window does not know what to do with those files. It means, there is no program installed on PC for the associated particular file type. While accessing an unsupported file type you must install the program.
Limitations of Manual Approach
A .oxps file does not support Microsoft Windows 7.
While performing above steps file formatting or styling will be changed.
This manual approach is not a proper solution to fix this error message Cannot read .oxps file in Windows 7.
A Wisest Choice to Resolve Can't Open .oxps File on Windows 7
To overcome such limitations of the manual approach, users can take help of a reliable third party tool. One such solution is SysTools XPS Viewer Software that will help to resolve cannot view .oxps file in Windows 7 in an efficient manner. It is programmed in such a way to open and view all XPS/ OXPS files on Windows machine. Also, it has a simple and user-friendly interface that will help to understand the working of this software. Some of the key features are mentioned below:
Data styling & formatting will remain same as the original one
No need to install any supporting environment to open XPS file
Tool provides Zoom in & Zoom out feature using special command
The error message OXPS file not opening will be fixed by this utility
Compatible with all Windows version including 10 & its below edition
Conclusion
How to read .oxps file is still a big trouble for every user, if they are not capable to access a .oxps file on the system that is running Windows 7 or Windows Server 2008 R2. Along with this, we have discussed a manual solution that will help to resolve cannot open OXPS file on Windows 7 error. Else, users can opt for a commercial solution i.e., XPS Viewer Tool that will help to fix this error without facing any trouble.