Best Outlook 2010 Deleted Item Recovery Tool
This article is for users of Outlook 2010 and is looking for the best solution to recover deleted items in Microsoft Outlook 2010. Well, most of the Outlook users sometimes face permanent deletion of Outlook items. It can be due to various reasons including virus or malware attack. Or it can happen due to accidental deletion by users (shift+delete). Also, permanent deletion can occur due to some Outlook errors. But, don't worry! SysTools has come with Outlook 2010 deleted items recovery tool that does a RAW scan to retrieve 100% deleted items in Outlook.
This is the only software that does RAW scan which means it will scan your Outlook data files bit-by-bit. Isn't this amazing?
So if you have corrupted Outlook files like PST, OST, or BAK files, this tool will thoroughly dig these files to give you what you want.
In this blog, you will be going to learn many things about this spectacular tool:
Features of the software
Recover deleted items in Microsoft Outlook 2010 in 3 steps
System Specification
Reviews by Cnet & SoftwareSuggest & Testimonials screenshots
Let's begin!
Features of Outlook 2010 Deleted Item Recovery Tool
This single tool is capable of many things and with Its RAW scan features, it guarantees 100% recovery. Although this article is published to tell you how to recover deleted items in Microsoft Outlook 2010. But this tool is designed for other Outlook versions as well. (see system specifications).
1. The tool will meticulously scan the corrupted Outlook files and preview all data items with deleted items (in Red color). It can retrieve permanently deleted Outlook items like Mails, Contacts along with distribution list, Calendars with events, meetings or appointments, Tasks, Journals, Notes. You also get the option to export your recovered data into healthy PST, PDF, MSG, EML, HTML file format. You can even export Outlook data to Office 365 account.
2. You can recover deleted items in Outlook from the PST file and Outlook OST file of Exchange or IMAP-enabled account. The tool can retrieve permanently deleted data from UNICODE & ANSI PST files, including encrypted (password protected) PST files (key has to be provided by the owner). The tool also provides the option to restore deleted Outlook items from the BAK Outlook file.
3. Restore deleted Outlook Folders whether they are system folders or user-customized folders.
4. While saving recovered Outlook data you can choose to Maintain Folder Hierarchy. You will have your files and folder in the same hierarchy as they were before.
5. You also get features like "Save Permanently Deleted Items Only", "No Need to Export Empty Folders", the 'Export Selected' option to save selected items only, etc. To know more features of this tool click: Recover Deleted Items In Outlook 
Recover Deleted Items in Microsoft Outlook 2010 Using SysTools Software
With all these advanced technologies the tool is quite easy to run. The tool's self-explanatory interface will make it easy for you to operate. Just follow these instructions to run Outlook 2010 Deleted Item Recovery Tool:
1. Click on the "Add Files" button, then the 'Add File' Window pops up to let you choose one of the given options that are Select File / Search File. You can select whatever suits you. Then, click on the "Search" button.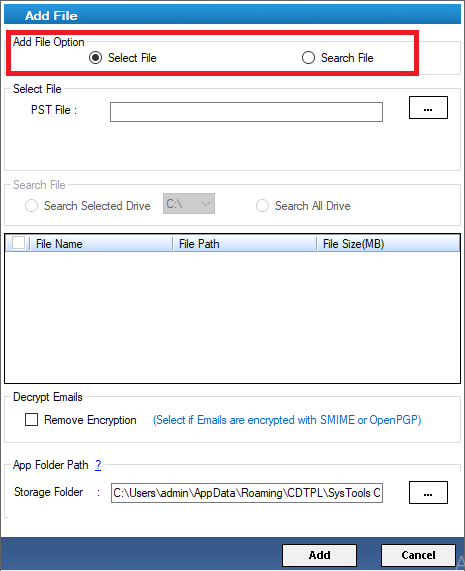 2. After searching the tool will show a "success" message. You can view all the data retrieved from corrupted Outlook files. All the deleted items are previewed in Red color.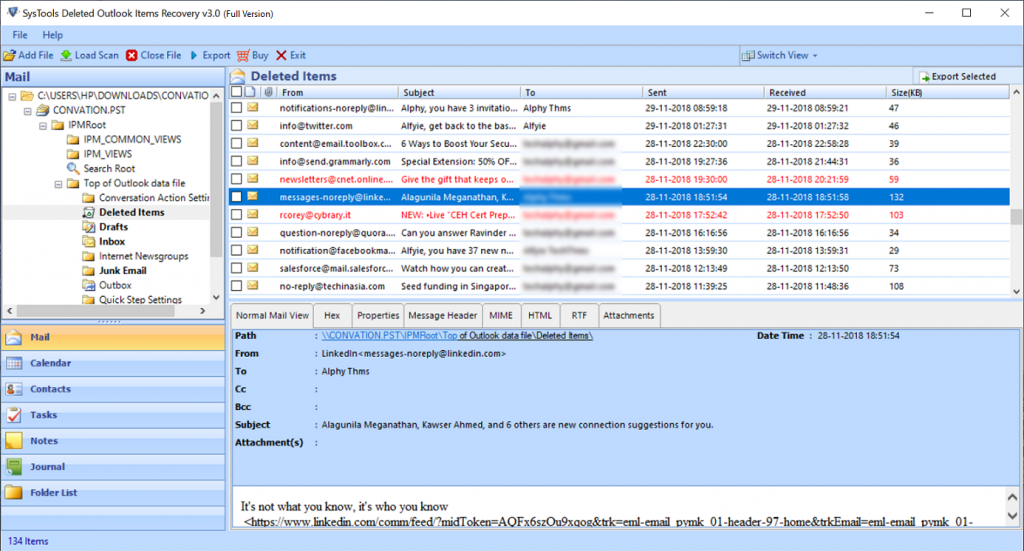 3. Save Recovered deleted Outlook items in PST, PDF, EML, MSG, HTML, O365 by clicking on the "Export" button.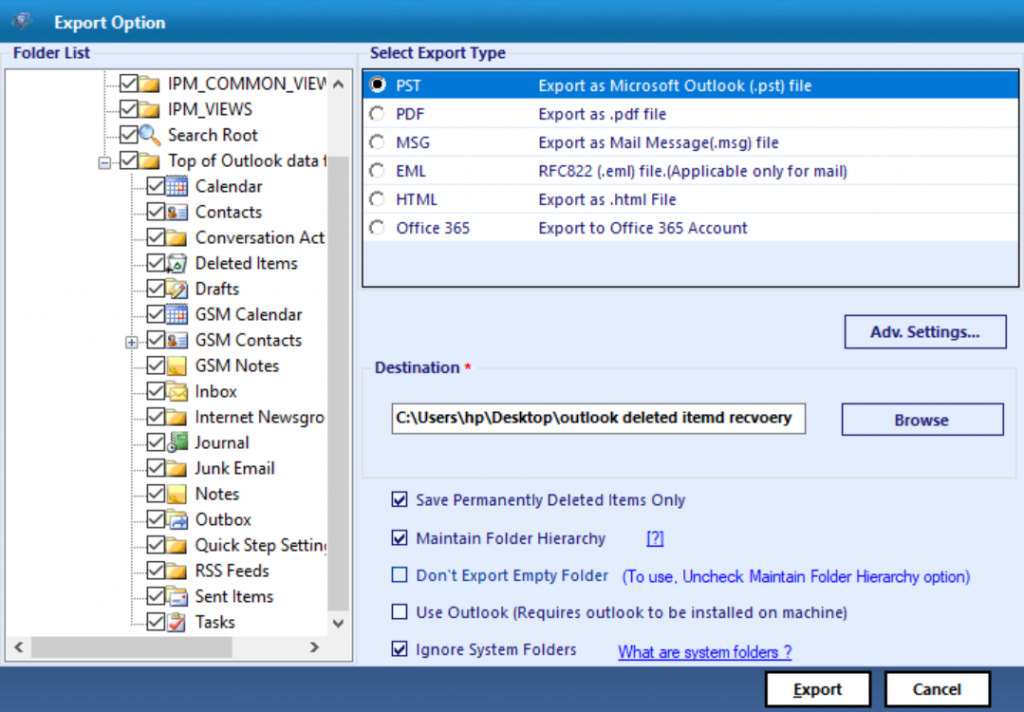 System Specification: Outlook 2010 Deleted Item Recovery Tool
Hard Disk: 100 MB
RAM: A minimum of 2 GB RAM
Processor: Intel® Pentium 1 GHz processor (x86, x64) or equivalent
Supported Editions:
Microsoft Windows – Vista / Win 7 / 8 / 8.1 / 10 & Windows Server 2003 / 2008 / 2012
Office 365 – Enterprise E1 / E3 / E5 / Business Premium / Essentials & Exchange Online Plan 1 / Plan 2 & wizard 3 A1 / A3 / A5 / F1
Reviews
Both CNET & Software Suggest has applauded SysTools for designing this unique tool that gives you a 100% percent result with its RAW scan feature. Along with this, they appreciated the fact this Outlook recovery tool is for PST, OST, and BAK data files. CNET also said, "Various export options like PST, PDF, MSG, EML, HTML, and Office 365, this is an ultimate tool for Outlook users."
See The Ratings Our Clients Has Given Us

Conclusion
Outlook 2010 Deleted Item Recovery by SysTools is the best tool to recover deleted items in Microsoft Outlook 2010. You can recover data from corrupted PST, OST, and BAK files and save it to a healthy PST, MSG, EML, PDF, or HTML. You can export your Outlook data to Office 365.
Try Free Edition of the Software.