Print Multiple EML Files to PDF – Best Way to Batch Convert EML Files
Summary:

In this write-up you will come to know, How can you convert multiple EML files into PDF format? The complete step by step guide available for Windows OS users and Mac OS users.
Are you the one who is facing problem while trying to batch convert EML to PDF? Or you are having a stack of Apple Mail EML files on your system and are not sure how to print multiple EML files to PDF file format? Well, you will get a solution to all your queries further in this blog.
Around the globe, there are thousands of users using EML or EMLX files and are in need to convert these files in PDF format for easy usability on different platforms. Also, both these Mac file format stores single emails that are mostly not compatible with other email clients. Thus, the necessity of EMLX to PDF conversion arises. You can convert EML in many different file formats but in this blog, we will entirely focus on providing you an easy method to batch convert EML to PDF format.
You might feel that it is a very complex and lengthy procedure, but this blog will change your perspective completely. We will directly jump on discussing a software-based solution that will surely solve all the problems and print multiple EML files to PDF without any hindrances.
Batch EML to PDF Converter – Trusted & Reliable Solution
When we talk about converting a set of data, factors like data security and data loss comes in picture. SysTools EML file to PDF converter does the work for you. This tool maintains the data integrity as well as converts multiple EML files to PDF format. The user does not have to worry about the change information of the data or long-time consuming procedures. Now before going through the working of the software, let's take a look at the different paramount features that this tool offers.
Standout features of Mac Batch EML to PDF Converter
The application offers some ultimate features that make it different from any other tool available in the market. In this section of the blog, we will introduce you to the foremost important features and capabilities of EML file to PDF converter which makes this tool one of its kind.
1. Add Multiple EML/ EMLX files – A user is provided with two options for adding their EML/ EMLX files. One is either by uploading multiple EML files from the system by selecting all of them in one attempt. Another one is by adding multiple folders that may contain a batch of EML/ EMLX files itself. Each folder can contain any number of EML files. Hence, there is no limit and restrictions on file size and number(s) to convert multiple EML files to PDF file format.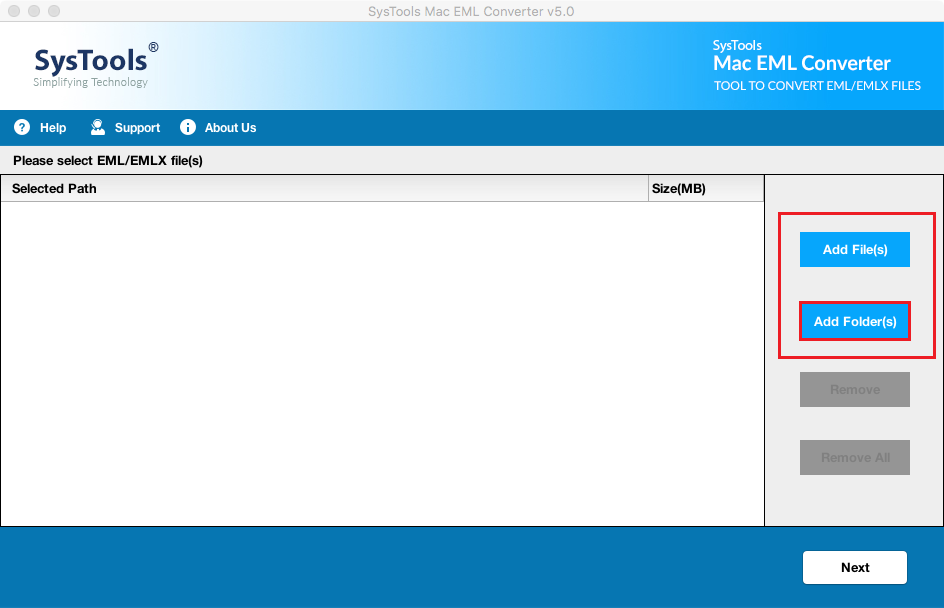 2. Maintain Folder Hierarchy While Conversion – The tool offers an option to maintain folder structure of the exported EML files as it was before conversion. This feature to batch convert EML to PDF on Mac OS is optional and a user can enable it as per their requirements. Once the user enables this feature, the software retains the source folder order even post-conversion into PDF file format.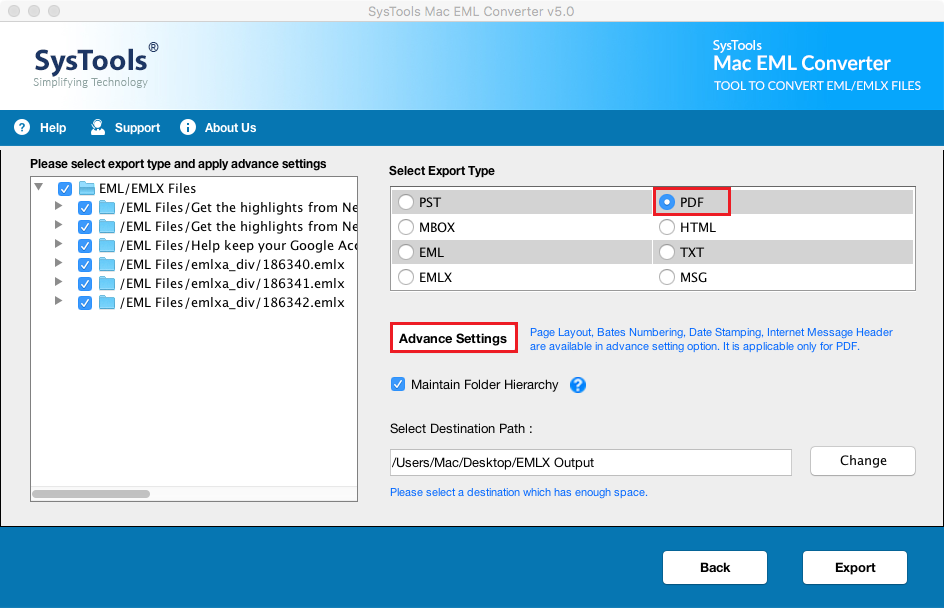 3. Provide Naming Convention Option on Resultant File – During the conversion process, the user can select the PDF file names as per their choice. The tool facilitates the user to choose the naming convention from a pool of options like Subject, Subject+ Date, From+ Subject+ Date, Date+ Subject and Auto-Increment, etc. This will help the user to sort the converted PDF files during the procedure.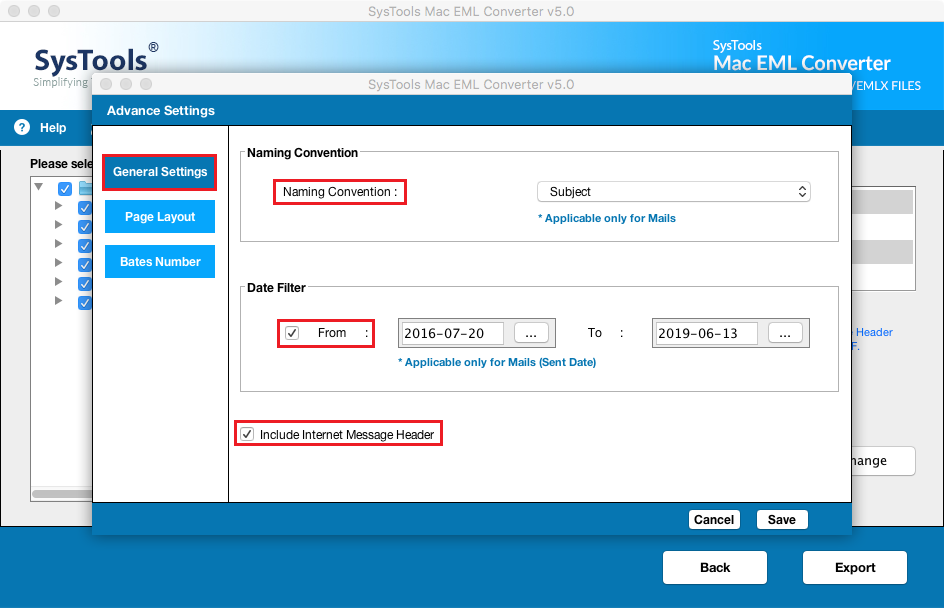 4. Date-Based Filter to Convert Selective EML Files – A user can export certain EML files from a complete set of data with the help of this filter. The user has to define a date-range that will only convert batch EML to PDF based on the date they were sent.
5. Include Message Header Option – In every EML file, there is attached email header information. The user can include this email header by just clicking on the "Include Internet Message Header" option and the header information in the EML file is also converted into PDF file format.
6. Alter Page Layout of PDF File – The batch EML to PDF Converter also allows users to define the page layout of a PDF file. They can set the PDF margin size from 2.0 mm to 10 mm maximum. PDF page orientation (portrait, landscape) can also be changed in the application. For printing purposes, you can also set the page size (A4, A3, letter).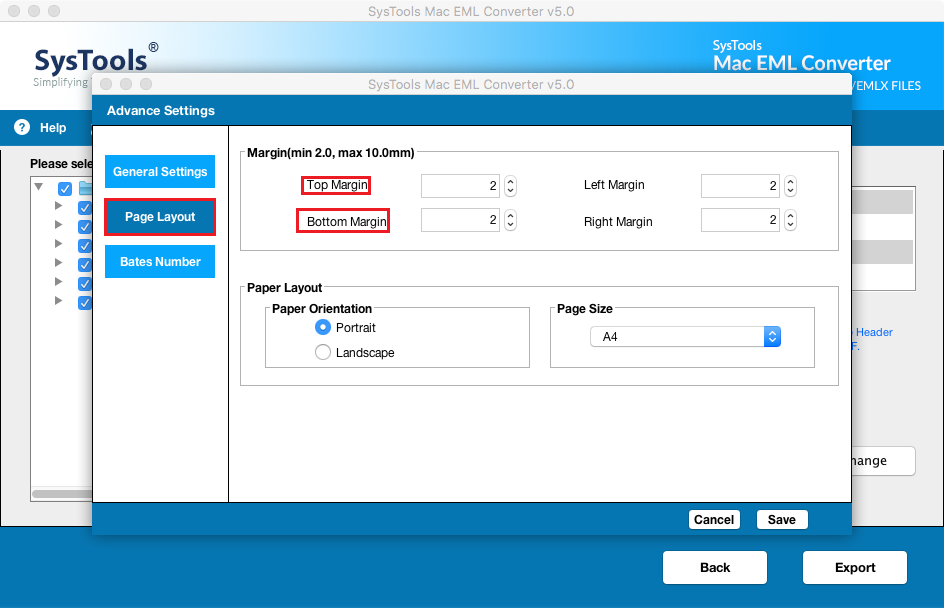 7. Option to Bates Number & Date Stamp – With this tool to batch convert EML to PDF, users can also insert Bates number and date to PDF files. Users can enter the Bates number, increase it using the position of the Bates number. They can also add the format and position of the time-stamped page.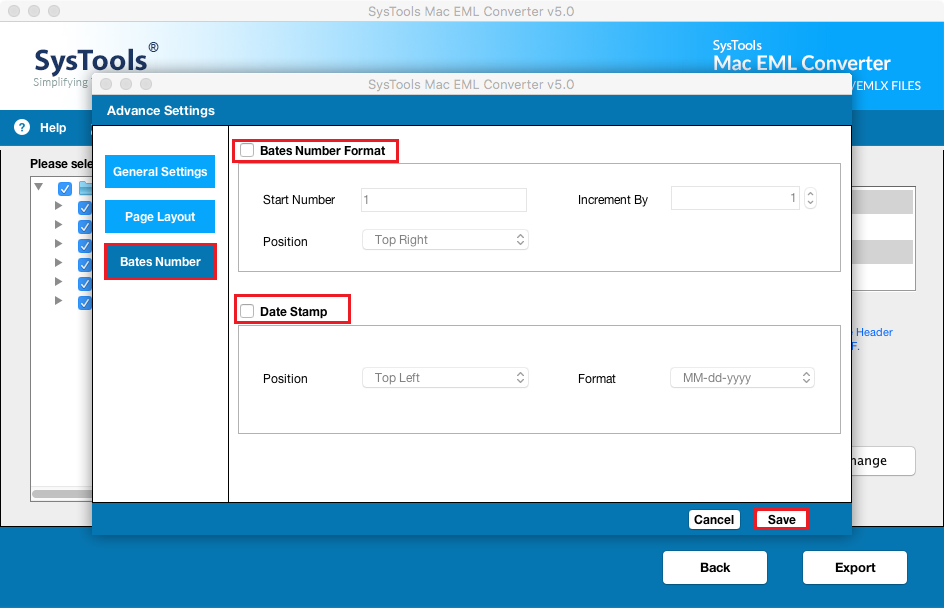 Convert Multiple EML Files to PDF Format on Windows OS
Emails saved in .eml files and want to convert in .pdf format. Then this guide will help you to complete the task. Here you will find step by step guide for how to convert EML to PDF format on Windows system?
Some Features of Windows Software
Convert Selected or Complete Emails into PDF format
Capable to Convert All Mail Client EML Files
Apply Bates Number, Page Margin, Paper Layout for PDF File
Convert EML into PDF format With Attachments, Notes, Calendars, etc.
Convert EML Files which Contains Images in Message Body, etc.
Steps to Convert Multiple EML Files to PDF Format
The below-listed steps will work only on Windows OS installed system. Simply perform the steps listed below:
Download Software:
Step 1: – Launch the EML to PDF Converter on your Windows System. The home screen will appear like this.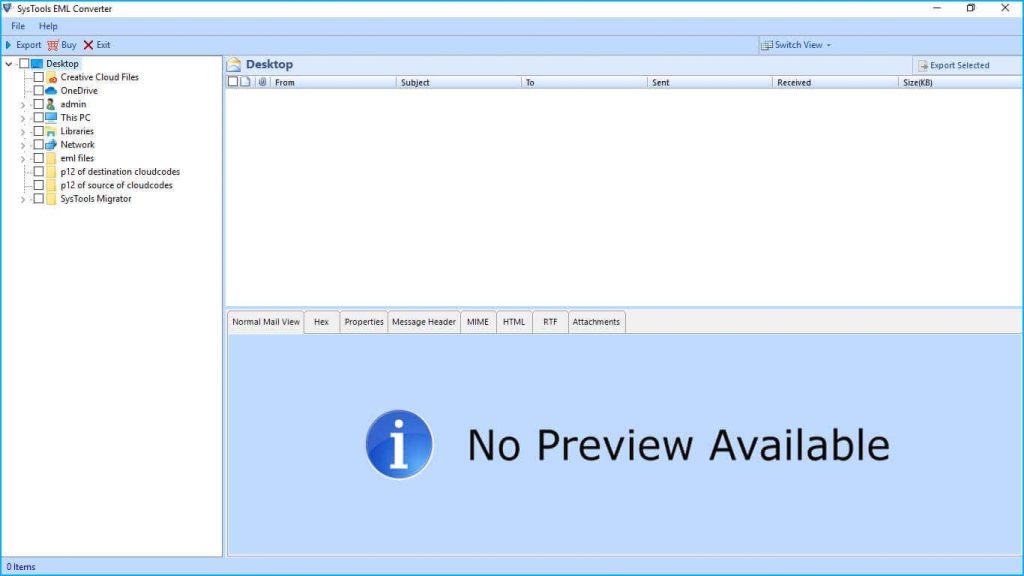 Step 2: – Navigate to the folder, which contains EML files. Explore the folder and preview complete data into 8 different viewing mode (Normal Mail View, Hex, Properties, Message Header, MIME, HTML, RTF, Attachments)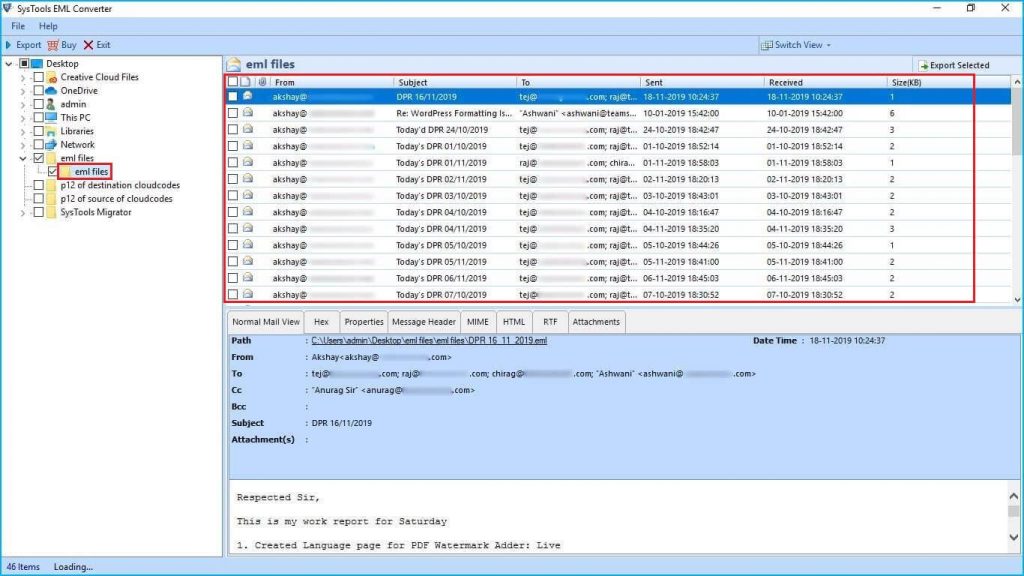 Step 3: – Click on the Export button and select the PDF radio button. After that, you can apply the Advance Setting button.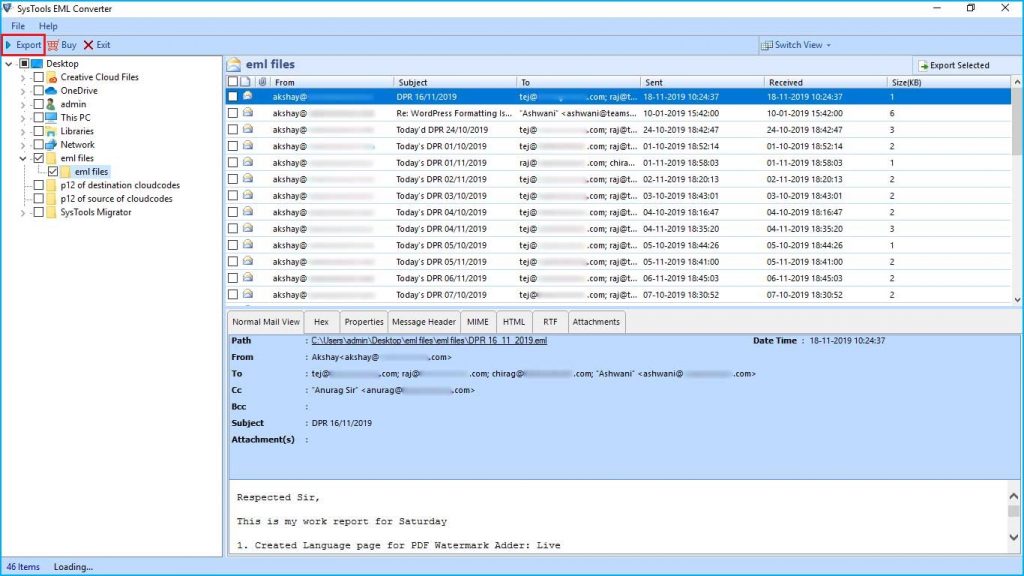 Step 4: – All Advance Setting Here: Naming Convention, Date Filter, Include Internet Message Header, Page Margin (Min 2.0, Max 10.0 mm), Paper Layout, Page Size, Bates Number, and Date Stamp.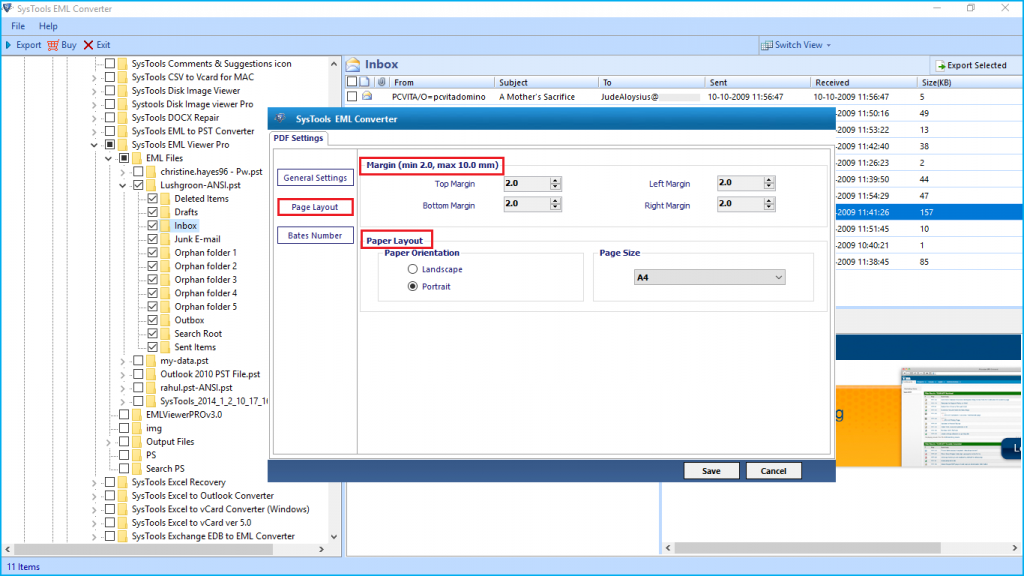 Step 5:- Browse Location to Save Exported PDF File. After all, these options click on the Export button. It is the final step to convert multiple EML files into PDF format.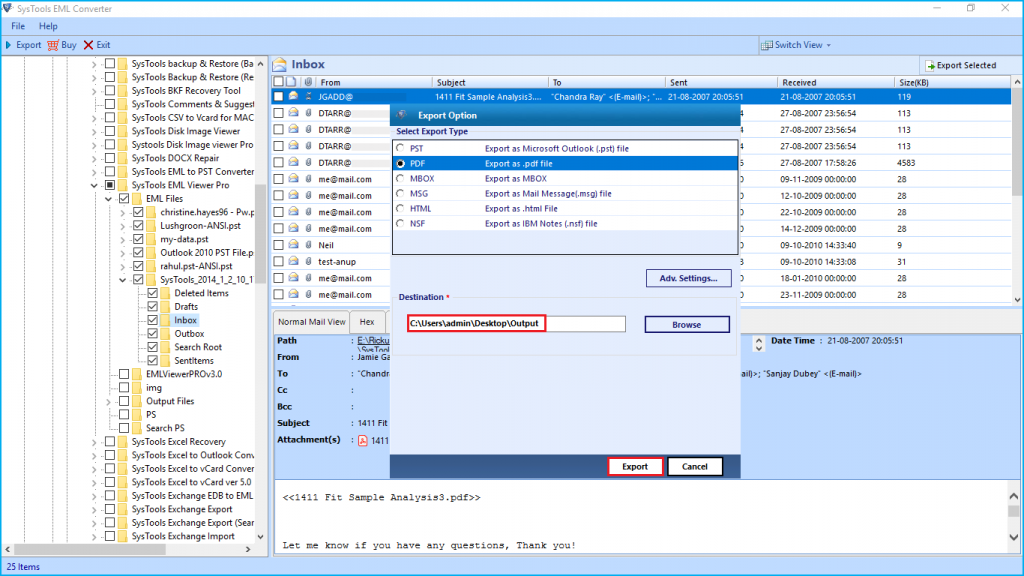 Conclusion
Are you looking for a short and simple solution to migrate EML to PDF, this publication is for you. Here we have mentioned the ideal way to convert EMLX to PDF without any data loss or corruption. So why choose unreliable solutions available on the Internet that could lead to serious data corruption? Use this application now and transfer EML files in no time on Mac OS.