How to Backup My Computer to Google Drive Efficiently
Samuel Adams | February 13th, 2020 | Tips
We people never know when hard drive could fail, PC might face ransomware attacks, or any software bug may delete your important data. Now, there is no need to worry if you have lost your data at some point in your life because now this not going to happen. If you backup your data to cloud storage like Google Drive you won't face any issue in case of any data loss. It's because creating the backup of the data means having that same data saved in two places. So, in this write-up, we have completely explained how to backup My Computer to Google Drive.
How to Use Google Drive to Backup My Computer Folders
Storing the computer data in cloud storage like Google Drive lets people to access their files from anywhere at any time. They don't have to worry about the data loss because computer data is backed up or stored on the cloud.
Backup and Sync tool can be used to backup My Computer files to Google Drive but it has some limitations like:
1- It won't preserve the folder structure
2- Monthly subscription plans are costly
3- Files deleted in sync folder will be deleted from Google Drive automatically
4- Same application cannot be used on multiple PCs
5- It requires high internet connection speed
6- If any modification is done in the system then it will reflect in the cloud also
Best Way to Backup My Computer to Google Drive
File System to Google Drive Migration software is the easiest way to backup or move computer data to Google Drive. It is an all-rounder wizard that offers an advantageous feature for the migration process.

The software can efficiently move all images doc, images, and other data to Google Drive account. It also maintains folder hierarchy and data integrity during the process. Unlike backup and sync tool this software does not delete any files automatically if deleted from the system. Also, it can be used on multiple PCs.
Benefits of Backing Up Computer Data to Google Drive
There are various advantages to backup "My Computer" files to Google Drive. Some of them are given below:
1- The incremental backup function is provided to migrate on new or updated files
2- Give three filter options i.e. Include / Exclude, File Size, Date filter
3- It is a one-time investment there is no subscription plan (Demo is free up to 5GB)
4- Generates migration report describing (total count, success count, fail count).
5- Supports to backup Network drive data to Google Drive
6- Allows migration of hidden files and keeps folder structure
Complete Steps for Backing Up Entire Computer to Google Drive
Follow these simple steps and backup My Computer to Google Drive
1- Launch and run the software on Windows Operating System & click on Settings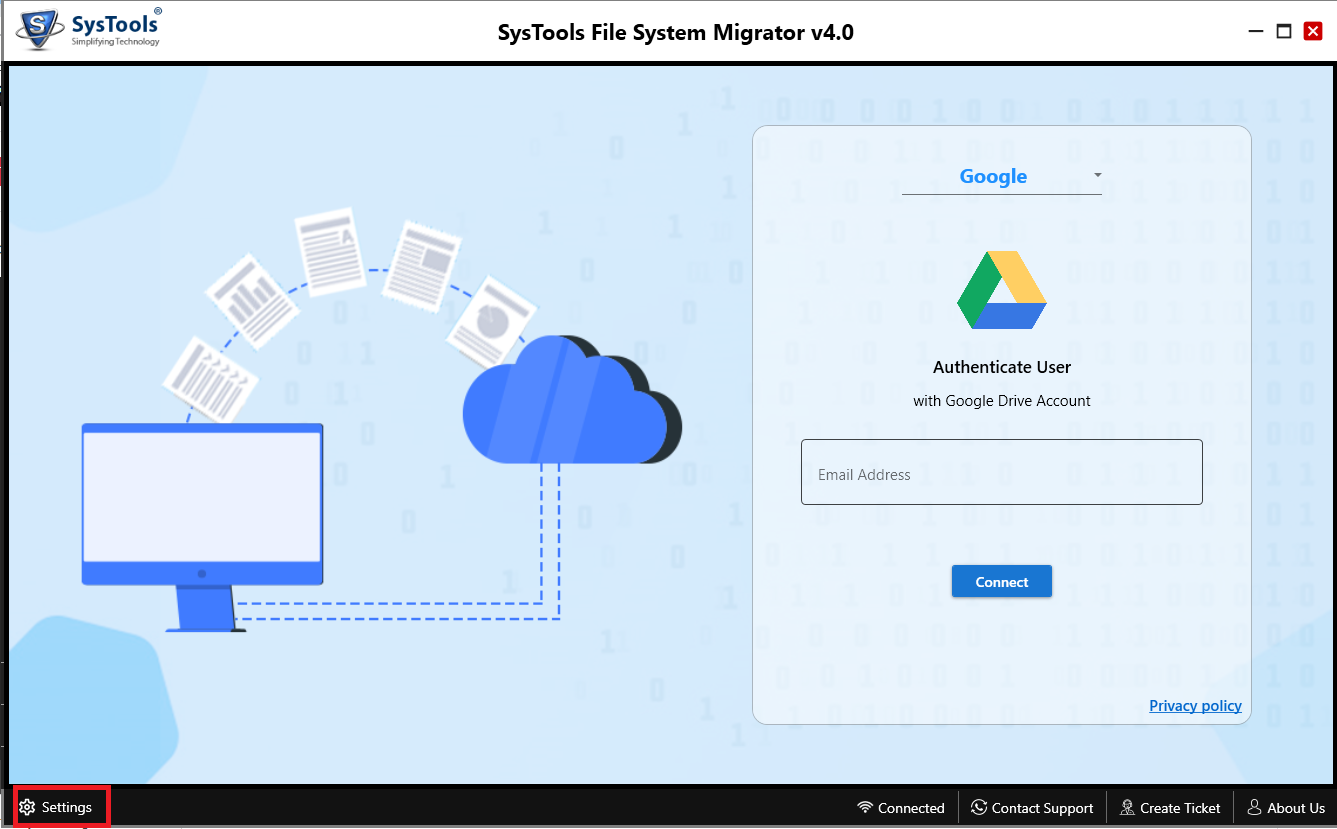 2- After that, click on Google Project Settings & add a JSON file
3- Then, click on Activation code and enter the activation code
4- After completing this, click on Close Settings button
5- Then, enter the Google Drive business account (email address) & click on Connect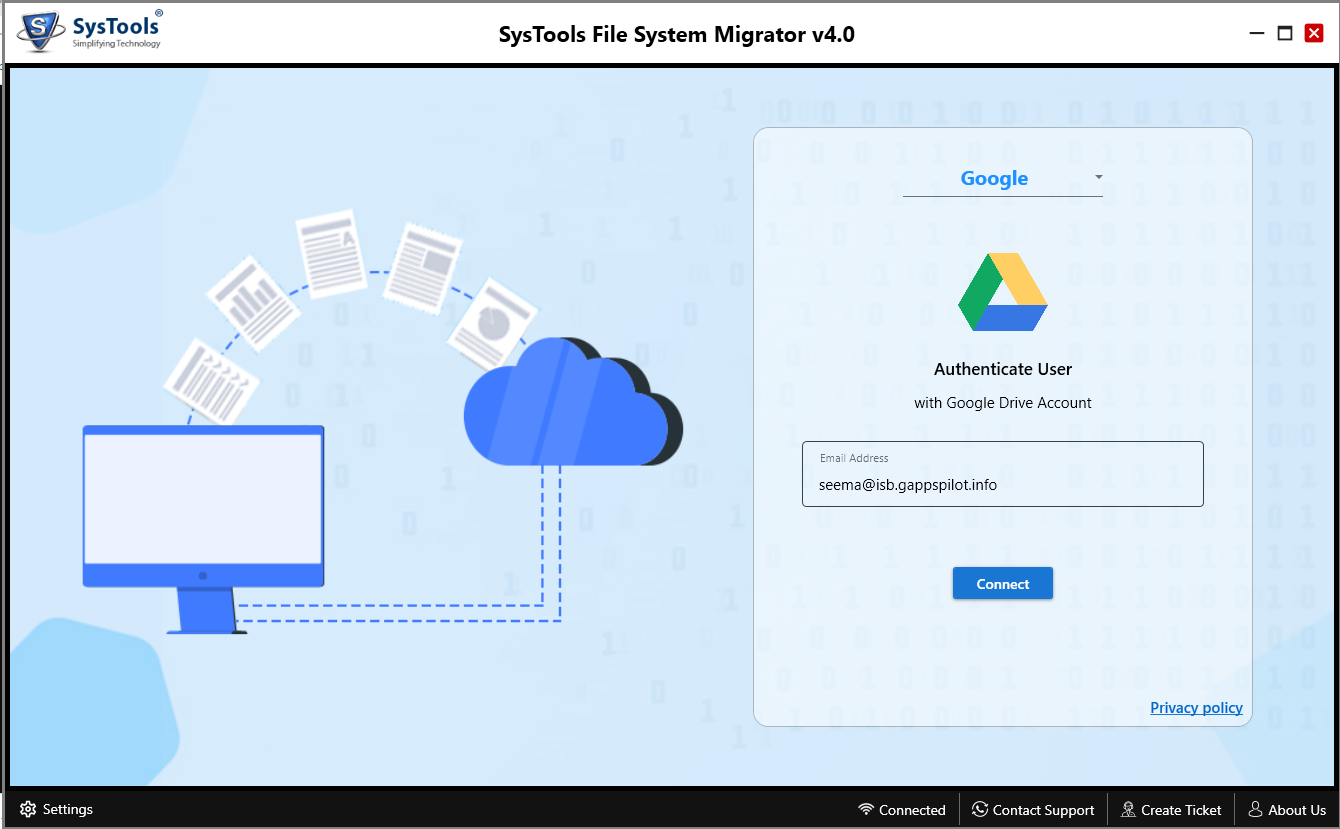 6- Now, to backup "My Computer" click on all folders like Desktop, Downloads, All Drives

7- Also, for the selective migration process apply any filter like
1- Include / Exclude File Types
2- Include Created / Modified Date
3- Include File Size
8- Select the destination as My Drive or Shared Drive of your Google Drive account.

Also, users can create a new folder for saving migrated computer data.
9- As soon as the backup process is done you will see the message "Migration Completed".

10- Lastly, click on the "Generate Migration Report" option
Conclusion
We usually keep important data on computers, laptops, mobile phones, and other devices. It is a challenging task to keep all these things safe, backed up, and organized. So, in this write-up, we have discussed two solutions i.e. Backup and sync and third party tool. Both them would help to Backup My Computer to Google Drive. But, there are some pitfalls of using a backup sync tool. So, in such cases, the best solution is to go for a third-party solution to backup "My Computer" files.