How to Backup Maildir Files of Thunderbird & FTP Server – Best Tips
Shini Mohan | January 6th, 2018 | Tips
Though many people use Maildir file to save emails, they do not know how to backup Maildir Files in Windows system or local system. To archive Maildir files  one of the common problems faced by users. To understand what sort of problem users face regarding Maildir file saving, readers can go through these two queries below.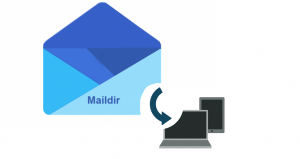 Query 1:
"Recently I have found out some weird looking files on my PC. These files do not have any file extensions with files names like 1511937707609000. I later came to know that these are Maildir files, used to save Thunderbird emails. As I do not have Thunderbird on my PC, I was wondering if someone else from the dorm has been using my PC during my absence. How can I take backup of Maildir files and check them next time I go home?"
Query 2:
"In my office, all the emails are saved on the server as Maildir file. Recently, we have come to know about some suspicious behavior on the part of employees. To investigate those allegations, the administration wants to take a look at all the emails employers have been exchanging. Therefore, I want to archive Maildir files of the server to the local system. There are a huge number of files and this has to be done as soon as possible. Can anyone tell me how can I export Maildir to MBOX ? If there is any tool for this purpose, I will be glad to know about that too. Thanks in Advance."
Best Possible Solutions to Backup Maildir Files
These queries show only two among hundreds of reasons why people want to backup Maildir files. Whatever might be your need, Maildir Archival Methods methods are the only solution that can help you. We will provide you with this solution as we discuss Manual processes of Maildir Backup.To Manually archive Maildir files, it can be done in two ways. Maildir can be saved in Windows system or it can also be saved in the local system.
1. Backup Maildir in Windows Using Thunderbird
In this process, you have to configure any email id into Thunderbird and thus can get Maildir backup of emails from that account.
1. Open Thunderbird. Click on Tools and then select Options.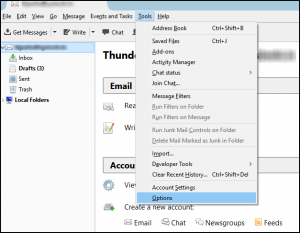 2. In next window, click Advanced >> General tab. You can see Message Store Type for new account is set as MBOX.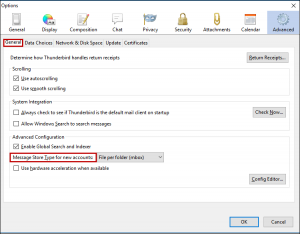 3. Change that option to Maildir and click OK to Backup Maildir files.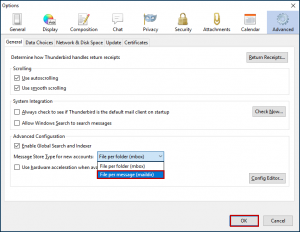 4. Now, you have to configure your desired email account to Thunderbird. Then all the emails will be automatically saved as Maildir.
Location of Maildir File
Now, all your emails are saved as Maildir files. To access these files from your Windows system,
Run %appdata% command.
Then click Thunderbird>> Profiles>>Default Profile>> ImapMail>> imap.domain.com>> Inbox>> cur.
Here you will be able to see all your read emails in Maildir file. (Here, 'domain' means email account of any domain that you configured.)
2. Backup Maildir from Server Mail
Here, the process of saving Maildir files stored in Server will be discussed. Follow these steps to save backup Maildir from Server.
1. Access your server through FlashXP or any other FTP client.
2. Go to Mail folder to access your server mails.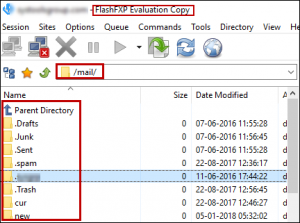 3. There will be particular folders like .drafts, .junk, .trash, .sent, etc. and subdirectory files named cur, new and tmp inside which Maildir files are saved.
4. Double-click any of these folders to find Maildir files. We have opened new.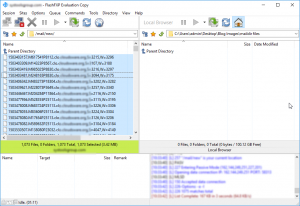 5. Press CTRL+A to select all Maildir files and right-click to get option Transfer Selected to archive Maildir Files to Local system.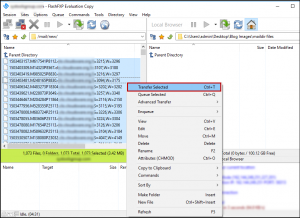 6. The files will be transferred to local system. This image shows destination folder.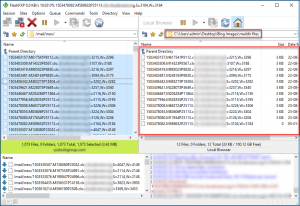 7. Check destination folder and all Maildir files can be found there.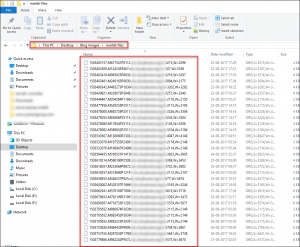 Limitations of Taking Maildir Backup Manually
Because of these limitations, manual methods of Maildir and Maildir++ backup is not considered the best option.
Time-Taking Process: The processes take a lot of time to get completed. It is difficult for people with busy schedule to manage time for these methods.
Technical Knowledge: Users have to be technically knowledgeable to perform these methods. A person without deep knowledge about Maildir format cannot perform these methods.
Outlook Compatibility: When you want to migrate Maildir files to Outlook or other emails clients, these methods will not work. Outlook cannot read Maildir files directly, so you need to convert that file to some other format.
Backup Maildir Files: A Method for Guaranteed Success
Due to their limitations, these above-mentioned methods cannot be trusted in all situations. That is why more and more people trust third-party software like SysTools Maildir Converter for sure success. This software eases this whole process by archiving Maildir file in various formats like PST, EML, MSG, PDF, HTML, etc. As a result, you can migrate that file to any emails client of your choice and access these files. It even takes backup of Maildir files with attachments. This application also retains Maildir & Maildir++ message properties and can convert in batch.
Conclusion
Anyone can face the need to Backup Maildir files to their local systems and if they do not know the technique, it can become a serious issue. For the benefit of the users, this writing described manual methods of how to backup Maildir files. It is also possible that these methods will not work in many cases. Then, users can switch to the mentioned tool for quick Maildir backup. This program is reliable and efficient in taking backup of Maildir and Maildir++ files.