Azure PaaS Disaster Recovery Benefits & Strategy
Azure PaaS disaster recovery secure your database against catastrophic loss in the event of a major disaster. Whether you are a business person or admin of a corporate you require a platform where you can develop, launch and conduct the utility, and PaaS just perfect for these activities. Platform base or application platform as a service (aPaaS) has classified as a cloud computing service. It provides a platform where the developer can manage the applications without any complex or maintaining the infrastructure of an app. Most of the enterprises prefer Microsoft Azure PaaS service. It stores critical information and any kind of loss cannot be affordable. So, you should opt Azure disaster recovery plan template to secure your PaaS database.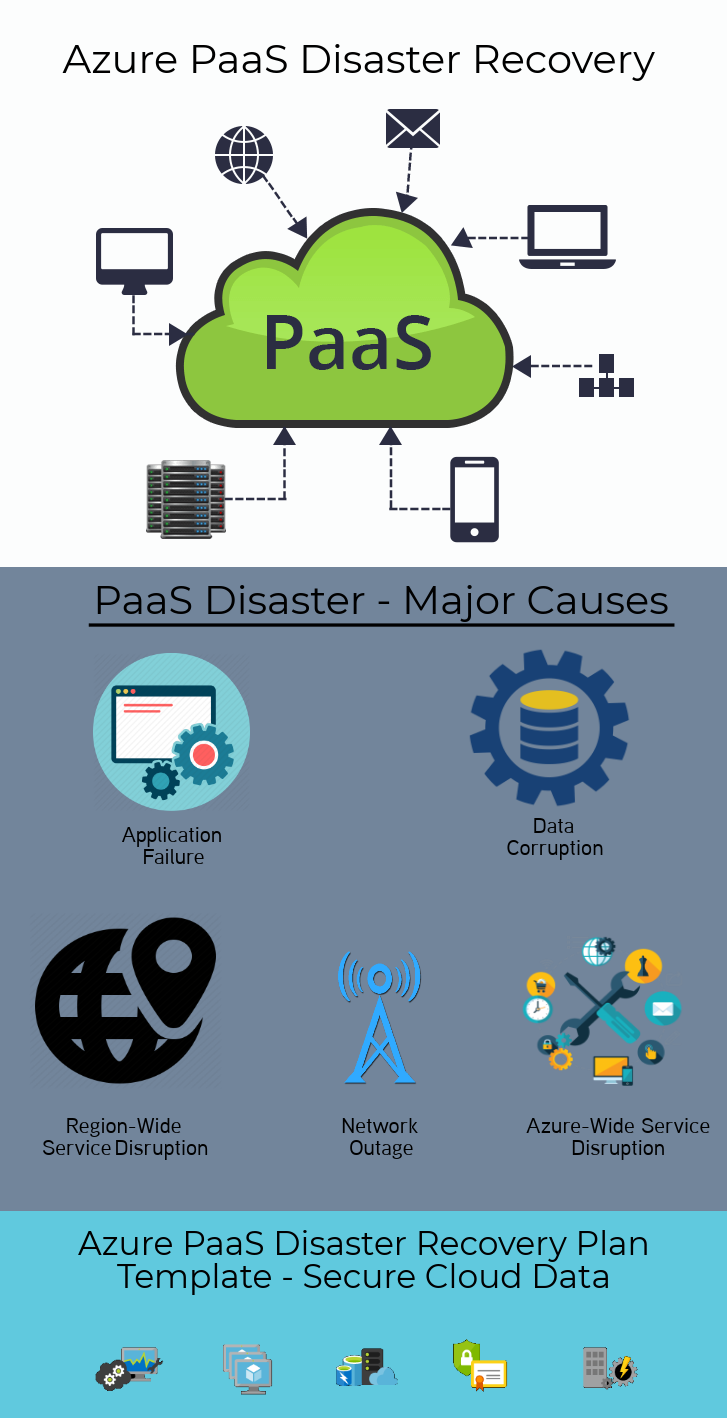 Azure Disaster Recovery Scenarios
There are several possible factors related to PaaS disaster. The admin should aware of it so that in the event of a disaster, data recovery can be done efficiently. Region-wide service interruption is not only responsible for application-wide failures. Poor design and administrative errors can also be the cause of outage.
Application Failure: Application errors can occur due to catastrophic exceptions caused by bad logic or data integrity issues. If the administrator has full knowledge of Azure PaaS disaster recovery processes, resolving critical errors becomes easy.
Data Corruption: Microsoft Azure automatically stores data on Azure SQL Database and it stores the data three times in different fault domains in the same region. If users use geo-replication then data stored in different region three additional times. If the primary copy gets corrupted then, data quickly replace with the other copies, and multiple copies is the cause of corrupt data.
Network Outage: Data may become inaccessible when networks are unable to access. If you cannot access your data in PaaS due networks outage, then you need to design PaaS disaster recovery template to run with reduced functionality in your apps.
Region-Wide Service Disruption:Admin should prepare for service interruption of the entire region. In the event of region-wide service disruption, the local copies of data get missed. You can recover the data if you have geo-replication. Once Microsoft declares the region is lost, azure remaps all DNS entries to the geo-replicated region.
Azure-Wide Service Disruption: While planing the disaster recovery solution you must consider the entire range of possible disasters. It may possible that all the region get affected by the disaster. For that, you must prepare in prior. Take backup of PaaS database so that you can access your data while a critical catastrophe occurs.
Benefits Of Azure PaaS Disaster Recovery
Azure disaster recovery plan template assure you that data can be recover. Users should define the minimum level of functionality required during the disaster and implement the DR plan to minimize the risk. Azure PaaS disaster recovery is focused on recovering from a catastrophic loss of application functionality. For that, you need a plan to run the application and access the data in another region. Most of the users prefer Azure disaster recovery plan because of its advanced feature. It provides technical guidance design which supports disaster recovery.
Multiple Data Center Regions: Azure maintain multiple data center in different regions all over the world. This is support several PaaS disaster recovery scenarios. As it provides geo-replication of Azure storage to secondary regions. Storing data into multiple regions helps to secure the application from major disaster.
Azure Site Recovery: It provides a way to replicate virtual machines between region. It required minimum management overhead, because it doesn't need any additional resources in the second region. It provides automated continuous replication and enables to perform failover with a single click. Admin can run Azure PaaS disaster recovery drills by testing failover, without disturbing production workload or ongoing replication.
Azure Traffic Manager: Whenever a specific- region failure occurs, it redirects traffic to services in another region. It is the most convenient way to handle a disaster via Azure traffic manager automatically redirect the traffic when primary region gets fail. Therefore traffic manager is important, while designing a PaaS disaster recovery plan and keep it in DR strategy.
Disaster Recovery Strategy
Maintenance entire database is a challenging task in the aspect of a disaster recovery plan. Data recovery process consumes most time. Therefore, while designing the plan keep all the features of PaaS disaster recovery in mind. Because of different choices and reducing the functionality as a result, it creates difficult challenges for data recovery from catastrophe. Always maintain a copy of application's data. You can use this data file for transactional purposes or reference in the event of disaster. An on-premises implementation requires an expensive and lengthy planning process. Most of the cloud providers allow the deployment of applications to multiple regions. For success of any disaster recovery plan, the strategy of handling data across regions is one of the contributing factors.
How Azure Recovery Services Work
Microsoft developed Azure PaaS disaster recovery services into Azure so that at the moment of disaster you can access the data from your portal. Basically, it works by remotely and continually monitoring the servers for data center. A security key establishes the connection between cloud environment and on-premises. To replace with Azure, it required to configuring the Site Recovery Vault. One VM get replicate, you can configure the setting according to the workload.
Azure platform as a service allows you to avoid the complexity and expense of buying and managing software licenses. But unexpected disaster is not in your control therefore, if you are serious about protecting intellectual information and data for business continuity. Then you must opt Azure PaaS disaster recovery plan template and it should be your top priority.