Simple Steps to Export Outlook Address Book as vCard
A VCF or vCard is a standard file format for storing contact information for personals or business purposes. vCard typically includes a name, address, phone number, email address, contacts image, and other contact information. VCF file format also contains custom fields, images, and other types of media files
It is a universal known file format which is supported by most of the email clients like Apple Mail, Mozilla Thunderbird, etc. Also, vCard is supported by various mobile devices and tablets.
Moreover, as we know that Outlook does not have an option to directly export all your contacts as vCard files or a single multi-contact vCard file. But what if you have to forward your Outlook contacts to your office co-worker or you have to transfer your Outlook contacts to your phone, then there is no option left.
Therefore, in this write-up, we are going to discuss the best and effective way to export Outlook address book as vCard.
Now, let's gets into the blog!
Reasons behind to Export Outlook Contacts as vCard
As we know that Outlook keeps its data in PST file format and this file format is only supported by Microsoft Outlook. Hence, most of the Outlook users want to convert their Outlook contacts to universally supported file formats so they can share their Outlook contact with anyone. Also, there are more reasons to export Outlook address book as vCard, some of the reasons are listed below:
Moving from one email client to another email client.
vCard file format is universally accepted by all email applications and mobile devices.
A Large number of contacts in the PST file can lead to file corruption in Outlook.
VCF file format can store hundreds of contacts at once.
Creating a backup of Outlook contacts.
How to Export Outlook 2010 Contacts as vCard-Manually?
Yes, you can export Outlook address book as vCard manually so, follow the guidelines in order to complete the process.
Step 1: First, open MS Outlook and select the contacts folder from the navigation pane.
Step 2: Select the contact that you want to export as vCard.
Step 3: Click the file tab and choose save as option.
Step 4: Navigate to the folder where you want to save the vCard file. Choose the file type as vCard and click save
Step 5: You can View the vCard file in the targeted folder where you saved it.
Step to Export Address Book from Outlook 2016 & 2013
Step 1: First, open your Outlook 2016 / 2013 account.
Step 2: Now, click on the "People" option from the navigation panel.
Step 3: Select the contact which you want to transfer to vCard file.
Step 4: Click on the Microsoft button and select Save As.
Step 5: Select the destination folder where you want to save you're the resultant vCard file.
Step 6: Click on save button to save your file.
Step 7: You can view your saved file on the destination location.
Drawbacks of Manual Method
Manual method cannot able to export multiple contacts at the same time as a vCard file.
You have to manually export Outlook contacts one by one. Therefore, this process consumes more time when you have a large number of contacts saved in your Outlook account.
Methods like forwarding contacts as an attachment in an email and then dragging –dropping vCard from attachments, provide an indirect approach to export Outlook address book as vCard. And if the attachment is large in size and saved in the different folder structure will consume your extra time.
During dragging and dropping of contacts from email attachment create multiple vCard
If you are using Gmail to export multiple Outlook Contacts to vCard. Then first you have to import .csv file to Gmail and from Gmail, you will be able to export all contacts into a single vCard file. This method is very lengthy and not recommended by professionals.
Automated Solution to Export Outlook Address Book as vCard
As you see there are a number of limitations of the manual method. So, to overcome all the restrictions and limitations professionals suggested to try an automated solution to export Outlook address book as vCard. SysTools vCard Export Tool is one of the most reliable and trusted tool.
This vCard Converter Tool is one of the best options to export Outlook address book as vCard, Single vCard, WAB, Google, and Yahoo CSV. As well as this is capable to maintain data integrity and ensure no data loss during the conversion process. Now, let see the steps of working of the software.
Step 1: First, download and launch the software in your Windows system.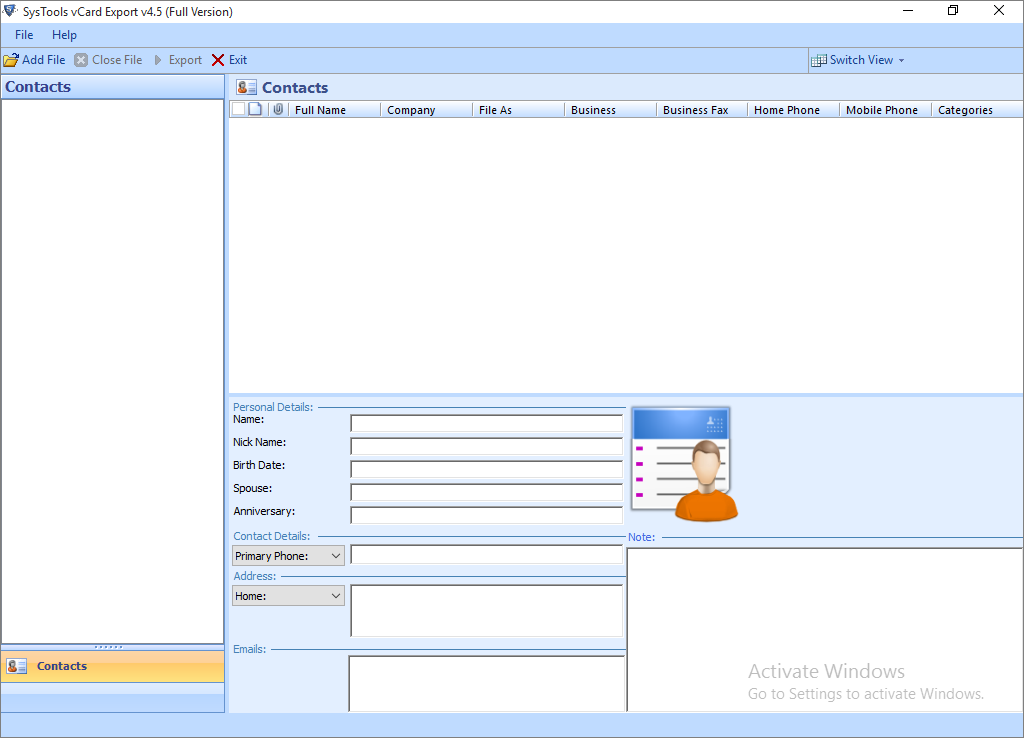 Step 2: Click on the Add File option to add the Outlook contacts.
Step 3: Select the vCard format from Export Option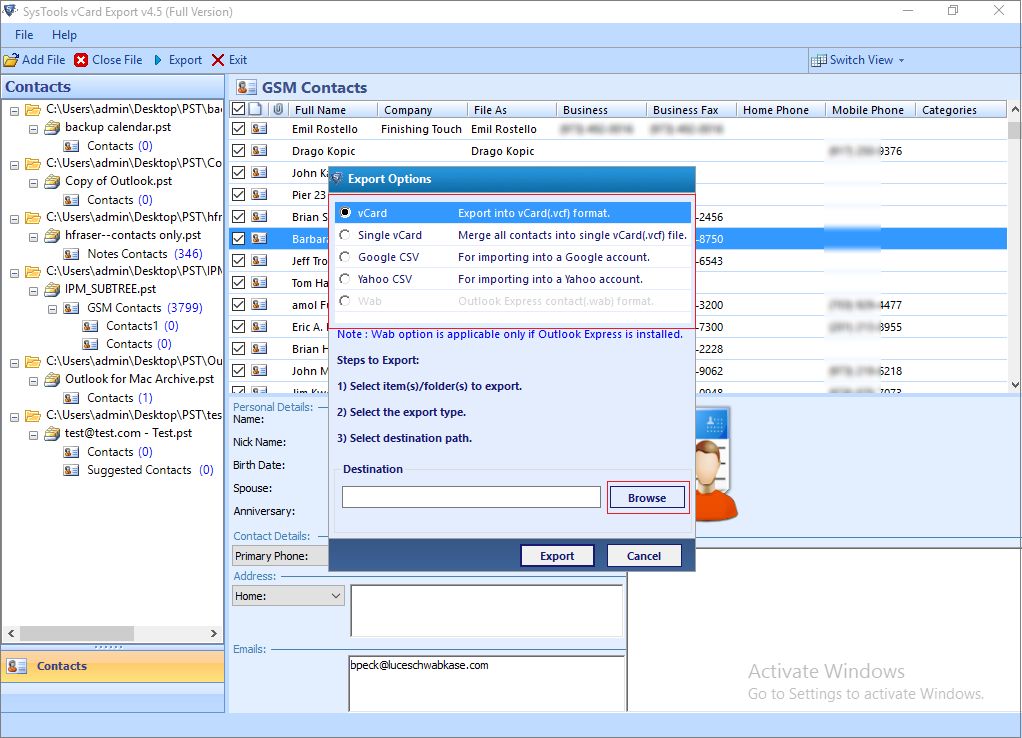 Step 4: Now, select the desired destination location to save the file after the conversion.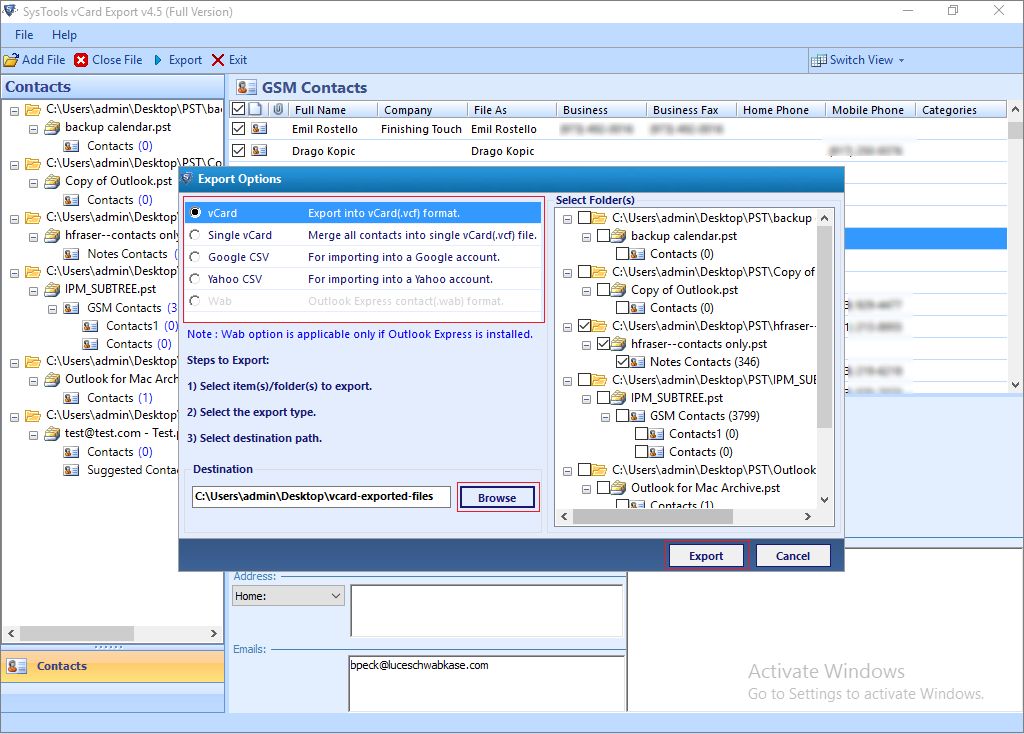 Step 5: After all the settings, click on the Export button to start the process.
After a few minutes, your contacts will be exported to your desired location. So, you can go to the location and you were able to see your converted Outlook contacts as vCard.
Also Read: How to Combine all Outlook Contacts into Single VCF File?
Conclusion
Microsoft Outlook has been used by many small and large organizations to store information about their clients and employees to get in touch with them. And all the contact information is stored in the address book.  But sometimes a need arises in front of users to share the contact information with other programs or applications like other email clients, mobile devices, applications, etc. So, we assure the above-discussed solution in the article will help you in order to export Outlook address book as vCard.